Sams, Jones homer in exhibition win Dutch Team
Nederlands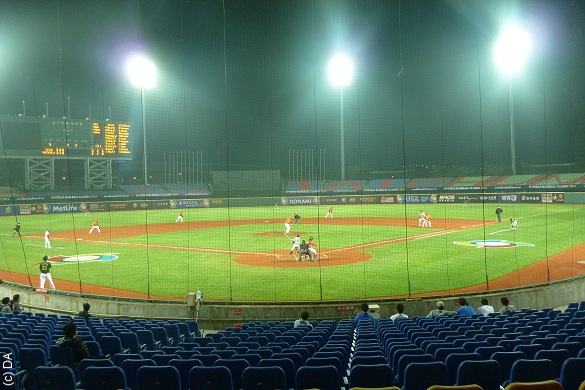 ...An overview of Intercontinental Stadium...
(© Photo: Duco Abspoel)

TAICHUNG (Taiwan) - The Dutch Baseball Team on Tuesday played its ninth exhibition game to prepare for the World Baseball Classic. The game was the third in Taiwan since arriving there last week. In Intercontinental Stadium in Taichung, the Orange shutout the CPBL Industrial All Stars, 6-0, highlighted by homeruns by Kalian Sams and Andruw Jones.

The Dutch Team opened the score in the second inning. Wladimir Balentien walked, then Xander Bogaerts (who played in his first game) singled. The two then advanced on a wild pitch and both scored when Curt Smith doubled.

Three runs were then added in the fourth inning. Andruw Jones walked and moved on a wild pitch, then advanced to third base when Xander Bogaerts was eliminated. Next, Curt Smith followed with an RBI-single and Kalian Sams added a 2-run homerun to make it 5-0.

In the sixth inning, Andruw Jones also homered to lift the lead to 6-0.

Besides Bogaerts, Andrelton Simmons, Jonathan Schoop and Roger Bernadina also played in their first game for the Dutch Team during this exhibition series. Simmons made his debut in the Dutch squad. Except for Cordemans, all players in today's starting line-up were active professionals:
Simmons (SS), Schoop (2B), Bernadina (CF), Balentien (RF), Jones (DH), Bogaerts (3B), Smith (1B), Sams (LF), Dashenko Ricardo (C).

The scoring opportunities in the second, fourth and sixth inning were the lone ones for the Dutch squad. In the first, third, fifth and seventh inning, the Dutch batting order was retired in order. In the eighth at bat, Balentien walked with one out, but then Jones grounded into a double play.

Today's game was labeled as the first of two WBC-exhibition games. The second is scheduled to be played on Thursday in Douliou. That will be the tenth and last exhibition game for the Dutch Team during its preparations.

The Dutch Team opens the World Baseball Classic next Saturday, March 2 in Pool B against South Korea, starting at 7:30 PM local time (12:30 PM Dutch time). All games of the World Baseball Classic will be shown live (or tape-delayed) by ESPN America. The game between the Dutch and Korea will be broadcasted (tape-delayed) on Saturday-evening, starting at 10 PM Dutch time.

Earlier in the day on Saturday, starting at 5 AM Dutch time, the opening game in Pool B between Australia and Taiwan will be broadcast live. Also live, and starting at 11 AM, will be the game between Japan and Brazil, the opening game of Pool A in Fukuoka (Japan).
Pitching Stats
pitcher
INN
SO
BB
H
Rob Cordemans, W
4
2
0
2
Tom Stuifbergen
3
1
0
3
David Bergman
0.2
1
0
0
Mark Pawelek
0.1
0
0
0
Loek van Mil
1
1
0
1
Playing in today's game were:
Andrelton Simmons (SS, 0-for-3), Hainley Statia (SS-2B, 0-for-1), Jonathan Schoop (2B, 0-for-4), Michael Duursma (SS, did not bat), Roger Bernadina (CF, 0-for-3), Randolph Oduber (LF, 0-for-1), Wladimir Balentien (RF, 0-for-2, 2 walks), Andruw Jones (DH, 1-for-3, walk), Xander Bogaerts (3B, 2-for-3), Yurendell de Caster (3B, did not bat), Curt Smith (1B, 1-for-3), Kalian Sams (LF-CF, 1-for-3), Dashenko Ricardo (C, 0-for-2), Quintin de Cuba (C, 0-for-1).

...Andruw Jones at bat for the Dutch Team...
...Standing at the right side of the dug-out are Manager Hensley Meulens and Bench Coach Robert Eenhoorn...
(© Photo: Duco Abspoel)
(February 26)