www.grand-slam.nl
Baseball
Headlines
Compiled and Copyright © 1997-2014 by Marco Stoovelaar

League-leaders Pirates, Pioniers add victory
Nederlands




AMSTERDAM / HOOFDDORP / ROTTERDAM / BUSSUM (Neth.) - League-leaders L&D Amsterdam Pirates and Vaessen Pioniers added a victory on a cold Thursday-evening (May 1). Amsterdam registered a big 12-3 win vs. Corendon Kinheim, while Pioniers initially trailed in the first inning, but won with a small margin vs. ADO Lakers, 3-1.

DOOR Neptunus couldn't take much distance against UVV in the first six innings, led only 3-2 at one moment, then rallied for six runs in the seventh and won won 9-2.

Mr. Cocker HCAW outscored Mampaey The Hawks, 5-2.

Tonight was a night of some firsts of this season.
For the first time this year, all four home teams won their game.
And for the first time of the season, HCAW won a home game, while Kinheim lost its first night game of the year.

Game 2 of the series will be played coming Saturday.

(May 1)

L&D Amsterdam Pirates vs. Corendon Kinheim
At Amsterdam, L&D Amsterdam Pirates collected 15 basehits on a cold evening vs. Corendon Kinheim and broke a 3-3 tie with a 5-run rally in the fifth. A 4-run rally was added in the sixth to take a 12-3 lead, but Amsterdam then failed to end the game through the 10-run mercy rule and so, it became a 9-inning game after all.

All players in the Amsterdam line-up reached base at least once and also hit at least one basehit, except for first baseman Patrick Bok, who was 0-for-4.

Rob Cordemans pitched the first six innings, struckout five and gave up four hits to earn his third win of the season. The veteran righthander faced a 3-2 deficit in the fourth, but then saw his teammates come alongside. And that was what he needed, as he then added two solid innings and was supported with nine runs.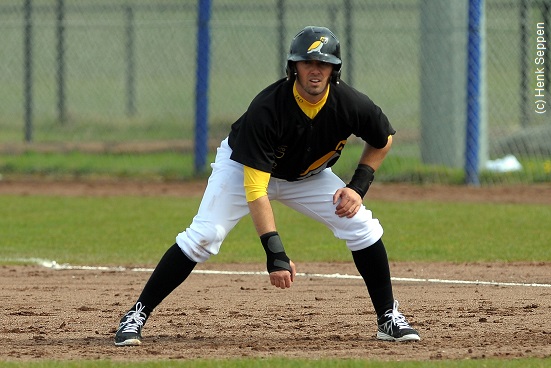 ...Michael Duursma...
...3 Runs, 3 Hits, 2 RBI's...
(© Photo: Henk Seppen)

Amsterdam initially took a 2-0 lead in the first inning off of rookie Glenn Wassink. The righthander walked Michael Duusma with one out, then gave up a single to Remco Draijer. A single by Kenny Berkenbosch and sacrifice fly by Bas de Jong then made it 2-0.

Kinheim got one run back in the second inning. Bryan Engelhardt and Jeffrey Arends led off with singles and advanced on a sacrifice bunt by Mervin Gario. A grounder by Dashenko Ricardo then brought in Engelhardt.

Cordemans then struckout the side in the third inning. In the home part of the at bat, Amsterdam was unsuccessful on the bases. Michael Duursma led off with a single, then was caught stealing. Moments later, Remco Draijer walked, but after a flyout, he also was caught stealing to end the inning.

That might have triggered Kinheim, as it reacted with two runs in the fourth inning to take a 3-2 lead. Quintin De Cuba led off with a single and Bryan Engelhardt walked, then a sac-bunt by Jeffrey Arends brought the two in scoring position. A single by Mervin Gario through the middle brought in both to give the Haarlem-team a 3-2 lead, but he later stranded on third base after two grounders followed.

In the home of the fourth, Amsterdam tied the scored when Bas Nooij lined a homerun into leftfield with two outs.

After Kinheim left a runner on second base in the fifth inning, Pirates struck with five runs in the home half. First, a bunt by lead-off hitter Björn Hato ended in a throwing error, then a bunt by Roelie Henrique might have resulted in an out. He bunted the ball towards the mound, where pitcher Glenn Wassink approached the ball, but then suddenly stepped aside to make room for catcher Dashenko Ricardo, who had to turn to make the throw. And so, Henrique reached on a bunt-single. Moments later, Hato and Henrique executed a double-steal and Michael Duursma added an RBI-single that gave Amsterdam a 4-3 lead. The bases then got loaded when Remco Draijer was hit by a pitch. That led to a pitching change, as Jerrold Martijn took over for Wassink. But the lefthander immediately ran into problems, as he gave up a 2-run single to Kenny Berkenbosch and a 2-run double to Bas de Jong that lifted the lead to 8-3. A strikeout, out at the plate and grounder ended the inning, but Amsterdam had clearly taken charge of the game.

That also strenghten Cordemans, who retired the side again in the sixth, including two strikeouts. In the home half, Martijn returned to the mound for Kinheim and again had a rough inning, giving up four more runs, three of which were unearned. Lead-off hitter Björn Hato again reached on an error, then Roelie Henrique walked and Michael Duursma followed with an RBI-single. Duursma was 3-for-4 tonight, scored three runs and had two runs batted in. Next, Remco Draijer also singled in a run. Kinheim then turned a double play, but Martijn's inning wasn't over yet. He gave up an RBI-single to Bas de Jong, another single to Rashid Gerard and an RBI-double to Bas Nooij that made it a 12-3 score. With runners on second and third base, Amsterdam failed to make it a 10-run difference, as a grounder then ended the at bat.

In the top of the seventh inning, Daan Hendrix took over for Cordemans and gave up a 2-out single to Jefferson Muzo. As the 10-run difference also wasn't reached in the next two at bats off of new pitcher Raymond Rutte, Hendrix also pitched the eighth and ninth inning. Despite the 9-run difference, Hendrix earned a save, as he threw three complete innings in relief as the final pitcher of the game.

L&D Amsterdam Pirates - Corendon Kinheim 12-3
R
H
E
Corendon Kinheim
010
200
000
-
3
6
3
L&D Amsterdam Pirates
200
154
00X
-
12
15
1
pitchers Kinheim
inn.
SO
BB
H
R
ER
Glenn Wassink, L (1-1)
4 (*)
2
2
6
7
6
Jerrold Martijn
2
1
1
7
5
2
Raymond Rutte
2
3
-
2
-
-
(*) - Wassink pitched to 4 batters in fifth inning
pitchers Pirates
inn.
SO
BB
H
R
ER
Rob Cordemans, W (3-0)
6
5
2
4
3
3
Daan Hendrix, SV (1)
3
2
-
2
-
-
Homerun: Pirates: Bas Nooij (1)(solo,4th,off Wassink).
Umpires: HP-Henri van Heijningen, 1B-Roy van de Wateringen, 3B-Martijn Bosschaart.
Official Scorer-Stefan Slinger.
Play-by-Play-Marco Stoovelaar.
Time-2:49 hr.

Vaessen Pioniers vs. ADO Lakers
At Hoofddorp, Vaessen Pioniers briefly trailed 1-0 vs. ADO Lakers, but came alongside and won with a small 3-1 score to remain unbeaten at home.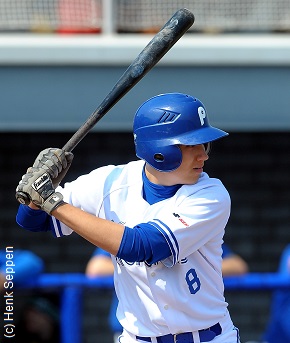 ...Max Draijer...
...Game-winning 2-run single...
(© Photo: Henk Seppen)

ADO Lakers initially was off to a good start. With two outs, rookie Christian Diaz belted his first big league-homerun of his career off of Venezuelan Ricardo Hernandez Sanchez to give his team an early 1-0 lead. But that was to be it for the team from The Hague. The lefthander gave up only three more additional basehits in the next six innings and went on to strikeout twelve batters. In the third inning, Odion Gouverneur singled with two outs, stole both second and third base, but then was left behind. In the seventh inning, Edzul Robles became the next ADO Lakers-runner to reach third base. He led off with a walk, stole second and moved on a grounder, but also stranded.

Pioniers faced Glenn Romney, who was a surprise starting pitcher for ADO Lakers. The veteran player is an outfielder and first baseman, who didn't play in the big league last season. In his career, he made only five pitching appearances before this season, all in relief. The first of that came in 1996 when he threw one inning for Quick Amersfoort. The other four outings came in 2012 when he played for HCAW. Earlier this season, Romney pitched twice in relief, but tonight he made his first start as a pitcher.

And the lefthander initially did fine against the team, where he played in 2002-2009. In the first inning, with one out, he struckout powerhitter Dirk van 't Klooster, then walked Danny Rombley, but he was caught stealing. In the second inning, he saw Pioniers load the bases. Vince Rooi led off with a single, Romney then struckout Mark Duursma, walked Dè Flanegin, struckout Djewi Appelman and walked Chris Williams to load the bases. But Max Draijer then flied out to end the inning, leaving three runners.

In the third, Romney gave up the tying run. Zerzinho Croes led off with a single, moved on a sac-bunt by Dirk van 't Klooster and a wild pitch, then scored on a sac-fly by Danny Rombley.

In the fourth, Romney's adventure as starting pitcher came to an end when Pioniers turned the game its way. He walked Duursma, who then advanced on a wild pitch, and gave up a single to Flanegin. Hereafter, Sylvester Martina was brought in as reliever, but he loaded the bases when he walked Williams with one out. Again Max Draijer came to bat with the bases loaded and this time the rookie delivered a 2-run single that gave Pioniers a 3-1 lead.

And that lead was enough for the remainder of the game. Pioniers was held scoreless by three pitchers and added only one more basehit.

But the Pioniers-pitching also did very well. Sedley Karel struckout the side in the eighth inning, then closer Bayron Cornelisse retired the side in the ninth to earn a save.

Vaessen Pioniers - ADO Lakers 3-1
R
H
E
ADO Lakers
100
000
000
-
1
4
0
Vaessen Pioniers
001
200
00X
-
3
5
0
pitchers ADO Lakers
inn.
SO
BB
H
R
ER
Glenn Romney, L (0-1)
3 (*)
3
4
3
3
3
Sylvester Martina
4 (**)
1
2
2
-
-
Martijn Riphagen
1
1
-
-
-
-
Jeremy Winkel
1
-
-
-
-
-
(*) - Romney pitched to 2 batters in fourth inning
(**) - Martina pitched to 1 batter in seventh inning
pitchers Pioniers
inn.
SO
BB
H
R
ER
Ricardo Hernandez Sanchez, W (2-0)
7
12
1
4
1
1
Sedley Karel, H (1)
1
3
-
-
-
-
Bayron Cornelisse, SV (2)
1
-
-
-
-
-
Homerun: ADO Lakers: Christian Diaz (1)(solo,1st,off Hernandez).
Umpires: HP-René Ras, 1B-Henk van der Linde, 3B-Jan-Willem van der Paauw.
Official Scorer-Maaike Houtkamp.
Play-by-Play-Huub Nelissen.
Time-2:57 hr.

DOOR Neptunus vs. UVV
At Rotterdam, DOOR Neptunus led only 3-2 after the top of the seventh inning against UVV, but then rallied for six runs to win 9-2.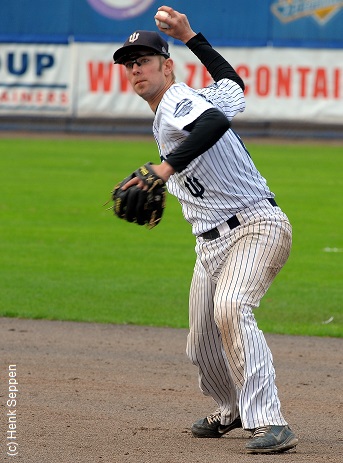 ...Benjamin Dille...
...3 Hits, double, 2 RBI's...
(© Photo: Henk Seppen)

Both teams had a productive first at bat, but didn't score. For UVV, Brennan Nijhof led off with a walk off of Diegomar Markwell and moved on a sac-bunt, then Gilmer Lampe walked, but two flyouts followed. Neptunus got the bases loaded with two outs in its first at bat off of Gilian van Lith. Gyenuar Lopez led off with a walk, then Dwayne Kemp reached on an error with two outs and Gianison Boekhoudt also walked, but here also a flyout ended the inning.

Neptunus again stranded two runners in the second inning, but then scored twice in the third at bat. With two outs, Boekhoudt and Daniel Fernandes both singled and scored when Urving Kemp followed with a triple. That brought in new pitcher Kenny Van Den Branden and the Belgian hurler ended the inning with a groundout.

UVV then got one run back in the fourth inning. Gilmer Lampe led off with a single, then moved to third base when an outfield-error followed a single by Dennis De Quint. Moments later, he scored when Mike Bazuin also singled. The Neptunus-defense the turned a rare double play. Thomas Smits grounded to third baseman Raily Legito, who drove back De Quint and threw the ball to second baseman Benjamin Dille to force out Bazuin at second base. As De Quint turned again towards third base, Dille threw the ball back to Legito, who then eliminated De Quint at third base. Legito then also accounted for the third out in the inning, fielding a grounder by Sam van Dijck.

Neptunus was then held scoreless by Van Den Branden in the fourth and fifth inning. In the meantime, Markwell retired six in a row in the fifth and sixth at bat.

In the home of the sixth, Van Den Branden was relieved by Duko Jansen, who is the scheduled starter for Sunday's game. Jansen saw lead-off hitter Mourik Huijser reach on an error, steal second base with one out and move on a grounder. The righthander then gave up an RBI-single to Benjamin Dille that increased Neptunus' lead to 3-1.

However, Neptunus couldn't take more distance and saw UVV narrow the deficit to 3-2 in the top of the seventh inning. Former Neptunian Mike Bazuin led off with a double, but was eliminated trying to stretch it into a triple. Next, Thomas Smits doubled and Sam van Dijck walked. Hereafter, Kevin Knollenburg entered the game as pinch-hitter for Rick Kuipers. The Belgian is the Assistant Coach of Ferenc Jongejan, who himself made a playing appearance in the Opening Weekend vs. Amsterdam Pirates. In his first at bat of the season, Knollenburg (who also has a Neptunus-past) doubled to bring in Smits and make it 3-2. Moments later, Van Dijck was eliminated at the plate trying to score on a grounder to first base by Nick Peels and then the inning ended with a pop-fly.

In the home of the 7th inning, Neptunus broke open the game with a 6-run rally on six hits to take a decisive lead. Jurjen van Zijl began the inning as new pitcher for UVV and was greeted with a lead-off double by Gianison Boekhoudt. After advancing on a passed ball, he scored on a single by Daniel Fernandes, who then stole second base and scored on a single by Urving Kemp. A groundout followed, then Shaldimar Daantji walked and that brought in Martijn van Soest as new pitcher. Kemp then scored on a passed ball and a walk followed for Gyenuar Lopez, who was caught stealing moments later. With two outs, Benjamin Dille, Raily Legito and Dwayne Kemp all delivered RBI-singles to increase the lead to 9-2.

In the eighth, UVV reached base twice off of reliever Jorian van Acker and in the ninth, closer Berry van Driel struckout three (and walked one) to end the game.
R
H
E
UVV
000
100
100
-
2
9
2
DOOR Neptunus
002
001
60X
-
9
12
2
| | | | | | | |
| --- | --- | --- | --- | --- | --- | --- |
| pitchers UVV | inn. | SO | BB | H | R | ER |
| Gilian van Lith, L (0-2) | 2.2 | 1 | 4 | 3 | 2 | 2 |
| Kenny Van Den Branden | 2.1 | 2 | 1 | 1 | - | - |
| Duko Jansen | 1 | 1 | - | 2 | 1 | - |
| Jurjen van Zijl | 0.1 | - | 1 | 3 | 4 | 4 |
| Martijn van Soest | 0.2 | 1 | 1 | 3 | 2 | 2 |
| Thijs Steenwijk | 1 | - | - | - | - | - |
| pitchers Neptunus | inn. | SO | BB | H | R | ER |
| Diegomar Markwell, W (2-1) | 7 | 2 | 2 | 6 | 2 | 2 |
| Jorian van Acker | 1 | - | - | 3 | - | - |
| Berry van Driel | 1 | 3 | 1 | - | - | - |
Umpires: HP-Stenar van Groningen Schinkel, 1B-Fred van Groningen Schinkel, 3B-Peter Brink.
Official Scorer-Alex van den Berg.
Play-by-Play-Francis Speters.
Time-3:02 hr.

Mr. Cocker HCAW vs. Mampaey The Hawks
At Bussum, Mr. Cocker HCAW won its first home game of the season, beating Mampaey The Hawks 5-2.

HCAW rallied for four runs in the opening at bat off of Evan Simons to take a decisive lead. With one out, Jasper Keijzer walked and Jorin van Amstel singled. The bases got loaded when Sergino Martis walked and then the scoring began. Kevin Weijgertse singled in the first run and Rossini Frolijk followed with another RBI-single. After a strikeout, an error was made on a force play-grounder by Max Clarijs, which led to two additional runs.

Sander Helmendach started for HCAW and threw seven fine innings. The righthander struckout three batters and gave up only five hits. After giving up an one-out single to Steven Wharwood in the first inning, Helmendach retired eight batters in a row. He then faced Wharwood again as lead-off batter in the fourth inning and this time, he doubled. Wharwood advanced to third base on a flyout, then scored on a grounder by Berry van Donselaar. Next, Rodney Michel reached on an error. Hereafter, Bob de Bruijn doubled into rightfield and was thrown out at third base, before Michel was able to score.

The Hawks left a runner in each of the next three innings, then Helmendach retired the side in the seventh, including two strikeouts.

In the home of the sixth, HCAW added a run off of new pitcher Kevin van Veen. He gave up a lead-off double to Max Clarijs, which was followed by a single by Jim Froberg and an RBI-single by Linoy Croes that made it 5-1. With one out, Jorin van Amstel also singled to load the bases, but three runners stranded.

The Hawks scored its second run in the eighth inning off of reliever Bob Klaarenbeek. Gino Hersilia led off with a single, advanced to third base on an error, then scored on a wild pitch. In the ninth, Klaarenbeek retired the side to end the game.

...Evan Simons started for The Hawks...

...Hawks-centerfielder Jules Peters makes a diving attempt to catch ball...
(© Photos: Alfred Cop Fotografie)
Mr. Cocker HCAW - Mampaey The Hawks 5-2
R
H
E
Mampaey The Hawks
000
100
010
-
2
6
4
Mr. Cocker HCAW
400
001
00X
-
5
11
2
| | | | | | | |
| --- | --- | --- | --- | --- | --- | --- |
| pitchers The Hawks | inn. | SO | BB | H | R | ER |
| Evan Simons, L (0-2) | 5 | 3 | 5 | 4 | 4 | 2 |
| Kevin van Veen | 3 | 4 | - | 7 | 1 | 1 |
| pitchers HCAW | inn. | SO | BB | H | R | ER |
| Sander Helmendach, W (2-0) | 7 | 3 | - | 5 | 1 | 1 |
| Bob Klaarenbeek | 2 | 2 | - | 1 | 1 | - |
Umpires: HP-Mario Blaauw, 1B-Winfried Berkvens, 3B-Henny Jansen.
Official Scorer-Fred van der Kade.
Play-by-Play-Feiko Drost.
Time-2:33 hr.

Thank you for visiting this site.
Mail your suggestions and questions to stoov@wxs.nl
Copyright © 1997-2014 Marco Stoovelaar / Grand Slam * Stats & News.