Vaessen Pioniers vs. DOOR Neptunus
At Hoofddorp, DOOR Neptunus struck early with three runs in the first inning and Vaessen Pioniers answered with two in the third to make it 3-2. But from the sixth inning on, Neptunus took more distance and went on to win 10-5.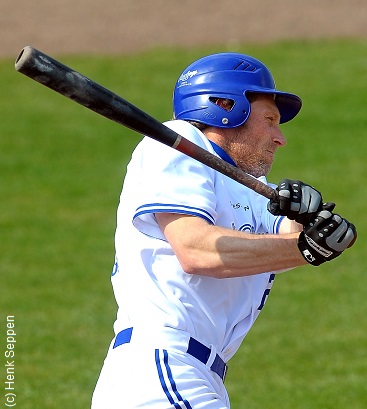 ...Dirk van 't Klooster...
...first homerun in four years...
(© Photo: Henk Seppen)

In the first at bat, Pioniers-starter Steven van Groningen walked Benjamin Dille and Raily Legito with one out. After the two advanced on a passed ball, a strikeout followed, but a single by Dwayne Kemp and 2-run double by Gyenuar Lopez then gave Neptunus an early 3-0 lead.

After Pioniers turned a double play in the top of the second inning, they got the bases loaded with two outs in the bottom of the second off of Diegomar Markwell. With one out, the lefthander walked Mark Duurma. The bases then got loaded with two outs when Chris Williams and Glenn Bakker also walked, but a grounder ended the at bat.

Pioniers turned another double play in the third inning and this time, the team got on the board in its half of the at bat. Zerzinho Croes led off with a double and then Dirk van 't Klooster followed with a 2-run homerun. Van 't Klooster hitting a homerun is a rare feat in recent years, as this was his first homerun in more than four years. On May 23, 2010, Van 't Klooster hit a solo-homerun in the ninth inning while playing for Corendon Kinheim at L&D Amsterdam Pirates. The homerun gave Kinheim a 7-6 lead and eventually was the gamewinner. Pioniers' starting pitcher Steven van Groningen and 3rd baseman Vince Rooi also were teammates of Van 't Klooster at Kinheim in 2010. One other person also witnessed both homeruns and that was Official Scorer Jeanette van Drunen, who did the scoring in both games.

Pioniers turned its third double play in the fourth inning, but then gave up another run in the fifth. Shaldimar Daantji led off with a walk and advanced on a grounder, then scored on a single by Benjamin Dille. That marked the end for Van Groningen, who was relieved by Sedley Karel.

Trailing 4-2, Pioniers came alongside in the home of the fifth. Max Draijer led off with a single and moved on a sacrifice bunt by Zerzinho Croes, then scored on a single by Dirk van 't Klooster, who was 3-for-5. The latter advanced on a throwing error from the outfield, then scored the tying run on a single by Danny Rombley, who later stranded on third base.

Neptunus rallied for four runs in the sixth at bat to take charge of the game. Dwayne Kemp led off with a single, stole second base and moved on a wild pitch. Gyenuar Lopez then was hit by a pitch and reached second base safely on an error on a force play-grounder by Urving Kemp, which loaded the bases, as his brother was unable to advance from third base. The bases were cleared when Adrian Anthony followed with a 3-run triple. After a line out, Anthony scored the next run on a single by Stijn van der Meer. That led to a pitching change, as Karel was relieved by Scott Ronnenbergh, who completed the inning.

The lefthander gave up an additional run in the seventh. He walked Gianison Boekhoudt, who then advanced on a wild pitch and went on to score on a single by Gyenuar Lopez, who was 3-for-4.

Neptunus scored its final run in the ninth inning off of Bayron Cornelisse when Gianison Boekhoudt homered with one out.

Pioniers scored its fifth run in the bottom of the ninth inning. Closer Berry van Driel took over for reliever Kevin Kelly (who had pitched the 7th and 8th inning), but ran into problems immediately. He gave up singles to Zerzinho Croes and Dirk van 't Klooster, then gave up an RBI-single to Vince Rooi with one out. The righthander then recovered and followed with two strikeouts to end the game.

Vaessen Pioniers - DOOR Neptunus 5-10
R
H
E
DOOR Neptunus
300
014
101
-
10
10
1
Vaessen Pioniers
002
020
001
-
5
10
1
pitchers Neptunus
inn.
SO
BB
H
R
ER
Diegomar Markwell, W (6-1)
5
3
3
5
4
4
Jorian van Acker
1
1
-
1
-
-
Kevin Kelly
2
3
2
1
-
-
Berry van Driel
1
3
-
3
1
1
pitchers Pioniers
inn.
SO
BB
H
R
ER
Steven van Groningen
4.1
1
6
4
4
4
Sedley Karel, L (1-2)
1
-
-
3
4
3
Scott Ronnenbergh
1.2
1
1
1
1
1
Swen Huijer
1
1
-
-
-
-
Bayron Cornelisse
1
1
-
2
1
1
Homeruns: Neptunus: Gianison Boekhoudt (5)(solo,9th,off Cornelisse); Pioniers: Dirk van 't Klooster (1)(2-run,3rd,off Markwell).
Umpires: HP-Olav Steijger, 1B-Peter Brink, 3B-Fred van Groningen Schinkel.
Official Scorer-Jeanette van Drunen.
Play-by-Play Scorer-Rienette Hamers.
Time-3:20 hr.