Dirk van 't Klooster closes in on All-Time Hit Record!
Nederlands

HOOFDDORP (Neth.) - The All-Time Hit Record stood for more than eleven years, but it is about to be broken in the near future, as is another longstanding record.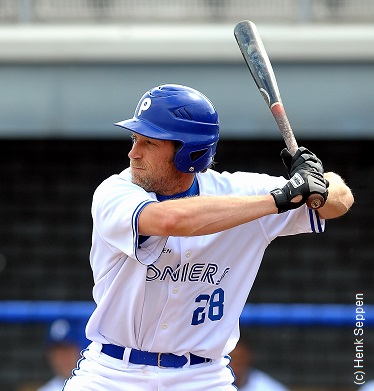 ...Dirk van 't Klooster...
...closes in on two records...
(© Photo: Henk Seppen)

In 2002, Marcel Joost registered his 1166th and final basehit, ending his 23-year career in the Dutch big league. But now, that record, which seemed to be unbreakable, will move into new hands.

Dirk van 't Klooster, who is playing in his first season with Vaessen Pioniers, closes in rapidly. Last Thursday, Van 't Klooster collected three basehits vs. ADO Lakers. In the weekend, he collected one on Saturday and one on Sunday. On Tuesday-evening, against DOOR Neptunus, Van 't Klooster added three more basehits, including his first homerun in more than four years.

That brings his regular season-total to 35. And that means that Van 't Klooster now needs only 10 basehits to tie the record and 11 to become the new recordholder in basehits in the Dutch baseball-history!

With a 3-game series ahead against UVV, the record-breaking basehit could come on Sunday, Van 't Klooster then needs a good series offensively. So, the record-tying and record-breaking hits probably will come after the break for the Haarlem Baseball Week, which begin on July 11. The season then resumes on Thursday, July 24 with Pioniers playing in Dordrecht vs. Mampaey The Hawks.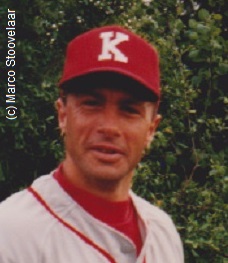 ...Marcel Joost...
...current recordholder...
(© Photo: Marco Stoovelaar)

Van 't Klooster is in his 22nd big league-season. He made his big league-debut in 1993, playing for Amsterdam Pirates, where he also played in 1994. Hereafter, the outfielder played in the highest division for Quick Amersfoort (1995-1996), RCH (1997-1999), Neptunus (2000-2005) and Kinheim (2006-2013), before making his debut in a Pionier-uniform this season.

When the record is broken, Joost still will hold the All-Time Basehit Record for righthanded batters, as Van 't Klooster is a lefthanded hitter.

After having played for Amsterdam Pirates in the First Division, Joost made his debut in the big league in 1979 playing for Haarlem Nicols. There, he played through 1992, except for the 1989 season when he took a year off from baseball. From 1993-2002, Joost concluded his career with Kinheim.

Besides the All-Time Hit Record, Van 't Klooster is nearing another All-Time Record, which is currently being held by Joost. And that is Games Played in the regular season. Joost is recordholder with 859 games played, Van 't Klooster now has played in 853 games after Tuesday's game. That means that when Van 't Klooster plays in all upcoming game, he will tie this record on Sunday, July 27 when Pioniers plays at home against the Hawks. The record-setting game then will follow on Thursday, July 31 when Pioniers plays in Haarlem against Corendon Kinheim, which is the former club of both Joost and Van 't Klooster.

(July 2)