(Story by Marco Stoovelaar; Photo by Henk Seppen)

Markwell leads Neptunus to win in Amsterdam
Nederlands


AMSTERDAM (Neth.) - Diegomar Markwell gave up only four hits in eight innings, then three more in the eighth, but he struckout twelve batters in a complete game-victory as DOOR Neptunus won 3-1 vs. L&D Amsterdam Pirates in Game 3 of the best-of-seven Holland Series tonight (Thursday, October 2) in Amsterdam. Last weekend, Amsterdam dominated in Games one and two to take a 2-0 lead. With the win, Neptunus avoided another 4-game sweep, which it was handed two years ago by Corendon Kinheim. Last year, Neptunus swept Vaessen Pioniers in the championship final.
The Series continues on Saturday with Game 4 in Amsterdam, starting at 2 PM. Game 5 will be played on Sunday in Amsterdam and starts at 1 PM, due to television coverage.
Last Saturday, the Amsterdam-offense collected 11 basehits off of Markwell in 6 1/3 inning, while Kevin Heijstek dominated, giving up only five hits in 8 1/3 inning in a 5-0 win in the opener.
Tonight, the roles were reversed and it was Markwell who dominated. The veteran lefthander gave up only four hits in eight innings, the four batters being the lone baserunners, walked none and struckout eleven batters. He then came back to pitch the ninth inning in which he gave up three more hits, a run, but also ended with a crucial strikeout, his 12th in the game. On the other hand, Heijstek was hit hard in the first two innings. The righthander gave up six hits in the first two innings and then trailed 3-0. The first four batters of Neptunus all singled, but in the end scored only two runs. Heijstek recovered after the second inning and gave up only one more basehit in the next four at bats. The Pirates bullpen also did fine, but its offense couldn't produce off of Markwell and sometimes eyed a bit to greedy going after wrong pitches.
And so, trailing 2-0 in the Series, Neptunus started the game motivated and had two productive at bats, which decided the game. But, Neptunus almost ran itself out of the game also, but was able to hold onto the 3-0 lead, thanks to the strong pitching of Markwell.
2 or more Complete Games, Holland Series
CG
Pitcher
4
Rob Cordemans
4
Diegomar Markwell
3
Tom Nanne
2
Eelco Jansen
Harry Koster
Jurriaan Lobbezoo
Bart Volkerijk
Eric de Vries
Haitze de Vries
1
13 pitchers
Diegomar Markwell threw the first complete game in the Holland Series since Jos de Jong (Pirates) pitched one on September 10, 2011 against Pioniers. Tonight was the 36th complete game in Holland Series-history, which is fittingly, as 36 is Markwell's uniform number when he pitches for the Netherlands National Team. Markwell wears 35 while playing for Neptunus. It also was his fourth complete game and with that, he equals the Holland Series-record of Rob Cordemans, who is the probable starter for Amsterdam next Saturday in Game 4. Markwell also pitched the last complete game for Neptunus in a Holland Series and that came on September 18, 2010, which was a 5-2 win vs. Pirates, also in Amsterdam.

But there is more. Markwell not only tied the record with his fourth complete game, he also is the lone Neptunus-pitcher to throw a complete game since 2005 and he did it four times. The last time a Neptunian pitcher went the distance before Markwell was on September 27, 2003 and was done by Rob Cordemans, whom Markwell now has tied.

Only nine pitchers have thrown two or more complete games in the Holland Series-history, which began in 1987.

In the first inning, Adrian Anthony and Benjamin Dile both drove the ball through right side of the infield. Raily Legito then singled into left-centerfield to bring in the first run and put runners at first and third base. Next, Gianison Boekhoudt accounted for the fourth consecutive basehit. On his single to leftfield, Dille scored the second run, but the rally also was stopped as Legito tried to reach third base on the hit, but was thrown out there on a nice throw from leftfielder Roelie Henrique. Moments later, the inning ended when Kalian Sams grounded into a double play.

In the second inning, Neptunus added its third run. With one out, Daniel Fernandes was hit by a pitch, then Shurman Marlin walked. After a flyout, Anthony registered his second single to bring in Fernandes. The bases got loaded when Dille also singled again, but then Legito grounded out to end the inning.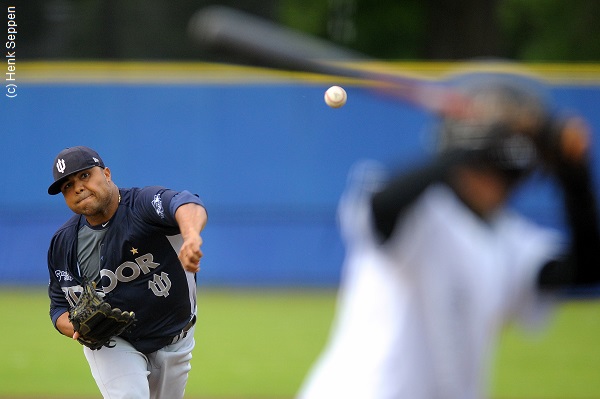 ...Diegomar Markwell - complete game...
(© Photo: Henk Seppen)

And so, Neptunus was leading 3-0 in the top of the second inning. Hereafter, the scoring stopped, as Heijstek recovered, added four fine innings in which he contributed himself with five assists. He was supported with good defense, but also by Neptunian baserunning.

In these four innings, Heijstek allowed only three baserunners. Twice, it was Kalian Sams who reached base, but the professional player also was eliminated twice on the bases. With one out on the third inning, Sams walked, then left first base en route to second base while Heijstek was in his delivery and was caught stealing. In the fourth, Shaldimar Daantji singled with two outs, but was left behind. After Neptunus was retired in order in the fifth, Sams walked again to lead off the sixth inning. He then stole second base, but was unable to advance when next batter Dwayne Kemp flied out. A foul-out followed and then the inning ended when Sams was picked off by Heijstek.

In the top of the seventh inning, Marlin led off with a single and moved on an one-out single by Anthony, who was 3-for-5. That marked the end for Heijstek, who was relieved by Jurrian Koks. He saw the runners advance on a sacrifice bunt by Dille, but then a comeback-grounder ended the inning.

In the eighth inning, lefthander Kyle Ward took over the pitching to face the lefthanded Gianison Boekhoudt. That decision worked out fine initially, as Boekhoudt grounded to second baseman Jesse Aussems, but he reached base when an error was committed. Daan Hendrix became the new pitcher hereafter, gave up an one-out double to Dwayne Kemp, but Neptunus stranded runners on second and third base when a strikeout and groundout followed.

Diegomar Markwell retired the side in the first inning. With a 3-0 lead, he gave up a lead-off double to Kenny Berkenbosch in the second inning, but he was left on second base. After giving up the double, Markwell retired nine batters in a row, then gave up singles to Bas Nooij and Remco Draijer to start the fifth inning. They also stranded, as three outs followed, including two strikeouts. That started another string, as Markwell this time retired eight in a row.

The lefthander struckout three batters in the seventh inning, only giving up a 2-out single to Remco Draijer.

Markwell kept on throwing effectively and added two more srikeouts in the eighth in which he retired the side for the fifth time.

Having thrown 120 pitches after eight innings, Markwell came back to the mound in the ninth. This inning almost could have been costly for both Markwell and Neptunus. Markwell needed 24 pitches to get out of the inning, gave up three hits, one run and had runners on first and third base with two outs and the possible winning run in the batter's box. Markwell first gave up a lead-off single to Michael Duursma, then Bas de Jong lined the ball into centerfield, but it was caught by Shaldimar Daantji. Next, Duursma was forced out on a grounder by Kenny Berkenbosch. So, it appeared that Markwell's brief problems were over, but then Bas Nooij drove the ball into rightfield. There, Daniel Fernandes had to run backwards, had a chance to catch the ball, dropped it and Nooij was credited with a double put runners on second and third base. Hereafter, Remco Draijer singled again, he was 3-for-4, to bring in a run. With runners on first and third base, powerhitter Percy Isenia stepped into the batter's box. With one swing, he could decide the game and hand Pirates a 4-3 win, but it was Markwell, who kept his calm. The lefthander got to a full count, then got Isenia to swing at a bad pitch and end the game. For Markwell, it was his 12th strikeout of the evening, for Isenia, it was his fourth....

(October 2)