www.grand-slam.nl
Baseball
Headlines
Compiled and Copyright © 1997-2014 by Marco Stoovelaar


Pioniers second team to qualify for Play-Offs
Nederlands


VLEUTEN / ROTTERDAM (Neth.) - Vaessen Pioniers became the second team to qualify for the Play-Offs in the first half of the competition after winning its make-up game vs. UVV tonight (Tuesday, June 3) with an 8-1 score. With the win, Pioniers went by L&D Amsterdam Pirates, which therefore finished in third place and was eliminated to reach the final four in the first half. Amsterdam now has to go after one of the two remaining spots in the second half of the competition, which opens on Thursday-evening.

DOOR Neptunus won its make-up vs. Mampaey The Hawks 9-1 to finish in first place of the first half.

Pioniers decided the game early, scoring three runs in the third inning to take a 4-0 lead. Danny Rombley contributed with three hits. The lone UVV-run was a homerun by Mike Bazuin.

Raily Legito hit a 3-run homerun and a double for Neptunus, scored twice and had five runs batted in. The Hawks scored its lone run in the first at bat.

When the second half begins on Thursday, all teams begin with an 0-0 record and no points (2 for a win, 1 for a tie, 0 for a loss). But there also will be an overall standings with the two halves combined. The ranking after 42 games decides the home advantage in the Play-Offs.

When the Play-Offs begin, the four teams will start the 9-game series with the half of their earned points after 42 games. For example, Neptunus now has 34 points after the first half and takes 17 of those with them to the Play-Offs. Pioniers currently has 33 points. The half of that is 16,5. But when there is a half point, it will be rounded to a whole number, meaning Pioniers also has 17. When the Play-Offs would start now, Neptunus and Pioniers both would start with 17 points, instead of Neptunus having an one point lead over Pioniers.

(June 3)

UVV vs. Vaessen Pioniers

At Vleuten, Vaessen Pioniers won 8-1 vs. UVV. With the victory, Pioniers past L&D Amsterdam Pirates in the ranking to finish in second place. With that, Pioniers became the second team to qualify for the Play-Off in the first half of the season, while Amsterdam was eliminated.

Pioniers decided the game early, scoring three runs in the third inning to take a 4-0 lead. Danny Rombley contributed with three hits. The lone UVV-run was a homerun by Mike Bazuin.

Pioniers opened the score in the first inning off of rookie Thijs Steenwijk. With one out, Dirk van 't Klooster walked, then Danny Rombley doubled. A sacrifice fly by Vince Rooi then gave Pioniers an early 1-0 lead.

After leaving two runners in the second inning, Pioniers added three runs in the third at bat. With one out, Rombley walked. He then stole second base, advanced on an errant pick-off and scored when Rooi doubled. A grounder by Mark Duursma moved Rooi to third base and he then scored on a single by Kevin Dirksen. The latter was able to advance a base when a throwing error followed on his single and he then scored on a single by Dè Flanegin to make it 4-0.

In the fourth inning, Martijn van Soest, another rookie, took over for Steenwijk. He did fine, as he held Pioniers scoreless in three innings. In the fourth, with one out, he gave up singles to Van 't Klooster and Rombley, but then two outs followed. In the fifth, he walked Taylor Clemensia with two outs, but he was caught stealing.

Ricardo Hernandez Sanchez started for Pioniers and he faced the minimum total of batters in the first four innings. The Venezuelan lefthander only walked Jordan Illis with one out in the second inning, but he was caught stealing moments later. His No-Hitter and ShutOut ended when Mike Bazuin led off the fifth inning with a homerun. Hernandez then gave up a single to Sam van Dijck with two outs, but he was left behind.

In the sixth inning, Reggie Bomberg made his debut in a Pionier-uniform. He pitched in three games last season for ADO Lakers. Bomberg recently returned from the States, where he studied at and played for Carl Albert State College in Poteau (Oklahoma). There, he appeared in nine games, all as reliever, throwing eleven innings in which he struckout ten batters. His record was 0-0 with no saves and a 6.55 ERA. A teammate of him with the Vikings was Jordan Illis, who last weekend rejoined UVV again.

In his first appearance for Pioniers, Bomberg struckout the first batter he faced. He then walked Norbert Jongerius, but he was caught stealing moments later. Brennan Nijhof followed with a single, but he stranded.

After Van Soest retired the side in the sixth, Pioniers added a run in the seventh at bat. With two outs, Mark Duursma doubled and scored when Kevin Dirksen followed with a triple.

Trailing 5-1, UVV didn't use a regular pitcher anymore in the remainder of the game. In the top of the eighth, Joris van Ballegooy, who is a catcher, took over the pitching for UVV and he gave up three more runs to Pioniers. Taylor Clemensia led off with a double, then Max Draijer walked. A single by Zerzinho Croes, followed by a throwing error, then brought in Clemensia and a sacrifice fly by Dirk van 't Klooster accounted for the next run. Singles by Danny Rombley and pinch-hitter Chris Williams then loaded the bases and a sac-fly by Mark Duursma lifted the lead to 8-1.

After Bomberg had pitched the sixth for Pioniers, the Hoofddorp-squad used three more pitchers in the next three innings. Sedley Karel threw the seventh and struckout two batters. Swen Huijer took the mound in the eighth and retired the side, including two strikeouts. Scott Ronnenbergh then threw the ninth. The lefthander gave up a 2-out single to Gilmer Lampe, but then a comeback grounder ended the game.

...A look in the scorebox with Official Scorers Ger van Dongen...
...& Rienette Hamers and Announcer Roel Peters...

...Dirk van 't Klooster dives back to first base...
...after a pick-off attempt...

...Danny Rombley steals 2nd base...

...Mark Duursma reaches 2nd base with a double...
(© All Photos: Jan Kruijdenberg)
UVV - Vaessen Pioniers 1-8
R
H
E
Vaessen Pioniers
103
000
130
-
8
15
1
UVV
000
010
000
-
1
4
3
pitchers Pioniers
inn.
SO
BB
H
R
ER
Ricardo Hernandez Sanchez, W (6-1)
5
6
1
2
1
1
Reggie Bomberg, H (1)
1
1
1
1
-
-
Sedley Karel
1
2
-
-
-
-
Swen Huijer
1
2
-
-
-
-
Scott Ronnenbergh
1
1
-
1
-
-
pitchers UVV
inn.
SO
BB
H
R
ER
Thijs Steenwijk, L (0-1)
3
2
2
7
4
4
Martijn van Soest
4
-
1
4
1
1
Joris van Ballegooy
2
-
2
4
3
3
Homerun: UVV: Mike Bazuin (1)(solo,5th,off Hernandez).
Umpires: HP-Peter Brink, 1B-Fred Oosterling, 3B-Olav Steijger.
Official Scorer-Rienette Hamers.
Play-by-Play Scorers-Ger van Dongen.
Time-2:51 hr.
Game Notes:
Pioniers qualifies for Play-Offs by finishing in top-2 of first half of competition.
Pirates eliminated for Play-Offs in first half, because of the win by Pioniers.
Mampaey The Hawks vs. DOOR Neptunus
At Rotterdam, DOOR Neptunus won its make-up vs. Mampaey The Hawks 9-1 to finish in first place of the first half. Raily Legito hit a 3-run homerun and a double for Neptunus, scored twice and had five runs batted in. The Hawks scored its lone run in the first at bat of the game, which began 31 minutes later than scheduled. Rain in the afternoon had threatened the game again. But the rain stopped around 7:15 PM and the groundcrew was able to make the field playable again. And so, it went underway shortly after 8 PM.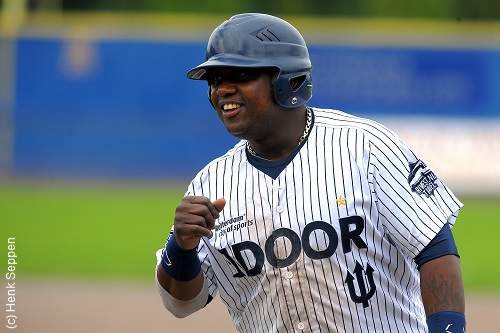 ...Raily Legito...
...3-run homerun, 5 RBI's...
(© Photo: Henk Seppen)

While being a home game for The Hawks, the game was played at the stadium of Neptunus. This was agreed due to arrangements made by Neptunus for the originally scheduled game tonight against Vaessen Pioniers. This was to be the opening game of the second half of the season and Neptunus had invited sponsors and organized a barbecue. The game vs. Pioniers was moved to next week to make room for tonight's make-up game, which was part of the first half of the season.

Neptunus took a quick 2-0 lead in the top of the first inning off of starter Jari Krutzen, who made his debut in the big league. A week ago, he was also scheduled to start for The Hawks in the make-up game vs. Neptunus, but that rained out again and was moved to tonight. Stijn van der Meer led off with a single and stole second base. He then scored on a triple by Benjamin Dille, who went on to score himself on a following grounder by Raily Legito.

The Hawks answered with a run in its first at bat off of Floris Timmer. Kevin Moesquit led off for The Hawks with a single in his first at bat in the Dutch big league. Moesquit arrived in Dordrecht recently after his professional career in the USA had come to an end. The 22-year old infielder played three seasons professionally in the organization of the Los Angeles Angels of Anaheim. Moesquit, who was born in Florida, played at the Single-A level last season for the Angels in 49 games, hitting .235 with no homeruns 13 runs batted in. He finished the season with Winnipeg Goldeyes, which plays in an Independent League. There, he played in 44 games, hitting .245 with two homeruns and 18 runs batted in. With one out, Moesquit advanced to third base on a single by Rodney Michel, then scored on a sacrifice fly by Steven Wharwood. But that was to be the lone run for The Hawks.

Neptunus enlarged its lead by scoring three runs in the third inning. Van der Meer led off with single and stole second base, then Dille walked. The two scored when Legito followed with a 3-run homerun to make it 5-1.

Michel Offerman, another rookie, took over for Krutzen in the fourth inning. He gave up an additional run in the fifth at bat. With one out, Legito doubled and scored on a 2-out double by Gianison Boekhoudt. Offerman gave up a 2-out single to Mourik Huijser in the sixth inning, but then retired the next four batters.

In the eighth inning, Edilberto Oropesa took over for Offerman, but ran into problems with two outs. The righthander then gave up singles to Urving Kemp and Shaldimar Daantji. After the two runners had advanced on a wild pitch, Oropesa walked Mourik Huijser. The American then also walked Stijn van der Meer and Benjamin Dille to bring in two more runs. Hereafter, Oropesa was relieved by Evan Simons, who began with a walk for Raily Legito to bring in another run. Neptunus then left the bases loaded when Dwayne Kemp flied out, but it had increased its lead to 9-1.

Floris Timmer was supported with a double play in the fourth and fifth inning, then saw The Hawks load the bases in the sixth at bat. He then walked Berend Ruben and, with one out, gave up singles to Steven Wharwood and Gregory Trinidad, which loaded the bases. But a strikeout and groundout then ended the inning.

Timmer retired the side in the seventh and then Jorian van Acker threw the eighth inning for Neptunus. With two outs, Wharwood reached second base on a throwing error, but a foul-out ended the inning. It also ended the game, as the 10:30 PM curfew was reached.

Mampaey The Hawks - DOOR Neptunus 1-9
R
H
E
DOOR Neptunus
203
010
03
-
9
11
2
Mampaey The Hawks
100
000
00
-
1
7
0
(game halted after eight complete innings due to the 10:30 PM curfew-rule)
pitchers Neptunus
inn.
SO
BB
H
R
ER
Floris Timmer, W (4-0)
7
1
1
7
1
1
Jorian van Acker
1
1
-
-
-
-
pitchers The Hawks
inn.
SO
BB
H
R
ER
Jari Krutzen, L (0-1)
3
1
1
6
5
5
Michel Offerman
4
-
1
3
1
1
Edilberto Oropesa
0.2
-
3
2
3
3
Evan Simons
0.1
-
1
-
-
-
Homerun: Neptunus: Raily Legito (3)(3-run,3rd,off Krutzen).
Umpires: HP-Winfried Berkvens, 1B-Fred van Groningen Schinkel, 3B-Henk van der Linde.
Official Scorer-Stefan Slinger.
Play-by-Play Scorer-Dieks Bannink.
Time-2:24 hr.
Game Notes:
Game played at Neptunus Familiestadium in Rotterdam (site of Neptunus).
Game started 31 minutes later than scheduled, due to maintenance to field due to rain.

Thank you for visiting this site.
Mail your suggestions and questions to stoov@wxs.nl
Copyright © 1997-2014 Marco Stoovelaar / Grand Slam * Stats & News.