(Story by Marco Stoovelaar; Photo by Henk Seppen)

Kevin Roovers new Head Coach of Twins
Nederlands


OOSTERHOUT (Neth.) - Kevin Roovers is the new Head Coach of Twins, the club announced on Monday, November 3. Roovers will coach the team next season when it will play again in the second hightest Dutch league, the 'Overgangsklasse'.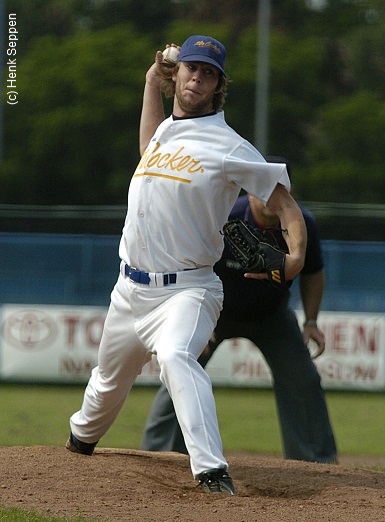 ...Kevin Roovers pitching for HCAW in 2007...
(© Photo: Henk Seppen)

Roovers is the successor of Ralph Milliard. In his first season as Head Coach with the club, Milliard led Twins almost to the championship. On the final day of the season, Twins lost to DSS, which therefore claimed first place and qualified for the best-of-five Promotion/Relegation Play-Off against Mampaey The Hawks, which finished in last place in the big league. DSS went on to win the series 3-2 to promote to next years big league.

On September 24, Ralph Milliard was named the new Head Coach of the big league-team of Mr. Cocker HCAW. With this, the former Major League-player will make his debut as Head Coach in the highest league next season.

The 30-year old Kevin Roovers is a former pitcher, who played for Twins when it promoted to the Dutch big league in 2002. Before making his debut in the main squad of Twins, Roovers has played for the club since he was six years old. The righthander went on to play with Twins in the big league in the 2003 and 2004 seasons. In its second season, Twins relegated and Roovers transfered to Almere '90, where he played in 2005. Then, from 2006 through 2011, Roovers was a member of the pitching-staff of Mr. Cocker HCAW, where he was used both as a starter and reliever.
After the 2011 season, Roovers went back to Twins, where he pitched again in 2012 and 2013. Last year, he won the championship with Twins in the 'Overgangsklasse', but then lost the best-of-five series against ADO Lakers, 3-2.
Roovers also played two winter seasons in Australia. In 2008-2009 and 2009-2010, he pitched for Gosnells Hawks. In his first season there, he was 14-3 and struckout 117 batters, which earned him the MVP and Best Pitcher Trophy in the Western Australia Baseball League.
After the 2013 season, Roovers retired due to an arm-injury, which also bothered him during his big league-career. This year, Roovers served as Pitching Coach of Twins.
(November 3)