75th anniversary of Lou Gehrig's famous speech
Nederlands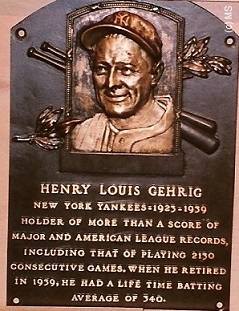 ...Lou Gehrig's plaque at the...
...Hall of Fame in Cooperstown...
(© Photo: Marco Stoovelaar)

NEW YORK, New York (USA) - ,,Fans, for the past two weeks you have been reading about a bad break I got. Yet today I consider myself the luckiest man on the face of this earth.

I might have had a tough break, but I have an awful lot to live for.''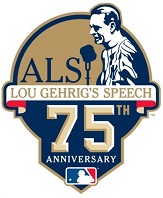 These words are famous and historic. These words were spoken on July 4, 1939 by Lou Gehrig, the legendary first baseman of the New York Yankees. On this day, in Yankee Stadium, Gehrig, the first captain of the Yankees, made his farewell speech.
Gehrig was stricken with a dreadful disease that ended his life almost two years later. Seventeen days before he would have turned 38. Gehrig passed away on June 2, 1941.
The disease was Amyotrophic Lateral Sclerosis, or ALS, and is known as 'Lou Gehrig's Disease' since. It's a progressive, fatal neurodegenerative disease.
Henry Louis Gehrig was well-respected in Major League-baseball for his durability. Gehrig played in a record 2,130 consecutive games and was nicknamed 'Iron Horse'. His career batting average in 17 Major League-seasons (1923-1939, all with the Yankees) was .340 and he won the Triple Crown in 1934. He collected 2,721 basehits, including 493 homeruns. Gehrig played in seven All Star Games and won the World Series six times. He was named the Most Valuable Player in the American League in 1927 and 1936. The consecutice game streak was broken in 1995 by Cal Ripken, Jr..
During the 1938 season, Gehrig's performances started to drop somewhat. That continued during the first month on the 1939 season. On April 30, 1939, Gehrig went hitless against the Washington Senators, which was his 2,130th consecutive game. After a day off, on May 2, Gehrig went to Manager Joe McCarthy telling him he wouldn't play 'for the good of the team'. That ended his record-setting consecutive game streak. Gehrig remained with the Yankees for the rest of the season as the team captain, but never played in a game again. When Gehrig's condition started to worsen, he traveled to the famous Mayo Clinic in Minnesota on June 13, 1939. After six days of extensive testing, the diagnosis that he had ALS was confirmed on June 19, his 36th birthday.
On December 7, 1939, Lou Gehrig was elected to the National Baseball Hall of Fame in a special election.
On the 75th anniversary of the historic speech, Major League Baseball and all 30 clubs paid tribute to Lou Gehrig. Major League Baseball donated $300,000 for the fight against ALS. A special video of Gehrig's speech is shown in all ballparks on Friday, July 4. All players, managers, coaches and umpires will wear a special commemorative 75th Anniversary patch.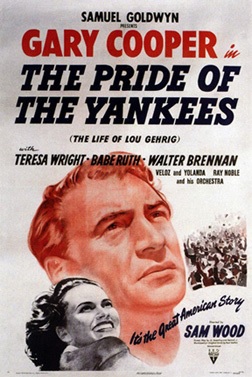 The story of Lou Gehrig's life was made into a movie, 'The Pride of the Yankees', which premiered on July 14, 1942. Gary Cooper played the part of Gehrig in this wonderful and emotional movie, which was directed by Sam Wood. Teresa Wright played his wife Eleanor and the cast also included wellknown actors as Walter Brennan and Dan Duryea. The legendary Babe Ruth, a longtime teammate of Gehrig, played himself in the movie, which was nominated for eleven Oscars, including Best Picture and Best Actor and Actress in a Leading Role. It won the Academy Award for Best Film Editing.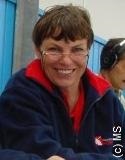 ...Margriet Stolp...
(© Ph: Marco Stoovelaar)

Lou Gehrig's Disease also touched the Dutch baseball and softball-family. Official Scorer Margriet Stolp, who was active in the Dutch big league in both baseball and softball for 14 seasons, passed away on March 30, 2006 at the age of only 61 due to the disease. During her career, Margriet also was an Official Scorer during several internationals events, including the European Baseball Championship in 1995 and 2003 and two Haarlem Baseball Weeks.

The complete text of Lou Gehrig's farewell speech is as follows:

,,Fans, for the past two weeks you have been reading about the bad break I got. Yet today I consider myself the luckiest man on the face of this earth. I have been in ballparks for 17 years and have never received anything but kindness and encouragement from you fans.

Look at these grand men. Which of you wouldn't consider it the highlight of his career just to associate with them for even one day? Sure, I'm lucky. Who wouldn't consider it an honor to have known Jacob Ruppert? Also, the builder of baseball's greatest empire, Ed Barrow? To have spent six years with that wonderful little fellow, Miller Huggins? Then to have spent the next nine years with that outstanding leader, that smart student of psychology, the best manager in baseball today, Joe McCarthy? Sure, I'm lucky.

When the New York Giants, a team you would give your right arm to beat, and vice versa, sends you a gift - that's something. When everybody down to the groundskeepers and those boys in white coats remember you with trophies - that's something. When you have a wonderful mother-in-law who takes sides with you in squabbles with her own daughter - that's something. When you have a father and a mother who work all their lives so you can have an education and build your body - it's a blessing. When you have a wife who has been a tower of strength and shown more courage than you dreamed existed - that's the finest I know.

So I close in saying that I may have had a tough break, but I have an awful lot to live for.''

(July 4)

...A photo of Lou Gehrig in the Hall of Fame...
...in Cooperstown acknowledging his...
...consecutive game streak...
(© Photo: Marco Stoovelaar)

...Webmaster Marco Stoovelaar in front...
...of Lou Gehrig's original locker in...
...the Hall of Fame in Cooperstown...
(© Photo: Coen Stoovelaar)