(Story and Photos by Marco Stoovelaar)

Loek Loevendie newest member Dutch Hall of Fame
Nederlands


AMSTERDAM (Neth.) - Loek Loevendie is the newest member of the Hall of Fame of the Netherlands Baseball and Softball Museum. Today (Saturday, October 4), his election was officially announced during a pre-game ceremony before Game 4 of the Holland Series between L&D Amsterdam Pirates and DOOR Neptunus.
Loevendie's plaquette was unveiled during a meeting in the clubhouse, then he was honored before the start of the game. There, the team's of Amsterdam and Neptunus lined up and Loevendie received the Hall of Fame-pin and certificate from Gijs Selderijk, who was recently named as new Technical Director Baseball of the Royal Dutch Baseball and Softball Association (KNBSB), succeeding Robert Eenhoorn. Loevendie is the 49th member and first since 2009 to be elected into the Dutch Hall of Fame.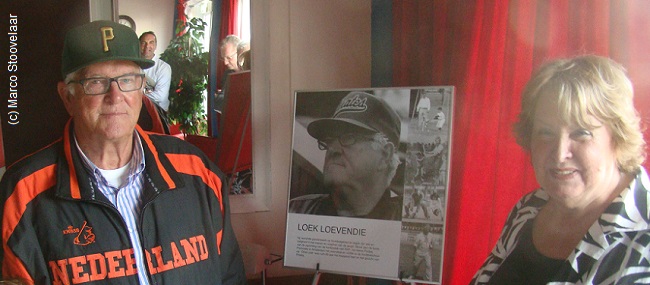 ...Newest Hall of Famer Loek Loevendie with his wife Rie...
(© Photo: Marco Stoovelaar)

Loek Loevendie has a very long career in baseball. He played the sport himself, was coach, but above all, he was and still is a big promoter of the sport. Especially in the Amsterdam-area.

At age 16, Loevendie started coaching youth players at Amsterdam-based soccer-club Rap. With that club, in 1959, he was one of the founders of a baseball-section, a few years later joined by a softball-section.

Loevendie became one of the players in the baseball-team, while continuing coaching youth soccer-teams. Later, Loevendie began with his famous weekly practice sessions for baseball-youth. He placed advertisements in weekly newspapers and immediately got a lot of reactions. With that, the youth section of Rap-baseball began. And it was the start of a very successful youth section, which captured numerous Amsterdam-league titles, regional titles and national titles.

Loevendie changed from coaching soccer-youth to baseball-youth and even went on to set up a predecessor of the current baseball academies. Through the years, he instructed more than hundred players, who went on to play in the Dutch big league and/or the Dutch National Baseball Team. In the first youth-groups Loevendie instructed in the sixties and early seventies were players like Marcel Joost, Frank Koot, Haitze de Vries, Jan Hijzelendoorn, Ronald Stoovelaar and Peter van Erk, who all would reach the big league. The first five also played for the Dutch National Team. Also, amongst his pupils were players, who later played professionally, including Rikkert Faneyte, who played in the Major League for San Francisco Giants and Texas Rangers. Also, players like pitcher Tonny Cohen and infielder Raymond Hofer also went on to play professionally in the USA. For many of these players, as well as longtime club-members, Loevendie simply was and is known as 'Uncle Loek' ('Ome Loek').

On September 29 last year, the then 81-year old Loevendie ended his 65-year coaching career. After completing his coaching career, Loevendie stated: ,,I would have loved to continue, but my back is hurting too much. It's time to stop with coaching. But I will remain active for the club. I have many things that I will look after, youth committee, equipment, the museum and much more. And I will continue overseeing the Wednesday-afternoon practices. I will then sit simply on a chair and throw balls to the batters. I love coaching youth-players and instruct them to get better. I'll have plenty to do.''
| | |
| --- | --- |
| ...Museum-chairman Karel van Veen addresses Loek Loevendie... | ...Loevendie (at right) listens to the speech... |
| ...Museum-secretary Olga Lablans unveils the plaquette... | ...Loek Loevendie looks on to the unveilling... |
| ...Loek Loevendie admires his Hall of Fame-plaquette... | ...Loek Loevendie thanks his wife Rie 'for all those years'... |
| ...Loevendie enters the field before the start of the game... | ...Everyone listens to P.A. Announcer Hans Jansen... |
| ...Recently named Technical Director Gijs selderijk... | ...decorates Loevendie with the Hall of Fame-pin... |
| ...Selderijk congratulates Loevendie with his election... | ...Loevendie shows his Hall of Fame-certificate... |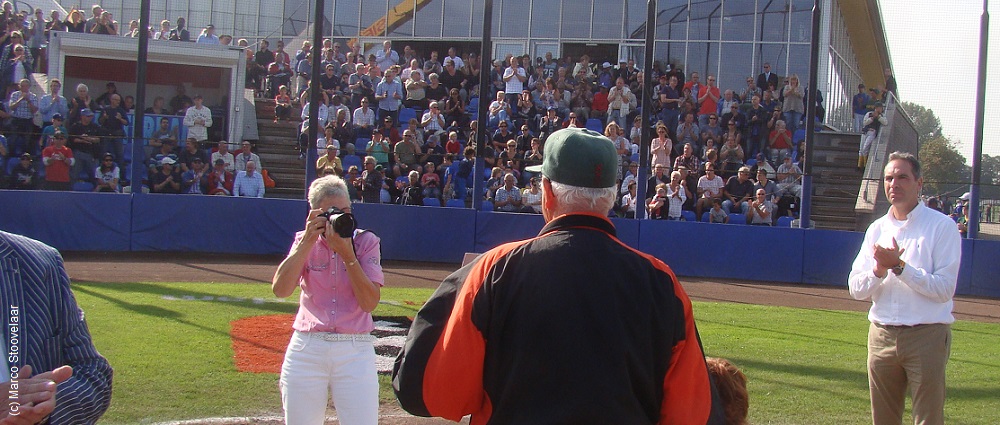 ...Newest Hall of Famer Loek Loevendie gets a standing ovation...

...Loevendie is congratulated by fellow Hall of Famer...
...and Amsterdam's Head Coach Charles Urbanus...

...Home Plate Umpire Olav Steijger also...
...congratulates Loek Loevendie...
(© All Photos: Marco Stoovelaar)
(October 4)