(Story by Marco Stoovelaar; Photos by Marco Stoovelaar and Alfred Cop)

Amsterdam takes 3-1 lead with come-from-behind win
Nederlands


AMSTERDAM (Neth.) - Thursday-evening, DOOR Neptunus won Game 3 with a 3-1 score and after today (Saturday, October 4), 3-1 is the standing in the best-of-seven Holland Series in favor of L&D Amsterdam Pirates, which this afternoon turned a 4-1 deficit into a 5-4 win in Game 4, which was loaded with drama and spectacular moments.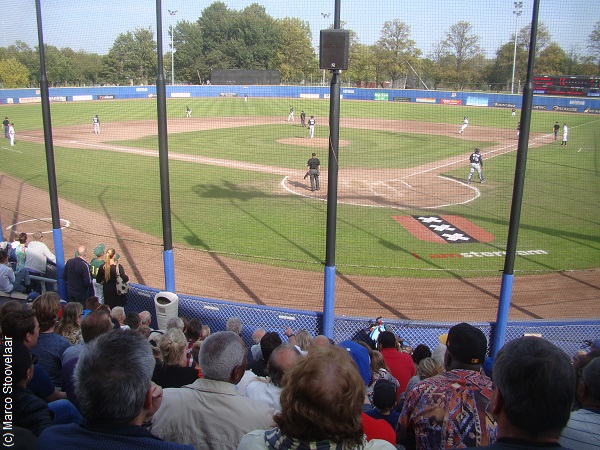 ...Sportpark Ookmeer was the site for Game 4...
(© Photo: Marco Stoovelaar)

Game 5 will be played on Sunday in Amsterdam, starting at 1 PM. When Amsterdam wins this game, it will capture the Dutch championship-title. When Neptunus wins, the Series resumes next Saturday with Game 6 in Rotterdam.

Initially, Neptunus took a quick 2-0 lead in the first inning. Amsterdam answered with one run, but Neptunus enlarged its lead to 4-1 in the next at bats. In the eighth, Amsterdam still faced that 4-1 deficit, but then scored twice. In the ninth, Amsterdam again scored two runs, the last on a walk-off single by Jesse Aussems to complete the come-from-behind victory and win 5-4.

In the first at bat, Neptunus opened the score thanks to a miscommunication in the Pirates-defense. Adrian Anthony and Benjamin Dille led off the game with a single off of veteran starter Rob Cordemans. But the two were unable to advance when next batters Raily Legito and Gianison Boekhoudt flied out. Next, Amsterdam appeared to escape unharmed out of the inning when Kalian Sams popped the ball up into leftfield. Leftfielder Roelie Henrique had to come in and it looked like he had no chance of catching the ball. Short stop Michael Duursma ran backwards and he did have a chance of catching the ball, which he indeed did. However, instead of moving out of the way, Henrique kept on running and ran into Duursma shortly after he had caught the ball. As a result, Duursma dropped the ball and Sams ended up with a 2-run double that gave Neptunus a quick 2-0 lead. The inning then ended when Dwayne Kemp flied out.

In the bottom of the first inning, Amsterdam got one run back. Roelie Henrique led off with a single, stole second base and scored on a 2-out single by Kenny Berkenbosch. But that was it for a long time for Amsterdam. The team added five more basehits off of starter Orlando Yntema, but the Neptununian defense held Pirates scoreless.

Amsterdam stranded seven runners from the second through seventh inning, including the bases loaded in the second at bat. In that inning, Percy Isenia and Jesse Aussems singled with one out, then Rashid Gerard was hit by a pitch. But a flyout and groundout left the bases loaded.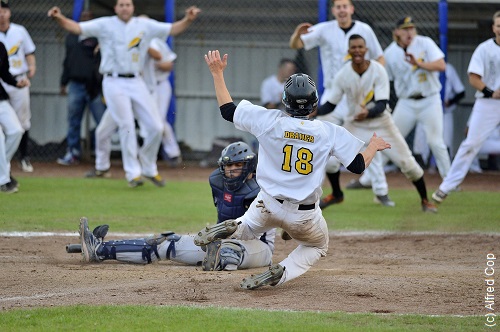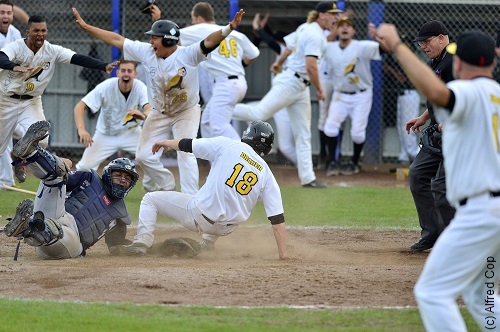 ...Remco Draijer scores the winning run...
...for Amsterdam Pirates in the 9th inning...
(© Above Photos: Alfred Cop Fotografie)

Neptunus added a run in the third inning. With one out, Benjamin Dille singled and scored on a 2-out double by Gianison Boekhoudt. Hereafter, Kalian Sams walked, but then a foul-out followed.

In the next three innings, Neptunus left a runner in each at bat, then Amsterdam got a scoring opportunity again in the bottom of the sixth. Bas Nooij and Remco Draijer led off with singles, but Amsterdam was unable to add a run. The two moved on a sacrifice bunt by Percy Isenia, then a force out and foul-out ended the inning, leaving runners on second and third base.

That strenghtened Neptunus, which immediately added a run in the top of the seventh inning to take an apparent comfortable 4-1 lead. Adrian Anthony led off with a walk and moved on a sac-bunt by Benjamin Dille. Hereafter, lefthander Kyle Ward took over from Cordemans, but was greeted with an RBI-single by Raily Legito, which made it 4-1. Moments later, Ward picked off Legito, who was then caught stealing. That was a crucial moment for Neptunus, as Gianison Boekhoudt walked hereafter. Daan Hendrix became the new pitcher and walked Kalian Sams. That could have loaded the bases with one out, but now there were two outs and two runners. A flyout then ended the inning.

And so, the game started to turn Amsterdam's way, as Neptunus failed to add more runs in the eighth, leaving the bases loaded. Daniel Fernandes led off with a single, but then Shurman Marlin grounded into a double play. Next, Neptunus got the bases loaded when Shaldimar Daantji singled, Adrian Anthony walked and Benjamin Dille was hit by a pitch. The inning ended when Raily Legito fouled out.

With a 4-1 lead, Jorian van Acker took over the pitching for Yntema in the bottom of the eighth inning, but he ran into problems quickly. Kenny Berkenbosch led off with a single and Bas Nooij walked. Remco Draijer followed with a single that brought in Berkenbosch and moved Nooij to third base. Leftfielder Kalian Sams then made a nice running catch on a fly by Percy Isenia for the first out, leaving Nooij at third base. After Draijer had stolen second base, Jesse Aussems grounded the ball to the rightside of the infield, where first baseman Shurman Marlin fielded the ball and threw it to 2nd baseman Benjamin Dille, who covered first base. When he received the ball, Dille missed stepping on first base and he then made a tagging move which appeared to touch Aussems at the moment the latter reached first base. And so, Aussems was ruled safe and his infield-hit accounted for the next run. Neptunus' Head Coach Evert-Jan 't Hoen disputed the call at first base and was ejected by 1B Umpire Roy van de Wateringen. Last Sunday, in the 17-7 loss, 't Hoen also was ejected when he discussed the ejection of Kalian Sams after a called strikeout.

After Amsterdam had narrowed the deficit to 4-3, Kevin Kelly was brought in as reliever for Van Acker. He began by striking out Rashid Gerard, but then walked Roelie Henrique, which loaded the bases. The inning ended when Michael Duursma popped out to second base.

In the top of the ninth inning, Neptunus again failed to take more distance. Gianison Boekhoudt led off with a walk and Dwayne Kemp singled after Kalian Sams had popped out. Neptunus then got the bases loaded when Daniel Fernandes also singled. With the bases loaded, one out and Neptunus leading by one run, Chris Mowday became the fourth pitcher for Amsterdam. He faced rookie Shurman Marlin, who fouled off two pitches, then grounded a 1-2 pitch into an inning-ending double play.

And that set up the deciding bottom of the ninth inning. Lead-off hitter Bas de Jong was ruled out on a close call at first base, but then Kenny Berkenbosch walked. Björn Hato then entered the game as pinch-runner for Berkenbosch, however next batter Bas Nooij flied out. But Hato then moved into scoring position when Remco Draijer delivered his third basehit of the game. Draijer also had three hits last Thursday-evening. That brought veteran hitter Percy Isenia in the batter's box. Last Thursday, lefthander Diegomar Markwell struckout Isenia with runners on second and third base to end the game. But now, Isenia delivered a single that brought in Hato with the tying run. A meeting at the mound followed, but moments later, on an 1-0 count, Jesse Aussems also connected well and registered a walk-off single that gave Amsterdam a 5-4 victory. Remco Draijer was waved home and there might have been a play at home, but the throw from leftfielder Kalian Sams was not near the plate and so Draijer scored the winning run. This also was Aussems' third basehit of the game and his second at an important moment. So, this afternoon, it was 'Awesome Aussems' for the home team.
...Game 4 in Amsterdam was well-visited again...

...Amsterdam-starter Rob Cordemans...

...Neptunus-starter Orlando Yntema...
(© Above Photos: Marco Stoovelaar)
...Neptunus-leftfielder Kalian Sams makes a nice diving catch in the 8th inning...
...The Amsterdam-players show their emotions while going after Jesse Aussems to celebrate the win...
(© Above Photos: Alfred Cop Fotografie)
(October 4)