Dutch BB Women empty-handed vs. Venezuela
Nederlands

MIYAZAKI (Japan) - The Netherlands Baseball Women Team today (Friday, September 5) lost 6-1 vs. Venezuela in its first game of the Second Round of the Women's Baseball World Cup in Japan. The Dutch squad produced only two basehits and committed four errors. The team closes the Second Round on Saturday against Hong Kong, which also is winless. Whatever the result of that game, the Dutch meets Hong Kong again on Sunday-morning in the game that will decide seventh and eighth place.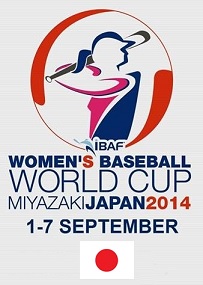 Despite hitting only two hits, the Dutch Team took an 1-0 lead into the fifth inning. Venezuela then came alongside and followed with a 5-run rally in the sixth at bat.
In the third inning, the Dutch opened the score. Susanne van Kampen led off with a walk, then was safe on second base when an error followed on a force play-grounder by Paulieke Breukers. The two advanced on a grounder by Kyra van Genderen, then the run was scored when Esther Maliepaard also grounded out.
In the next two at bats, there were some more Dutch baserunners. In the fourth, Marije Filius led off with a walk, but was forced out. In the fifth, Susanne van Kampen was hit by a pitch with one out and also was forced out.
Venezuela had left seven runners in the first four innings, then tied the score in the fifth. Lead-off hitter Yoselin Carolina Gimenez Daylin was hit by a pitch, moved on a sacrifice bunt and a grounder, then scored on a single by Johana Patricia Perez Perez. That led to a pitching change, as Ciska Welboren took over for starter Marijke van Veen. She hit the next batter with a pitch and Manager Eddie Dix then decided to bring in another pitcher. Maaike Haak took over, but she also hit a batter and that loaded the bases. The inning then ended when short stop Sofie van de Wiel made a nice catch on a line drive by Patricia Jisela Segovia Alvarado.
In the top of the sixth, the Dutch were retired in order, then Venezuela struck with a 5-run rally on only two hits. The Dutch defense contributed with three errors, leading to all five runs being unearned.
Trailing 6-1 in the top of the seventh, Sofie van de Wiel and Anouk Vergunst hit back-to-back doubles with one out to break the No-Hitter of Keila Josefina Aranguren Ferre, who then followed with two strikeouts to end the inning and the game.
(September 5)