Yoshida Challenge in France opens with surprise
Nederlands

LIEUSAINT (Seine-et-Marne), SÉNART VILLE NOUVELLE (France) - The France International Baseball Tournament, or Yoshida Challenge, went underway on Thursday (September 4) with a surprise. Host France won 8-7 in an exhibition game vs. Japan, which is not with its national team in France, but is represented by club team Seino Unyu. On Friday, the Japanese squad won 11-3 vs. Belgium in the first official game of the tournament.

The Netherlands Baseball Team plays its first game on Saturday-evening against the Japanese team, starting at 7 PM. In the afternoon, France meets Belgium.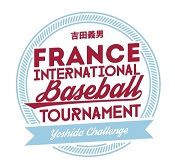 The Dutch Team then plays is next game on Sunday vs. Belgium at 12 PM, then meets France on Monday, starting at 7 PM. The tournament ends on Tuesday with the final game.
On Thursday, France trailed 7-2 vs. the Japan-squad when the bottom of the fifth inning began. France then scored twice when René Leveret hit a 2-run homerun. Leveret went 3-for-4, scored twice and had four runs batted in.
Another run was then added in the sixth on a grounder by Maxime Lefevre to narrow the deficit to 7-5. France then came alongside in the seventh, thanks to two Japanese errors and RBI-singles by Aram Kushigian and Arthur Paturel.
Japan failed to add more runs and so, the was at 7-7 when the ninth inning started. In the bottom of the at bat, the first two French batters singled and advanced on a grounder. To set up a force play, the bases were loaded by walking the next batter intentionally. But a sacrifice fly by Arthur Paturel then brought in the winning run.
On Friday, Japan led only 1-0 after five innings against Belgium, then rallied for six runs in the sixth at bat to take a more comfortable lead and added four more runs in the next three innings.
Belgium scored its three runs in the home of the sixth inning. With one out, Jamie Verheyleweghen and Dennis De Quint hit back-to-back triples, followed by an RBI-single by Thomas De Wolf. Hereafter, Vincent King also singled, which was followed by an error that brought De Wolf to third base. He then scored on a sacrifice fly by Robin Roevens.
(September 5)