(Story by Marco Stoovelaar; Photos by Henk Seppen and Alfred Cop)

Closer Van Driel silences Amsterdam; Neptunus forces 6th game
Nederlands


AMSTERDAM (Neth.) - Since making his debut in a Neptunian uniform, Berry van Driel threw in 168 games in relief, whether it was in the regular season, Play-Offs or Holland Series. In most of these appearances, Van Driel was used as the closer for Neptunus. Today, Van Driel was the starting pitcher for the Rotterdam-squad in Game 5 of the best-of-seven Holland Series. The righthander silenced the offense of L&D Amsterdam Pirates and allowed only one player to reach second base in the first seven innings he pitched. After getting two runners with two outs in the eighth, Van Driel was relieved.
With that, Van Driel played a very important role in the 4-1 victory of DOOR Neptunus this afternoon (Sunday, October 5) at L&D Amsterdam Pirates, which was, and still is, one win away from the Dutch championship-title. With the win, Neptunus narrowed the deficit in the Holland Series to 3-2 and the final now returns to Rotterdam. There, Game 6 will be played next Saturday at the Neptunus Familiestadion. If needed, Game 7 will be played on Sunday, also in Rotterdam.
In 2010, the Holland Series-format was changed from a best-of-five to a best-of-seven. In that year, Neptunus and Amsterdam also faced each other in the final, which was the last that needed six games. Neptunus won that Series, 4-2. Hereafter, Amsterdam won 4-1 vs. Pioniers, then Kinheim swept Neptunus 4-0 and last year Neptunus swept Pioniers, 4-0.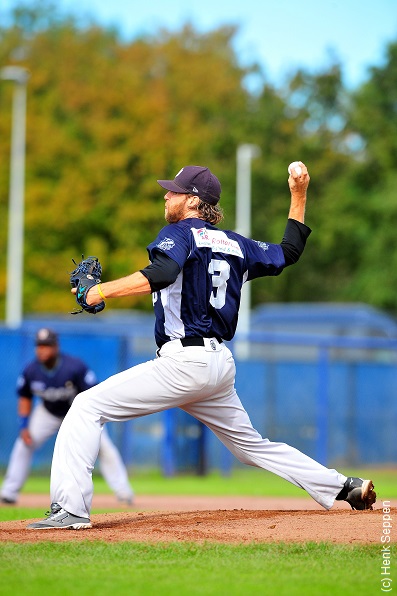 ...Winning pitcher Berry van Driel...
(© Photo: Henk Seppen)

In the history of the Holland Series, which began in 1987, there has been one other best-of-seven. That took place in 1989 and needed all seven games. Neptunus also played in that Series and lost 4-3 to Haarlem Nicols.

Another fact. When Game 6 will be played next Saturday, October 11, it will mark the latest closing of the Dutch season in history. The previous latest date to play the final game was on October 9, 1994. On that day twenty years ago, Kinheim defeated Neptunus 4-3 in Game 5 of the Holland Series to win the championship.

Van Driel's streak of 168 consecutive relief-appearances end on August 31 of this year when he started a game for Neptunus in the Play-Offs, which coincidentally also was against Amsterdam Pirates. Five weeks ago, Van Driel threw six innings. Today, he left the mound after 7 2/3 innings.

Before coming to Neptunus, Van Driel played for ADO in 2002-2007. There, he initially was an infielder, primarily being used as third baseman. In the 2004, 2005 and 2006 seasons, Van Driel was used on several occassions as a pitcher. Sometimes, just to fill in, so that no regular pitcher had to be used. He made his first start in 2005, then another one in 2006. From the 2007 season on, Van Driel is a fulltime pitcher. In that year, his final season for ADO, he started one game and threw 18 others in relief. Oh, by the way, Van Driel's teammates that year with ADO were pitchers Rob Cordemans and Jurrian Koks and first baseman/DH Percy Isenia, who now all play for Amsterdam Pirates since a few years.

In recent outings, Van Driel wasn't very successful for Neptunus when he entered the mound as a reliever. After completion of the Haarlem Baseball Week, he was cut from the roster of the Netherlands Baseball Team for the European Championship. With that, he missed his first big international tournaments in years with the Orange squad.

Today, Berry van Driel had a good outing. Some Amsterdam-batters went after the wrong pitches and Van Driel grew, silencing the offense of the home team. With an 1-0 lead for Neptunus, Van Driel allowed his lone runner to reach second base in the third inning. That runner went on to score the tying run, but it then took until the eighth inning for Pirates to get its second runner into scoring position. And it was Van Driel himself who accounted for that thanks to a walk and hit batter.

Did Van Driel play a major role in the Neptunian defense, the offensive lead was played by rookie Shurman Marlin, who lifted the lead to 4-1 with a 2-run homerun in the fifth inning.

Starting for Amsterdam was Jos de Jong, who was credited with all four runs Neptunus scored. After both starters had retired the side in the first inning, Neptunus opened the score in the second at bat. Gianison Boekhoudt led off with a double down the rightfield-line, then advanced on a grounder by Kalian Sams and scored on a sacrifice fly by Dwayne Kemp.

De Jong then retired the side again in the third and was supported with a run of his own in the bottom half of the at bat. Jesse Aussems led off with a single and was brought into scoring position with a sacrifice bunt by Rashid Gerard. With two outs, Aussems scored the tying run on a single by Michael Duursma.

The top of the fourth inning saw a double play by the Amsterdam-defense. In the bottom half, Van Driel got two quick outs, then saw Remco Draijer hit the ball towards short stop Dwayne Kemp. While Kemp had to put in some extra effort, but he fielded the ball, then threw it in the ground past first baseman Shurman Marlin. Draijer reached first base on an infield-hit, then moved to second base on the wide throw. However, reactions from Neptunus-catcher Gianison Boekhoudt, some infielders and Head Coach Evert-Jan 't Hoen followed shortly thereafter. Apparently, there had been a time-out call at some point, as Home Plate Umpire Stenar van Groningen Schinkel was wiping home plate to prepare for the next pitch at the moment Draijer had reached second base. The 4-man umpire crew got together and sent Draijer back to first base, which off course resulted in an argument from Amsterdam's Head Coach Charles Urbanus. An explanation followed, Draijer stayed at first base, Urbanus returned to the dug-out and the game resumed. Moments later, the inning ended when Draijer was caught stealing.

What would have happened when Draijer would have permitted to stay on second base, we will never know. But what we do know is that Neptunus re-took the lead moments later in the top of the fifth inning. With one out, Dwayne Kemp reached on a bunt-single, then stole second base. He then scored the go-ahead run when next batter Daniel Fernandes followed with a single, sliding just past tagging catcher Bas Nooij. Hereafter, rookie Shurman Marlin drilled the first delivery of Jos de Jong on the big scoreboard in rightfield for a 2-run homerun that lifted the lead to 4-1.

This was the first big league-homerun for Shurman Marlin, who was the projected first baseman for Neptunus this year. But a week before the start of the season, he broke his arm and was sidelined for weeks. On July 1, Marlin made his debut in the Neptunus-squad and the Dutch big league when he was inserted as a pinch-hitter vs. Vaessen Pioniers. In the remainder of the regular season, he went on to play in seven games and batted .444 (8-for-18) with two doubles. Marlin then played in all nine games in the Play-Offs and then batted .300 (9-for-30) with one triple. Including today, Marlin now hits .313 (5-for-16) in the Holland Series. His two runs batted in were his first during the Series.

The 4-1 lead proved to be decisive. Both teams had one more scoring opportunity left in the remainder of the game. Neptunus saw three batters reach base in the final four innings, including one on third base in the ninth. Pirates had four runners in the final four at bats, including one on second base.

After Neptunus had taken a 4-1 lead, Percy Isenia led off for Amsterdam with a single, but then Jesse Aussems grounded into a double play.

In the top of the sixth, Raily Legito singled for Neptunus with one out, which marked the end for De Jong. He was relieved by Jurrian Koks, who saw the next two batters flyout.

In the top of the seventh, Shurman Marlin singled with two outs for Neptunus, but was left behind. Van Driel gave up an one-out single to Bas Nooij in the bottom of the at bat, but he was forced out.

After Koks had retired the side in the top of the eighth, Amsterdam got a chance of doing something back in the bottom of the inning. Van Driel got two quick outs, hightlighted by a nice diving catch by leftfielder Kalian Sams (his second in two days). But then Van Driel walked Roelie Henrique. That brought Head Coach Evert-Jan 't Hoen to the mound and it appeared that he would make a pitching change, especially as several Neptunus-players came out of the dug-out waiting for Van Driel. However, 't Hoen returned and Van Driel stayed. The righthander then hit next batter Michael Duursma with a pitch on his helmet and that (after 129 pitches) did mark the end for Van Driel, who received a nice applause from the more than thousand spectators when he left the mound. Kevin Kelly took over and he ended the inning by striking out Bas de Jong.

In the top of the ninth, Gianison Boekhoudt led off for Neptunus with a single, but stranded on third base. In the bottom of the ninth, Kelly retired the side to seal the win for Neptunus and Van Driel.

...Jesse Aussems is welcomed after scoring...
...tying run for Amsterdam in the third inning...

...Benjamin Dille is forced out in the 4th inning...
...by Jesse Aussems who completes a double play...

...Amsterdam's Head Coach Charles Urbanus argues with...
...HP Umpire Stenar van Groningen Schinkel during...
...the situation in the fourth inning...

...Shurman Marlin hit a 2-run homerun for Neptunus...
...in the fifth inning...


...Dwayne Kemp scores the go-ahead run for Neptunus, sliding past catcher Bas Nooij in the 5th inning...

...Another angle on Kemp scoring a run...
...in the fifth inning...

...Percy Isenia is forced out in the 5th inning...
...by Dwayne Kemp, who completes a double play...

...Amsterdam-starter Jos de Jong...



...Berry van Driel is greeted by his teammates...
...after being relieved in the 8th inning...
(© All Photos: Henk Seppen); (© Fourth Photo leftside: Alfred Cop Fotografie)
(October 5)