(Story by Marco Stoovelaar; Photos by Robert Bos)

The Hawks wins to set up 5th and deciding game
Nederlands


HAARLEM (Neth.) - With a 10-5 victory at DSS today (Sunday, October 5), Mampaey The Hawks again balanced the best-of-five Promotion/Relegation Play-Off to set up a fifth and deciding game. That game, which now will be a winner takes all one-game play-off, will be played next Saturday at Dordrecht. The winner of that game will play in the Dutch big league next season.
The last two seasons, this series also needed all five games to come to a decision. Last year, ADO Lakers secured its spot in the big league by winning the best-of-five 3-2 vs. Twins. In 2012, it was The Hawks that won 3-2 vs. Sparta-Feyenoord to promote to the highest division.
For the fourth time during this Series, the visiting team today left the field as winner. Initially, The Hawks faced an 1-0 deficit after one inning, but then led 7-1 after completion of the top of the third inning. DSS narrowed the deficit to 7-5 moments later, but was unable to turn the game its way. And so, a fifth and deciding game is needed.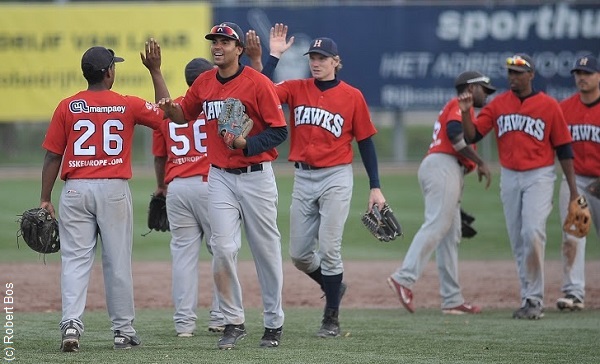 ...The Hawks celebrates the win, which forces a 5th game...
(© Photo: Robert Bos Photos)

After DSS-starter Jorn van Ingen had retired the side in the first inning, the home team took an 1-0 lead in the bottom half of the at bat. Ryan Miner led off with a double, which was followed by an outfield-error, enabling him to reach third base. He then scored when next batter Sven Jongejans hit a sacrifice fly. Hereafter, Tino van Erk walked and Mitchell Koot singled, but a double play ended the inning.

The Hawks answered with two runs in the second inning. Berry van Donselaar led off with a single and Steven Wharwood walked with one out. A double by Gregory Trinidad then brought in the tying run and put runners on second and third base. Aschwin Rokx followed with an RBI-single, scoring Wharwood, but Trinidad was eliminated at the plate when he also tried to score.

A 4-run rally followed in the top of the third inning. Lead-off hitter Tony Enos reached on an error, then Jules Peters walked and the two advanced on a sacrifice bunt by Kevin Moesquit. They then scored when Berry van Donselaar followed with a single. Next batter Bob de Bruijn was hit by a pitch, then a double by Steven Wharwood and a single by Gregory Trinidad accounted for the next two runs to lift the lead to 6-1. It also led to a pitching change, as Rik Geestman took over. Geestman, who also is the Pitching Coach of DSS, saw Aschwin Rokx hit a sacrifice fly, which made it a 7-1 score. The rally stopped when next batter Gino Hersilia hit the ball towards second base, where it was touched by runner Trinidad, who was ruled out to end the inning, while Hersilia was credited with a single. Normally, this is a rare situation, but today, it happened for the second time in a week. Last Sunday, a DSS-runner touched a fair ball and was ruled out, also in Haarlem.

Trailing 7-1, DSS also had a productive third at bat, scoring four runs to narrow the deficit to 7-5. Mitchel Dautzenberg led off with a triple, then Ryan Miner walked. A run was then scored when the runners were awarded a next base on a balk, then Sven Jongejans also walked. The bases got loaded when Tino van Erk singled. DSS then scored three runs quickly. The first on a single by Mitchell Koot, the next two on sacrifice flies by Tim Roodenburg and Seb Visser. Joffrey Heus then added another single, but the inning ended when short stop Tony Enos caught a line drive by Allan Hazel.

After three productive innings, in which 12 runs were scored and 13 basehits were registered, both offences were silenced in the next three at bats. The Hawks added two hits and a run in the fifth inning, while DSS stranded two runners, also in the fifth. Geestman had retired five batters in a row when he gave up a 2-out single to Steven Wharwood in the fifth. A runscoring double by Gregory Trinidad followed, but he was caught stealing moments later. In the bottom of the fifth, Tino van Erk led off with a walk and Mitchell Koot (he was 3-for-5) singled, which led to a pitching change. Kevin van Veen took over from starter Josť Moreno, saw the runners advance on a sac-bunt, but then got two outs to end the inning.

The Hawks added two more runs in the remainder of the game. In the seventh, Jules Peters led off with a single and scored on a following double by Kevin Moesquit. In the ninth, off of new pitcher Max Ploegstra, Peters again led off with a single and stole second base. Moesquit then walked and Peters scored when a throwing error followed on a groundout by Berry van Donselaar to make it 10-5.

DSS got another scoring opportunity in the eighth inning. With one out, Joffrey Heus singled, as did Mitchel Dautzenberg with two outs. The inning ended with a force out. In the ninth inning, Tino van Erk singled with one out, but the The Hawks ended the game with a double play to force a fifth and deciding game.

...Coaches Frank Koot (left) and Ronald de Bont...

...Umpires Rob Has (3B), Fred Oosterling (2B) & Peter Brink (1B)...

...DSS 1st baseman Tino van Erk makes a nice play to retire a batter in the first inning...

...Josť Moreno started for The Hawks...

...DSS-starter Jorn van Ingen...

...Catcher Sven Jongejans is about to receive the ball...
...to eliminate Gregory Trinidad in the 2nd inning...
...Steven Wharwood (44) has just scored the go-ahead run...

...Kevin Moesquit puts down a sacrifice bunt in the...
...3rd inning to put two runners in scoring position...



...Berry van Donselaar follows with a 2-run single...
...to give The Hawks a 4-1 lead...

...Steven Wharwood at 2nd base after his RBI-double...
...in the 3rd; Behind him short stop Mitchel Dautzenberg...

...Mitchel Dautzenberg leads off the bottom of...
...the 3rd inning with a triple and later scores...

...Mitchell Koot at 1st base after his RBI-single in the 3rd inning...
...Gregory Trinidad is the 1st baseman...

...Allan Hazel lines out in the 3rd inning...

...Rik Geestman became the new DSS-pitcher in the 3rd...

...Kevin van Veen takes over in the 5th inning...

...Home Plate Umpire Roy van de Wateringen...

...2B Kevin Moesquit retires a batter in the 7th inning...



...Gregory Trinidad has a special relationship with his bat...
...Today, he was 3-for-4 with 2 doubles and 3 RBI's...
(© All Photos: Robert Bos Photos)
(October 5)