(Story by Marco Stoovelaar)


2nd edition Curaçao Baseball Week again successful
Nederlands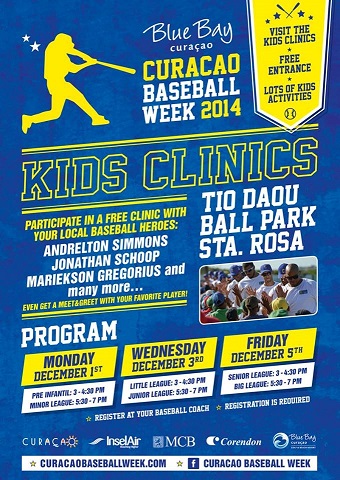 WILLEMSTAD (Curaçao, Neth.) - The second Curaçao Baseball Week closes tonight (8 PM, local time, Friday, December 5) with a softball-game between all participating (professional) players and the coaches at Tio Daou Ball Park in Santa Rosa, one of the boroughs of Curaçao-capital Willemstad. The game follows today's Kids Clinic, which was the final activity of the successful week on Curaçao.
Earlier, the Curaçao Baseball Week presented two new partners: Insel Air and Corendon. They will join the Curaçao Tourist Board and Maduro & Curiel's Bank. Together with organisor Blue Bay Curaçao, they make the event possible. The event is also made possible by several Gold and Silver sponsors.
After today's Kids Clinic, six participating youth-players will be elected as Most Talented. They will get the opportunity to travel with one of their parents to Miami, attending a Major Leaue-game of the Miami Marlins. The flights to and from Miami will be taken care off by Insel Air.
After the successful first edition of the event last year, organisor Blue Bay Curaçao Golf & Beach Resort recently proudly announced that there will be an annual Curaçao Baseball Week through 2016. The event is organized to honor and promote baseball on Curaçao for children. This year and in 2015, there will be six free Kids Clinics and two Coach Seminars, as well as an auction. In 2016, the schedule will be expanded with a Ball Park Night, including a Homerun-derby and a Softball-game. The dates for the events already have been confirmed. In 2015, the third edition will take place November 30-December 5 and in 2016, the event takes place from November 25 through December 3.
This year, the clinics were conducted by professional players Andrelton Simmons, Mariekson 'Didi' Gregorius, Jonathan Schoop, Jurickson Profar, Hainley Statia, Sharlon Schoop, Randolph Oduber, Carlton Daal, Shairon Martis, JC Sulbaran, Juremi Profar, Sherman Lacrus, Chris Garia and Roderick Bernadina, as well as Dashenko Ricardo, Arshwin Asjes, Diegomar Markwell and Kevin Moesquit, who all play in the Dutch big league. Also on hand was Steve Janssen, the Manager of the Netherlands National Kingdom Team and Ben Thijssen, who is a member of the Orange-coachingstaff, as well as one of the organisors.
(December 5)