(Story by Marco Stoovelaar; Photo by Henk Seppen)

Steve Janssen wins 2nd European Coach of the Year Award
Nederlands


PRAGUE (Czech Republic) - Dutch National Team Manager Steve Janssen has been named European Baseball Coach of the Year for the second time. Tonight (Friday, November 7), Janssen became the first coach in the young history of the European Baseball Coaches Association (EBCA) to win the Award for the second time. The announcement was made on the first day of the 11th annual Convention of the EBCA, which took place this time in Czech capital Prague.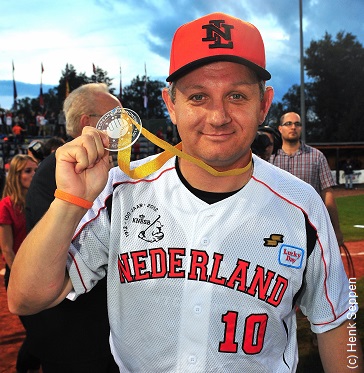 ...Steve Janssen with the Gold Medal...
...after winning the EC-final...
...in Brno this Summer...
(© Photo: Henk Seppen)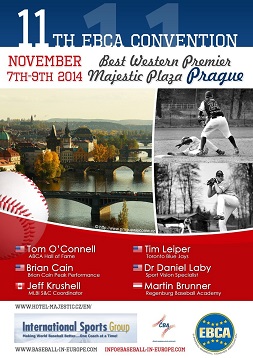 Janssen was not in attendance to accept the Award personally, as he is currently in Taiwan with the Netherlands U21 Team for participation in the first-ever Under 21 Baseball World Cup, which opens on November 8.

The EBCA was founded in January 2003 by some European baseball enthusiasts, who attended the convention of the American Baseball Coaches Association and decided that Europe also needed a place where coaches could meet, share and learn from each other. In January 2005, with the help of the International Sports Group, the first EBCA Convention was held in Germany. The goal of the EBCA is to improve the level of coaching in Europe to ultimately improve the overall level of the game.

Since its first convention in 2005 in Germany, the EBCA has honored baseball people who have contributed to the development of baseball in Europe in an exceptional way with the EBCA Career Achievement Award. In 2008, the EBCA also began to hand out the Coach of the Year Award to honor a coach who has achieved something special in the past year.

Steve Janssen won the Award this year for leading the Netherlands Baseball Team to the European title this Summer in the Czech Republic. This brought the title back to the Netherlands again after losing the finals of 2010 and 2012 to Italy. In 2009, Janssen won his first Award for leading DOOR Neptunus to the Dutch championship-title.

Also nominated this year for the Award were: Chris Byrnes, who led the Zurich Barracudas (Switzerland) to the Swiss Finals, but lost Game 5 in the 11th inning; Marian Krasný, who led the South Morovia Little League-team to its second participation in the prestigious Little League World Series; Rolando Merino, who led the Sénart Templiers to the French championship as a player/coach, ending the dominance in the previous years by Rouen Huskies and David Winkler, who won the European title with the Czech National Under 21 Team.

Of the seven EBCA Coach of the Year Awards handed out since 2008, four of them went to coaches associated with Dutch baseball. After Janssen won in 2009, Brian Farley became the second when he won in 2011 for capturing the World Championship-title with the Netherlands Baseball Team. Last year, Evert-Jan 't Hoen won for guiding DOOR Neptunus to the Dutch title in his first season as Head Coach.
EBCA Coach of the Year
Year
Coach
2008
Christophe Dassy
2009
Steve Janssen
2010
Greg Frady
2011
Brian Farley
2012
Mauro Mazzotti
2013
Evert-Jan 't Hoen
2014
Steve Janssen
(November 7)