L&D Amsterdam Pirates vs. UVV
At Amsterdam, UVV trailed 2-0 vs. L&D Amsterdam Pirtes, but came alongside in the fifth and scored two more runs in the ninth to win 4-3, while being outhit 9-7.
Both teams left two runners in the first inning. UVV was then retired in order in the second at bat by Jos de Jong, while Amsterdam left another runner in the home of the second inning.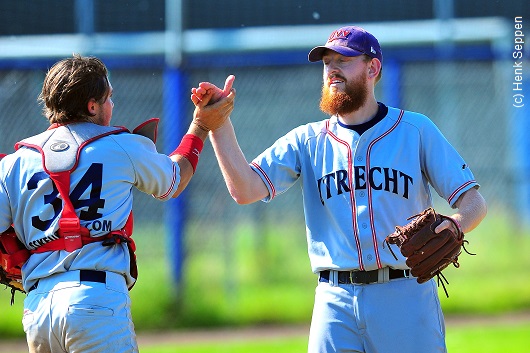 ...Catcher Joris van Ballegooy and pitcher Kevin Noordzij...
...celebrate UVV's victory in Amsterdam...
(© Photo: Henk Seppen)

The home team then opened the score in the third at bat by scoring twice off of Kenny Van Den Branden. Remco Draijer led off with a single and advanced on a sacrifice bunt by Björn Hato. He then stole third base and scored when a throwing error by the catcher followed. Hereafter, Bas de Jong singled and Kenny Berkenbosch reached on a throwing error. With two outs, a fly by Rashid Gerard was missed in the outfield, enabling De Jong to score the second run.

In the next four innings, the Amsterdam offense produced only three more basehits off of Van Den Branden, who pitched a solid game and held Amsterdam scoreless from the fourth inning on. In the fourth, he gave up a 2-out single to Draijer. After UVV had come alongside in the top of the fifth, the righthander struckout the first two batters in the bottom of the fifth and then gave up a single to Percy Isenia. In the sixth, the Belgian hurler gave up a lead-off single to Jesse Aussems, who stranded on third base. In the next at bat, Björn Hato reached on an error and Bas de Jong walked, but then Van Den Branden retired the next three batters.

Amsterdam-starter Jos de Jong walked lead-off hitter Brennan Nijhof in the first inning and gave up an one-out single to Dennis De Quint. But he then retired the next eleven batters in a row.

But after being silenced in the first four at bats, UVV came alongside in the fifth with two outs. Joris van Ballegooy led off with a single and adanced on a wild pitch with one out. De Jong followed with a strikeout, but then gave up a single to Nick Peels, which was followed by an outfield-error, resulting in a run. Moments later, Brennan Nijhof also singled to bring in the tying run. Another single by Gilmer Lampe followed, but De Jong then ended the inning with a strikeout.

Kyle Ward took over the pitching for Pirates in the sixth and retired the side. In the seventh, the lefthander gave up an one-out single to Rick Kuipers and walked Nick Peels. After the next batter struckout, Gilmer Lampe singled, but Kuipers was eliminated at the plate after a throw by rightfielder Bas de Jong trying to score to end the inning.

The eighth inning also remained scoreless. Daan Hendrix took the mound for Pirates and retired the side. In the home half, Roelie Henrique singled with two outs and Remco Draijer walked, but both stranded when a line drive by Björn Hato was caught. In this inning, Kevin Noordzij took over the pitching for UVV and made his first appearance since May 3. On that day, he started vs. DOOR Neptunus, but left after only two batters with a shoulder-injury.

In the top of the ninth inning, UVV struck with two runs off of closer Jurrian Koks. He walked lead-off hitter Joris van Ballegooy, then an error followed on a sacrifice bunt by Jordan Illis. The two moved on a sac-bunt by pinch-hitter Jirka Bliek and then a force play was set up by walking Nick Peels intentionally. But Koks then hit next batter Brennan Nijhof with a pitch to bring in a run, followed by a sacrifice fly by Gilmer Lampe that gave UVV a 4-2 lead.

Amsterdam could answer with only one run. Bas de Jong led off with a double, then Kenny Berkenbosch reached on an error. Next, Percy Isenia grounded into a double play. Moments later, De Jong scored on a single by Rashid Gerard, but the game then ended when Jesse Aussems grounded the ball back to Kevin Noordzij, who made the final out and was the winning pitcher in his first game in over a month.
| | |
| --- | --- |
| ...UVV-starter Kenny Van Den Branden... | ...UVV-Centerfielder Brennan Nijhof catches the ball... |
| ...Amsterdam Short Stop Jesse Aussems makes an out... | ...Amsterdam RF Bas de Jong goes after a ball... |
| | |
| --- | --- |
| ...Home Plate Umpire Peter Brink... | ...Bas Nooij tags out Rick Kuipers at home in the 7th inning... |