Historic loss Dutch BB Team in France
Nederlands

LIEUSAINT (Seine-et-Marne), SÉNART VILLE NOUVELLE (France) - The Netherlands Baseball Team suffered a historic loss tonight (Monday, September 8), as it was beaten 12-8 by host France in the last preliminary game of the Yoshida Challenge, the international tournament in Sénart, near Paris. The two teams will meet each other again on Tuesday-evening in the final of the event.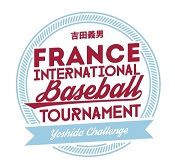 The only other loss against France came on June 20, 1937, when the Dutch Team lost 5-4. That game was also played during an international tournament in France, which back then was played in Paris. Before the loss, the two countries had met twice, both resulting in Dutch victories. Since the loss 77 years ago, the Netherlands and France played 19 more games against each other, mostly during European Championships, which all ended in wins for the Orange squad.
The Dutch Team started well by scoring two runs in the first inning off of French starter Jonathan Mottay. With one out, Nick Urbanus walked and then Curt Smith homered in his first at bat in his first game since rejoining the team for this tournament.
However, the Dutch Team failed to take more distance, while France remained productive off of starter Orlando Yntema. In the bottom of the first inning, France got a run back on a single by René Leveret, who later made more important contributions.
The Dutch Team scored another run in the third when Curt Smith led off with a walk and scored on a single by Kalian Sams, who was eliminated himself trying to advance to second base.
In the home of the third, France narrowed the deficit to 3-2 on a 2-out single by René Leveret, who then produced again in the fifth, giving France a 4-3 lead. Mike Bolsenbroek started the inning in relief of Yntema and walked lead-off hitter Maxime Lefevre, who then stole second base and moved on a wild pitch. After a strikeout, Bolsenbroek uncorked another wild pitch which enabled Lefevre to score the tying run. Bolsenbroek followed with his second strikeout, then faced Leveret, who this time homered to make it 4-3 in favor of the home team.
In the sixth inning, the Orange tied the score. Gianison Boekhoudt led off with a walk, advanced on a double by Kalian Sams (who was 4-for-5) and scored on a single by Yurendell de Caster. But with no outs and runners on first and third base, Sharlon Schoop popped out, Danny Rombley fouled out and Dashenko Ricardo struckout looking to end the inning.
Moments later, France struck with a 7-run rally with two outs in the sixth inning. Bolsenbroek initially began with his third strikeout, but then gave up a single. After a flyout, another single followed, then a wild pitch gave France a 5-4 lead. And then the rally really started. Maxime Lefevre singled in the next run and Felix Brown followed with an RBI-triple. After Pierre Turettes walked, Bolsenbroek was relieved by Jurrian Koks, but he was greeted with a runscoring single by René Leveret (there he is again). Next, Aram Kushigan singled in a run and Arthur Paturel followed with a 2-run double that lifted the lead to 11-4 in French favor! Leveret was 4-for-5, scored two runs and had four important runs batted in.
France added another run in the seventh on a double by Maxime Lefevre, who was 4-for-4. In the bottom of the eighth, France was retired in order by new pitcher Kevin Kelly.
In the top of the eighth inning, Gianison Boekhoudt led off with a walk and Kalian Sams followed with his fourth basehit in four bat bats, but then a double play and groundout followed.
The Dutch then did something back in the top of the ninth inning, scoring four runs. With one out, Dashenko Ricardo doubled and scored on a 2-out double by Nick Urbanus. Curt Smith followed with a runscoring single and Gianison Boekhoudt then homered to make it 12-8. However, the comeback was too late and couldn't avoid the historic loss.
The Dutch line-up was as follows:
Michael Duursma (2B, 0-for-5), Nick Urbanus (3B, 1-for-4), Curt Smith (DH, 2-for-4), Gianison Boekhoudt (RF, 1-for-3), Kalian Sams (CF, 4-for-5), Yurendell de Caster (1B, 1-for-4), Sharlon Schoop (1-for-4), Danny Rombley (LF, 0-for-3), Dashenko Ricardo (C, 1-for-3). Gilmer Lampe (0-for-1) took over in leftfield in the 8th inning, replacing Rombley.
(September 8)