DOOR Neptunus vs. Vaessen Pioniers
At Rotterdam, DOOR Neptunus struck in the first two innings and scored five runs en route to a 6-0 shutout-win vs. Vaessen Pioniers. With the win, Neptunus not only extended its winning streak to nine games, it also increased its lead in the overall standings of 42 games. And with that, its lead in the Play-Offs, as the four teams will take the half of their points (2 for a win, 1 for a tie) with them to the championship round after the season.
Pioniers now has lost its last three games, as it also was left empty-handed twice against Mr. Cocker HCAW on Saturday and Sunday.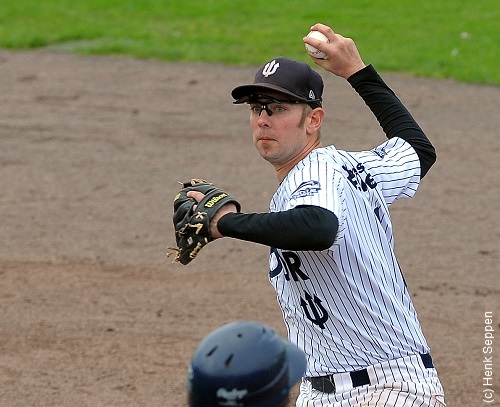 ...Benjamin Dille...
...2 Runs, Double, 2 RBI's...
...triple play...
(© Photo: Henk Seppen)

Neptunus-starter Orlando Yntema held Pioniers to only six basehits, including two by Danny Rombley. Neptunus collected 10 hits, including two by Dwayne Kemp, Gianison Boekhoudt and Daniel Fernandes. Benjamin Dille scored twice and also had two runs batted in.

Neptunus opened with two unearned runs in the first at bat off of Ricardo Hernandez Sanchez. Stijn van der Meer led off with a single, then was safe when a throwing error was made on a force play-grounder by Benjamin Dille. After Hernandez struckout Dwayne Kemp, he gave up an RBI-single to Gianison Boekhoudt, then a sacrifice fly by Gyenuar Lopez made it 2-0.

Three runs were added in the second inning. With one out and Shaldimar Daantji (fielder's choice) on first base, a flyout accounted for the second out. Daantji then stole second base and Stijn van der Meer walked. The two were awarded the next base when Hernandez committed a balk. Benjamin Dille then followed with a 2-run double to lift the lead to 4-0. Dille then scored himself moments later on a single by Dwayne Kemp.

Neptunus was then held scoreless in the next four innings by Hernandez. In the third, the Venezuelan lefthander gave up a lead-off single to Gyenuar Lopez, but Pioniers then turned a double play.

In the fourth at bat, Neptunus got the bases loaded with no outs, but was unable to score. Lead-off hitter Shaldimar Daantji reached on an error, then Daniel Fernandes singled and Stijn van der Meer walked. But then Benjamin Dille grounded into a 5-2-3 double play and a groundout ended the at bat.

In the seventh inning, Neptunus added a run off of new pitcher Dennis Buring. With one out, he gave up a double to Dwayne Kemp (who stole third base) and then a triple to Gianison Boekhoudt, which made it 6-0. Boekhoudt then tried to score on a grounder towards third base by Gyenuar Lopez, but was eliminated at the plate.

In the eighth inning, Scott Ronnenbergh pitched for Pioniers. He gave up a 2-out single to Daniel Fernandes, but then picked him off.

For Pioniers, Danny Rombley singled with two outs off of Yntema in the first inning, but stranded. In the second at bat, the righthander gave up an one-out single to Mark Duursma and a 2-out single to Chris Williams, but a grounder then ended the inning.

After retiring the side in the third, Yntema walked lead-off hitter Vince Rooi in the fourth inning. Hereafter, Mark-Jan Moorman lined the ball to first baseman Gyenuar Lopez, who made a great catch and made an unassisted double play.

Starting with the line drive, Yntema retired seven batters in a row, then gave up a 2-out triple to Rombley in the sixth inning. But he stranded again.

In the seventh inning, Dè Flanegin led off with a single and this time Mark Duursma grounded into a double play.

Pioniers got another batter on base in the eighth when Max Draijer led off with a single, but he would strand on third base.

That brings us to the top of the ninth inning. Jorian van Acker took over for Yntema and he saw Vince Rooi reach on an error, then walked Dè Flanegin. And that set up the spectacular ending. On the first pitch he saw, Mark Duursma grounded the ball to third baseman Stijn van der Meer, who forced out Rooi at third base, then threw the ball to second baseman Benjamin Dille, who retired Flanegin and then completed the triple play when he got the ball in time at first baseman Gyenuar Lopez to end the game.

DOOR Neptunus - Vaessen Pioniers 6-0
R
H
E
Vaessen Pioniers
000
000
000
-
0
6
3
DOOR Neptunus
230
000
10X
-
6
10
1
| | | | | | | |
| --- | --- | --- | --- | --- | --- | --- |
| pitchers Pioniers | inn. | SO | BB | H | R | ER |
| Ricardo Hernandez Sanchez, L (6-2) | 6 | 2 | 3 | 7 | 5 | 3 |
| Dennis Buring | 1 | - | - | 2 | 1 | 1 |
| Scott Ronnenbergh | 1 | 1 | - | 1 | - | - |
| pitchers Neptunus | inn. | SO | BB | H | R | ER |
| Orlando Yntema, W (4-1) | 8 | 2 | 2 | 6 | - | - |
| Jorian van Acker | 1 | - | 1 | - | - | - |
Umpires: HP-Roy van de Wateringen, 1B-Martijn Bosschaart, 3B-Efrem Silvania.
Official Scorer-Francis Speters.
Play-by-Play Scorer-Ger van Dongen.
Techn. Commissioner-Fred van Groningen Schinkel.
Time-2:30 hr.
Game Notes:
Top 9th - Neptunus turns a triple play.