(Story by Marco Stoovelaar; Photo by Henk Seppen)



Dutch U21 Team remains winless in Preliminary Round
Nederlands


TAICHUNG (Taiwan) - The Netherlands U21 Team closed the Preliminary Round today with a 6-3 loss vs. Venezuela to remain winless. The Orange was able to erase a 3-0 deficit and come alongside, but then Venezuela rallied for three runs in the ninth to win it. The Dutch squad, led by Manager Steve Janssen, now will play the remainder of the first-ever World Baseball Under 21 Championship in Group D, which will decide 7th through 11th place.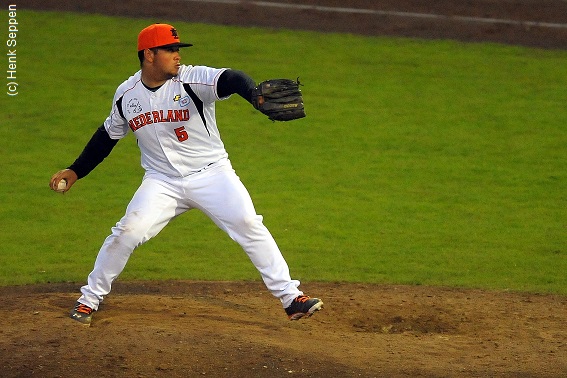 ...Bayron Cornelisse pitching for the Dutch Team during...
...the 2013 World Port Tournament in Rotterdam...
(© Photo: Henk Seppen)

In a surprise development, the Czech Republic qualified for the Championship Pool by winning 12-9 vs. Mexico. With that, it ended in a tie with Italy, but advanced as it had won against the Italians yesterday. Italy could only avoid elimination by winning in the evening against host Taiwan. But Italy lost 6-0 and so, the loss against the Czechs was very costly.

In Group D, the Dutch Team now will meet Italy, New Zealand and Mexico in the upcoming days. The Dutch Team begins in this group with one loss, which came today against Venezuela, who also will play in this pool.

The Czechs will play in the Championship Group with Australia, Japan, South Korea, Nicaragua and host Taiwan and will begin with an 0-2 record. Taiwan (5-0) and Japan (4-0) both remained unbeaten, while Mexico and the Netherlands both remained winless in the Preliminary Round.

Dutch Umpire Winfried Berkvens today was assigned to the game between Mexico and Czech Republic. He was the 1B Umpire in this game, which was his third in five games involving the Czechs.

In Dou-Liou Baseball Stadium, Venezuela took an early lead, as it scored its first run in the first at bat off of Dutch starter Anferney Hoeve. With one out, the 20-year old righthander hit Jhonaike Longa with a pitch, who then advanced on a wild pitch. Venezuela got runners on second and third base when Frank Tineo followed with a double. Shortly thereafter, Longa scored on a grounder by Rafael Suarez.

Venezuela added two runs in the fourth at bat. With one out, Suarez walked and Alsy Leon was hit by a pitch. The bases hot loaded when Hoeve also walked Victor Colmenares. Josť Alvarado followed with a 2-run single and that lifted the lead to 3-0, before a flyout and strikeout ended the inning.

In the fifth inning, Venezuela again reached base. With two outs, two batters walked and that meant the end for Hoeve, who was replaced by Bayron Cornelisse, who pitched in the Dutch big league this season for Vaessen Pioniers. The inning ended when short stop Kirvin Moesquit caught a line drive, preventing more runs.
The Dutch Team was initially silenced by Venezuelan starter Juan Vegas. The 19-year old righthander gave up only three basehits in the first six innings, but also one run. In the second inning, after the first five batters had been retired in order, Milton Croes doubled, but stranded on second base. In the third inning, trailing 1-0, the Dutch got a chance to do something back. Max Clarijs and Jules Peters led off with a walk, then got into scoring position via a sacrifice bunt by Kirvin Moesquit. However, they stranded when a groundout and strikeout followed.
In the fourth, Cezan Rafaela singled with one out and was left on second base. In the sixth, now trailing 3-0, Dudley Leonora led off with a bunt-single and advanced to third base on a throwing error. He then scored on a passed ball.
In the top of the 7th inning, it appeared that Venezuela was about to score again. It got the bases loaded with one out and that resulted in a pitching change. In this difficult situation, Maickel Rietel took over for Bayron Cornelisse, but he got out of the inning unharmed. A flyout and force out ended the inning and so, the score remained 3-1.
That gave the Dutch Team some needed stimulation and that resulted in two runs moments later to tie the score. In the bottom of the 7th inning, Milton Croes led off with a walk, but was eliminated on a force play-grounder by pinch-hitter Jorin van Amstel. Venezuelan starter Vegas was relieved by Miguel Caigua and (pitcher) Entwin Reigina was brought in as pinch-runner for Van Amstel, while Daniel Fernandes entered as pinch-hitter for Max Clarijs. Fernandes singled, bringing Reigina to second base. The latter then scored when a throwing error towards second base followed on a force play-grounder by Jules Peters. With runners on first and third base, Fernandes scored the tying run when Kirvin Moesquit hit a sacrifice fly.
But that would be all for the Dutch squad, while Venezuela had three runs left in the ninth inning. Rietel walked lead-off hitter Jhoyner Perez, who then advanced on a sac-bunt and a wild pitch, then scored the go-ahead run when a fly by Frank Tineo was missed in the outfield. Tineo later scored on a single by Alsy Leon, which was followed by a triple by Juan Morales that made it 6-3 in favor of Venezuela.
In the bottom of the ninth inning, Cezan Rafaela reached on an error, but a double play followed. Pinch-hitter Aldair Adamus then walked, but was left on first base, as a flyout ended the game.
Pitchers
Pitcher
INN
SO
BB
H
R
ER
Anferney Hoeve
4.2
4
5
2
3
3
Bayron Cornelisse
1.2
1
1
2
-
-
Maickel Rietel, L (0-1)
2.2
-
2
2
3
1
Today's starting line-up was as follows:
Kirvin Moesquit (SS, 0-for-2), Dudley Leonora (LF, 1-for-4), Kevin Moesquit (2B, 0-for-3), Kevin Weijgertse (1B, 0-for-4), Cezan Rafaela (3B, 1-for-4), Milton Croes (RF, 1-for-3), Steven Wharwood (DH, 0-for-2), Max Clarijs (C, 0-for-1), Jules Peters (CF, 0-for-2).

In the bottom of the 7th inning, Jorin van Amstel (0-for-1) was pinch-hitter for Wharwood, then was replaced by pinch-runner Entwin Reigina (0-for-0). Also in this at bat, Daniel Fernandes (1-for-2) was pinch-hitter for Clarijs. After completion of this at bat, Urving Kemp (0-for-1) entered in the top of the 8th inning, replacing Kevin Moesquit. Kemp became the new leftfielder, while Leonora switched from leftfield to short, Kirvin Moesquit switched to 2nd base, Fernandes took over behind the plate and Reigina became the new DH. In the bottom of the 9th, Aldair Adamus (0-for-0) pinch-hit for Reigina.
Final Standings Preliminary Round
Group A
Group B
#
Team
W
L
#
Team
W
L
1
Taiwan
5
0
1
Japan
4
0
2
South Korea
4
1
2
Nicaragua
3
0
3
Czech Republic
2
3
3
Australia
2
2
Italy
2
3
4
Venezuela
1
3
New Zealand
2
3
5
Netherlands
0
4
6
Mexico
0
5
Other scores:
Tuesday, November 11
Group A - Mexico vs. Czech Republic, 9-12
Group B - Japan vs. Nicaragua, 14-1 (6½ inn.)
Group B - Netherlands vs. Venezuela, 3-6
Group A - New Zealand vs. South Korea, 1-4
Group A - Taiwan vs. Italy, 6-0
(November 11)