DOOR Neptunus vs. Vaessen Pioniers
At Rotterdam, the second match-up between DOOR Neptunus and Vaessen Pioniers in the second half of the season wasn't very spectacular. Neptunus opened the score in the second inning and already held a 3-0 lead after four innings. Pioniers could only score in the final two innings of the game.
Diegomar Markwell had a good outing for Neptunus. The lefthander gave up only six basehits in the eight innings he pitched in which he threw 101 pitches. Markwell was supported with two double plays.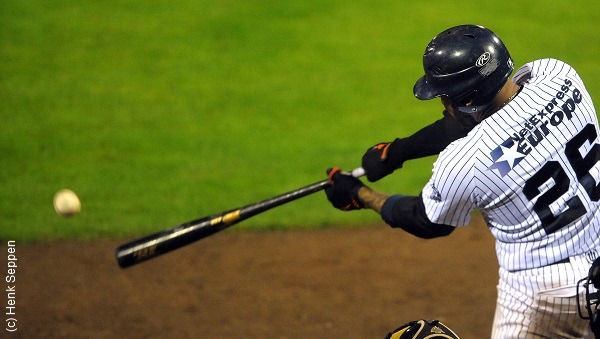 ...Gianison Boekhoudt...
...2 Runs, 2 RBI's, Homerun...
(© Photo: Henk Seppen)

In the first inning, he gave up an one-out single to Dirk van 't Klooster, but then Neptunus turned its first double play. From that moment on, Markwell retired eight batters in a row. He then gave up singles to Van 't Klooster and Danny Rombley with one out, but the second Neptunian double play ended this at bat.

In the fifth, Markwell gave up a 2-out single to Dè Flanegin, but he stranded on first base. Markwell then retired the side again in the sixth and walked a batter with two outs in the seventh, but was forced out.

In the eighth inning, Markwell faced five batters, the most in any of the innings he threw tonight. In this at bat, he gave up the first run to Pioniers, but Neptunus already led 4-0 at that time.

Neptunus opened the score in the second inning off of Elton Koeiman. Initially, Dwayne Kemp led off with a walk, but was caught stealing. Hereafter, Gianison Boekhoudt walked and then the bases got loaded when Gyenuar Lopez and Adrian Anthony both singled. Neptunus scored only once and that happened on a force play-grounder by Urving Kemp.

After being retired in order in the third, Neptunus added two runs in the fourth at bat. Dwayne Kemp reached on an error and then Boekhoudt followed with a 2-run homerun to make it 3-0.

In the fifth, Stijn van der Meer and Benjamin Dille singled with one out, but this time, the Pioniers-defense turned a double play.

In the home of the seventh, Neptunus scored its fourth run. Steven van Groningen took over for Koeiman and made his first relief-appearance of the season. With one out, Urving Kemp walked and stole second base. He then scored on a single by Stijn van der Meer. Van Groningen then followed with his third strikeout of the inning.

Trailing 4-0, Pioniers scored its first run in the eighth inning. Dè Flanegin led off with a double, who advanced on an one-out single by Max Draijer and then scored when the latter was eliminated on a grounder by Zerzinho Croes.

In the ninth, off of closer Berry van Driel, Pioniers scored its next run, but its comeback was too late. With one out, Vince Rooi singled and Mark Duursma reached on an error, then pinch-hitter Mark-Jan Moorman singled to bring in Rooi. But hereafter, Van Driel struckout the next two batters to end the game.

DOOR Neptunus - Vaessen Pioniers 4-2
R
H
E
Vaessen Pioniers
000
000
011
-
2
8
1
DOOR Neptunus
010
200
10X
-
4
6
1
pitchers Pioniers
inn.
SO
BB
H
R
ER
Elton Koeiman, L (5-2)
6
2
2
5
3
2
Steven van Groningen
2
4
2
1
1
1
pitchers Neptunus
inn.
SO
BB
H
R
ER
Diegomar Markwell, W (5-1)
8
3
1
6
1
1
Berry van Driel, SV (4)
1
2
-
2
1
1
Homerun: Neptunus: Gianison Boekhoudt (4)(2-run,4th,off Koeiman).
Umpires: HP-Winfried Berkvens, 1B-Fred van Groningen Schinkel, 3B-Fred Groenewegen.
Official Scorer-Dieks Bannink.
Play-by-Play Scorer-Ger van Dongen.
Time-2:26 hr.