(Story by Marco Stoovelaar; Photos by Henk Seppen)

Neptunus completes comeback and grabs title!
Nederlands


ROTTERDAM (Neth.) - DOOR Neptunus completed its come-from-behind comeback vs. L&D Amsterdam Pirates this afternoon (Sunday, October 12) with an 1-0 win to win the best-of-seven Holland Series, 4-3 and prolonged its Dutch championship-title. A week ago, Neptunus trailed 3-1, but then won the next three games in a row to capture the 93rd Dutch championship-title. For Neptunus, this was its 15th title and with that, it extended the league-record.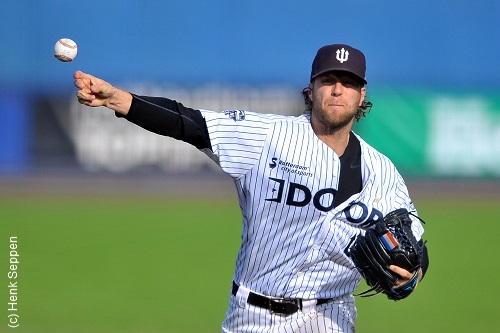 ...Winning pitcher and Series MVP Berry van Driel...
(© Photo: Henk Seppen)

An important role in the comeback was played by pitcher Berry van Driel. In two of the last three games, the righthander, normally a closer, was the starting pitcher. He went deep into the game both times to become the winning pitcher. Last week, he threw 7 2/3 inning in Game 5, which was won 4-1. Today, Van Driel did the same and again left the mound in the eighth inning, this time leading only 1-0. But that minimal lead proved to be enough. Van Driel was credited with his second win and was unanimously named Most Valuable Player of the Series.
---
Holland Series Facts:

It marks the 14th time that Neptunus captures the Dutch championship via the Holland Series, which was first played in 1987. Before the introduction of the best-of final, Neptunus won its first title in 1981.

It also marked only the second time that a Holland Series needed all seven games. In 1989, Haarlem Nicols won the Series 4-3 vs. Neptunus, winning the final game in Rotterdam. Today, 25 years later, Neptunus faced another possible elimination at home in a seventh game, but this time left the field as the winning team.

It is only the eighth time in 27 Holland Series that a team that wins the first game ends up empty-handed.

It is the first time in Holland Series-history that a team takes a 2-0 lead, but doesn't win the Championship.

Today's one-run game was only the fourth 1-0 score in 114 Holland Series-games since the first one was played in 1987. For Neptunus, it was its second 1-0 victory, but the first one came almost 20 years ago! Back then, on September 30, 1995, Neptunus also ended the then best-of-five Holland Series with an 1-0 victory, which then was the first in the final's history. Winning pitcher in that game against Kinheim was Rob Cordemans, who was then in his first full season with Neptunus and in the Dutch big league after having made his debut the year before. Today, Cordemans was the losing pitcher!

The veteran also was involved in another 1-0 score, which was the third Series-game that ended with that score. On September 24, 2005, Cordemans also was the losing pitcher in the opening game of the 2005 Series when Neptunus lost 1-0 to Mr. Cocker HCAW. After losing the opener, Neptunus went on to win the Series 3-1.

In between, the second 1-0 score was registered on October 5, 1996 when Kinheim won vs. HCAW in Game 4 of the Series that was won by HCAW, 3-2.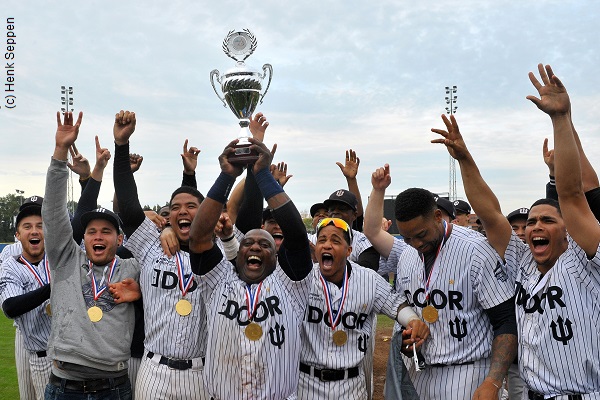 ...Neptunus wins its 15th Championship...
(© Photo: Henk Seppen)

Bench Coach Jan Collins was the acting Head Coach this weekend for the suspended Evert-Jan 't Hoen, but the latter became the sixth coach to win two Holland Series-titles. Not counting the coaching-trios Neptunus and Kinheim have used during some seasons.

Head Coach Evert-Jan 't Hoen was suspended for five games last Thursday. He was ejected in Game 2 for arguing after Kalian Sams had been ejected after a called strikeout. 't Hoen was then also ejected in Game 4 for disputing a call at first base. Suspended for four games was pitcher Diegomar Markwell for his involvement in a bench-clearing in Game 2. Chris Mowday (Pirates) also was ejected after the bench-clearing, but he was not suspended. Sams also was not suspended. Neptunus appealed the suspensions of 't Hoen and Markwell, but the Jury of Appeal rejected that and so, the two could not take part in the games of yesterday and today.

Evert-Jan 't Hoen became only the second coach to win a Holland Series in his first two full seasons as Head Coach in the Dutch big league. The only other coach to have accomplished that is Robert Eenhoorn. He took over at Neptunus towards the end of the 1998 (then lost the Series), but he then won the title in his first full two seasons in 1999 and 2000. Oh, by the way, Eenhoorn added a third consecutive title in 2001!

Today, Kevin Kelly was credited with his third save of the Series, setting a Series-record. The record was two and was shared by several pitchers.

By throwing a complete game, Rob Cordemans did so for the fifth time during a Holland Series to take sole possession of this record again. Just over a week ago, Diegomar Markwell went the distance in Game 3 to equal Cordemans' record of four complete games.

Umpire Stenar van Groningen Schinkel became the eighth umpire to officiate in four games during a Holland Series. The first to do so was his father Fred van Groningen Schinkel, who was active in four games during the 2003 Series. Fred Groenewegen also worked his fourth game as an umpire today and he became the first to do it for the second time. He also was assigned to four games in 2010. The other 4-game umpires are Edwin van den Berk (2005), Arnold Verbrugge (2005), Winfried Berkvens (2010), Henri van Heijningen (2013) and Olav Steijger (2013).
---

The lone run was scored in the sixth inning off of veteran Rob Cordemans, who also threw a fine game. The righthander, who turns 40 at the end of this month, went the distance, but didn't got the offensive support the team showed in the first two games. Today, Amsterdam was held to only two basehits by Van Driel.

In the sixth, with one out, Raily Legito singled and advanced on a single by Gianison Boekhoudt. Then, a crucial moment followed, as a pitch of Cordemans ended in a passed ball for catcher Bas Nooij. The runners advanced to second and third base, then Kalian Sams, who was the batter, was walked intentionally to set up a force play. Dwayne Kemp indeed followed with a force play-grounder towards second base. There was no possibility to throw the ball to home, as the only play was to force out Sams at second base. But that enabled Legito to score and that proved to be the lone run of the game.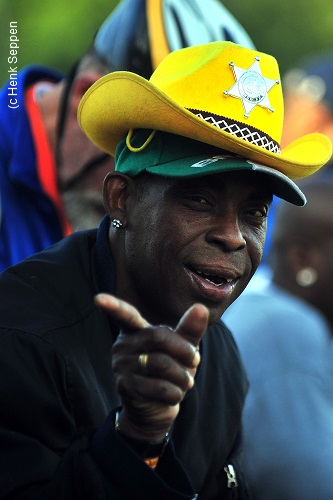 ...Jacky Jakoba, who set the single-season...
..record with 24 homerun in 1984...
...was amongst the spectators...
(© Photo: Henk Seppen)

Earlier in the game, Neptunus got more scoring opportunities, but the Pirates-defense then prevented runs. In the first inning, Benjamin Dille singled with one out, but Pirates then turned a double play. In the second, Gianison Boekhoudt led off with a single and Daniel Fernandes walked with two outs, but the two stranded.

In the third, Shaldimar Daantji led off with a single. He advanced on a grounder, then reached third base after a flyout, which was followed by a throw towards third baseman Rashid Gerard, who let the ball go by. Luckily for Pirates, Cordemans was covering there and prevented a run and Daantji stranded on third base.

In the fourth, Kalian Sams and Dwayne Kemp both singled with one out and Pirates then turned its second double play.

In the fifth, the speedy Daantji singled again, but this time was caught stealing, hurting his head somewhat when he slid into second baseman Jesse Aussems.

In the seventh inning, lead-off hitter Shurman Marlin reached on an error, then his pinch-runner Shavently Profar advanced on a sacrifice bunt, but was left behind.

Pirates reached base only seven times today and only once reached second base! Berry van Driel retired 11 of the first 12 batters he faced. The lone player to reach base was Jesse Aussems, who singled with one out in the third inning after the first seven batters were retired in order. But Aussems stranded when two flyouts followed.

In the fourth, Kenny Berkenbosch walked with two outs, but was forced out. In the sixth, Roelie Henrique reached on a nice bunt-single with one out and stole second base. This time, the inning ended when Michael Duursma popped out and Bas de Jong lined out.

Trailing 1-0, Pirates got a chance to do something back in the seventh when it got its lead-off hitter on base for the first time. Kenny Berkenbosch then reached when his hard grounder was misplayed by short stop Dwayne Kemp. Next batter Bas Nooij then missed two bunt-attempts and then was called out on strikes. Remco Draijer and Percy Isenia followed with flyouts into centerfield, meaning Berkenbosch stranded at first base!

In the eighth, Roelie Henrique walked with two outs. That led to the departure of Van Driel, who was relieved by Kevin Kelly. He got a force play-grounder from Michael Duursma, then retired the side in the ninth, which began with another line drive-out hit by Bas de Jong.

Of the 27 Pirates-outs, 18 of them were flyouts, including two line-outs, three pop-flies and a foul-out. 13 of these outs were flyouts in the outfield.

And so, the 2014 season ended with a very attractive and suspenseful best-of-seven Holland Series! Opening Day 2015 comes in about six months!

...Rob Cordemans went the distance for Amsterdam...



...2B Jesse Aussems forces out Benjamin Dille and...
...starts a double play in the 1st inning...

...The ball goes by 3B Rashid Gerard when Shaldimar...
...Daantji arrives in the 3rd inning...

...Dwayne Kemp is forced out in the 4th inning...
...by Jesse Aussems who completes the 2nd double play...

...Shaldimar Daantji is caught stealing in the 5th inning...

...He slides into 2B Jesse Aussems and injures his head...

...LF Roelie Henrique catches a line drive in the 5th inning...



...Roelie Henrique steals 2nd base in the 6th inning...
...Short stop Dwayne Kemp gets the ball too late...

...Kalian Sams is forced out by SS Michael Duursma...
...in the sixth inning...

...The last out is made...
...Neptunus celebrates...

...Neptunus celebrates the victory...
...At far right is the suspended Diegomar Markwell...

...Suspended Head Coach Evert-Jan 't Hoen congratulates...
...his first year assistant Melfried Comenencia...

...Disappoinments in the Amsterdam dug-out...



...Winning pitcher & MVP Berry van Driel...
...gets showered with champaign...

...The Amsterdam-players await their Silver Medals...

...Neptunus has just received the Championship-medals...

...Amsterdam Head Coach Charles Urbanus congratulates...
...Raily Legito, who scored the lone run...

...Neptunus is the Dutch Champion of 2014...


(© All Photos: Henk Seppen)
(October 12)