(Story by Marco Stoovelaar; Photos by Henk Seppen)



Bolsenbroek throws Perfect Game in Dutch win vs. Greece!
Nederlands

OSTRAVA (Czech Republic) - Mike Bolsenbroek pitched a 7-inning Perfect Game this afternoon (Sunday, September 14) in the 11-0 shutout-victory of the Netherlands Baseball Team against Greece.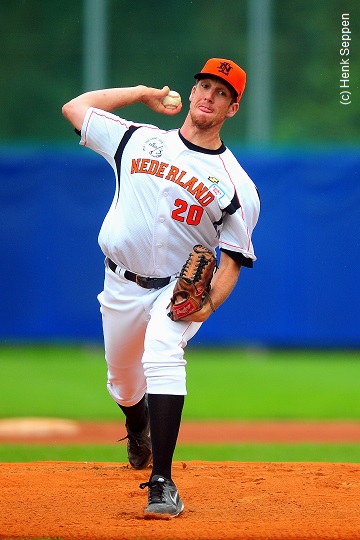 ...Mike Bolsenbroek...
...First Dutch Perfect Game in 50 years...
(© Photo: Henk Seppen)

The Dutch offense collected 11 basehits, including homeruns by Gianison Boekhoudt, Yurendell de Caster and Hainley Statia.

With his Perfect Game, Bolsenbroek wrote a piece of Dutch baseball-history, as it comes 50 years after the first once was thrown! On August 30, 1964, Rob Hoffmann started for the Netherlands in the opening game of the European Championship in Milan (Italy) against Spain. Hoffmann threw four perfect innings, but then was relieved by Herman Beidschat, who completed the game and added five more perfect innings. Back then, it was the first-ever Perfect Game in European Championship-history.
There is an interesting fact between the two Perfect Games. In 1964, Han Urbanus was the 2nd baseman for the Orange squad in the first Perfect Game against Spain. Today, 50 years later, his grandson Nick Urbanus was the 3rd baseman in the second Dutch Perfect Game in history!
Today, the game against Greece lasted 'only' seven innings, due to the 10-run difference mercy-rule. And while Greece isn't one of the 'big' teams, pitching a Perfect Game is something special, whoever the opponent is!
It was the tenth Dutch No-Hitter in history since Han Urbanus threw the first one in a game against Belgium in 1949. The last one was thrown on July 24, 2010 by Rob Cordemans and Dave Draijer during the European Championship in Germany against France.
In 2010, Cordemans retired the first 10 batters he faced, then walked a batter in the fourth, which was followed by a double play. He then retired the side again in the fifth and sixth inning. In the seventh, Draijer walked a batter with one out, which was the only other batter to reach base.
In 2006, Shairon Martis came close to a Perfect Game. In the final game of the preliminary round of the World Baseball Classic, he threw a 7-inning No-Hitter vs. Panama. Martis walked a batter with two outs in the first inning, then retired 16 batters in a row. In the seventh inning, the Panamanian lead-off hitter reached on an error to become the second and last runner Martis allowed.
In 2003, Eelco Jansen also came close to a Perfect Game during the European Championship against Sweden, but he hit two batters.
Dutch Team No-Hitters
Year
Pitcher(s)
Event
1949
Han Urbanus
Intern. Game
1951
Han Urbanus
Intern. Game
1964
Rob Hoffmann, Herman Beidschat (*)
Eur. Champ.
1983
Jan Hijzelendoorn, Haitze de Vries
Eur. Champ.
1983
Eric de Vries, Ed Kruijs,
Jim Sieval, Ed Tromp
Eur. Champ.
2003
Eelco Jansen
Eur. Champ.
2003
Patrick de Lange
Olymp. Qual.
2006
Shairon Martis
World BB Classic
2010
Rob Cordemans, Dave Draijer
Eur. Champ.
2014
Mike Bolsenbroek (*)
Eur. Champ.
(*) - Perfect Game
Back in 2003, Greek baseball appeared to be growing. In that year, the team prepared for the Olympic Games, which would be held a year later in front of a home audience in Athens. During the European Championship of 2003, Greece played a good tournament. The team was compiled entirely with American baseball-players with a Greek background. And so, Greece reached the final in Haarlem, losing only 2-0 to the Netherlands! In 2004, Greece ended in seventh place during the Olympic baseball-tournament. Since then, more Greek/Americans played for the national team, but it never again reached the high level it showed in 2003. In recent years, the team was managed by former Major Leaguer Jim Essian, who guided the squad to play several good games. But Greece kept on playing a minor role. In 2005, during the EC in the Czech Republic, Greece finished in ninth place, then didn't participate in 2007 in Spain. There was a brief comeback when Greece ended in fourth place in 2010 in Germany, but two years ago, during the EC in the Netherlands, Greece finished in seventh place.

The 6'8" Bolsenbroek began the game with two strikeouts in the first inning and ended the at bat by fielding a comeback-grounder. Hereafter, he also retired the next 18 batters in a row and finished with 10 strikeouts.

Bolsenbroek made his Dutch National Team-debut in July of this year during the Haarlem Baseball Week. On July 13, he almost became part of history also. In the game against Taiwan, starter Diegomar Markwell didn't gave up a basehit in the first seven innings. In the eighth, the lefthander was relieved by Bolsenbroek, who then made his Orange-debut. Bolsenbroek held Taiwan hitless and kept the No-Hitter intact. That ended in the ninth inning when Berry van Driel became the third Dutch pitcher, but he gave up an one-out homerun.

Bolsenbroek's lone appearances on the Dutch big league came in 2005 when he pitched in six games for Mr. Cocker HCAW. He then went on to study and play in the USA. He was signed by the Philadelphia Phillies and played three seasons (2008-2010) professionally. The righthander threw in 41 games in these three seasons, playing in Rookie League and Single-A. In March 2011, during Spring Training, Bolsenbroek was released and returned the Europe. Since then, he pitches for Buchbinder Legionäre Regensburg in Germany and even briefly was a member of the German National Team.

Offensively, the Dutch Team stranded two runners in the first inning, but then rallied for six runs in the next at bat. In the bottom of the first inning, lead-off hitter Randolph Oduber was walked by Greek starter Angelos Argyropoulos. He stole second base with one out and advanced on a grounder by Gianison Boekhoudt. Hereafter, Kalian Sams also walked and stole second base, but the two stranded.

In the second inning, Gilmer Lampe, who made his first EC-start, led off with a walk, stole second base and moved on a grounder by Nick Urbanus. The bases were then loaded when Dashenko Ricardo (who didn't play in the first two games) and Michael Duursma (who also made his first start) also walked. The first two runs were then scored when Randolph Oduber singled. After Hainley Statia grounded out, Gianison Boekhoudt followed with a 3-run homerun, his third fourbagger of the event. Moments later, Kalian Sams doubled and that brought in new pitcher Evangelos Orfanakos, who was greeted with an RBI-double by Yurendell de Caster that lifted the lead to 6-0.

After the Dutch team was retired in order in the third inning, it scored four more runs in the fourth at bat. With one out, Statia reached on an error and Boekhoudt walked, then Sams lined out, but De Caster (who was 3-for-4) followed with a 3-run homerun. Next, Lampe doubled and scored on a single by Urbanus to make it 10-0.

The final run was added in the fifth inning when Statia homered with one out.

In the sixth inning, it appeared that another run was in the making. Yurendell de Caster led off with a single, but then Gilmer Lampe grounded into a double play. Next, Nick Urbanus tripled, but he stranded when a flyout ended the inning.

The Dutch line-up was as follows:
Randolph Oduber (CF, 1-for-3), Hainley Statia (2B, 1-for-4), Gianison Boekhoudt (DH, 1-for-3), Kalian Sams (RF, 1-for-2), Yurendell de Caster (1B, 3-for-4), Gilmer Lampe (LF, 1-for-3), Nick Urbanus (3B, 2-for-4), Dashenko Ricardo (C, 1-for-3), Michael Duursma (SS, 0-for-2). Danny Rombley (0-for-1) replaced Sams in rightfield in the 5th inning.

...The team listens to the Dutch National Anthem...




...The game also was a learning process for some players...
...Here, Greek Manager Tom Mazarakis shows the proper stance...
...to 17-year old lead-off hitter Konstantinos Athanasiou...

...Moments later, Athanasiou is Bolsenbroek's...
...first strikeout-victim...

...Randolph Oduber steals 2nd base in the 1st inning...



...Gilmer Lampe steals 2nd base in the 2nd at bat...

...Gianison Boekhoudt homers in the 2nd inning...

...Manager Steve Janssen in discussion in the 2nd inning...
...with Swedish HP Umpire Jerry Karlsson...

...Yurendell de Caster is greeted by Gianison Boekhoudt...
...after hitting a homerun in the 4th inning...

...Hainley Statia is greeted by Kalian Sams after hitting...
...a solo-homerun in the fifth inning...

...Mike Bolsenbroek is showered by his teammates...
...after completing his Perfect Game...
(© All Photos: Henk Seppen)
In other games today: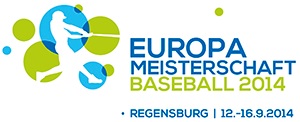 Group A

REGENSBURG (Germany)
A few hours before Mike Bolsenbroek threw his Perfect Game, there also was history written in Group A in Regensburg, where Thomas De Wolf threw a 6-inning No-Hitter in the 11-0 win for Belgium against Sweden. The 24-year old righthander struckout nine batters and walked four. De Wolf also hit a batter. Belgium collected 10 basehits and already led 7-0 after three innings. Three runs were scored in the first inning, highlighted by a 2-run single by Robin Roevens. Three runs were added in the second at bat and this it was Thomas De Wolf who contributed himself with a 2-run double. After adding a run in the third, another 3-run rally followed in the fifth to make it 10-0. The eleventh run was scord in the sixth on a sacrifice fly by Sebastiaan Vandesompele. Dutch umpire Henri van Heijningen was at first base in this game.
In the afternoon, Germany shutout Great Britain 9-0 on ten basehits, including a homerun by Shawn Larry in the eighth inning, which accounted for the ninth run. Germany led only 3-0 after six innings, then rallied for five runs in the seventh inning. In the at bat, the Germans hit only two basehits, including a 2-run double by Kevin Kotowski. The other runs in the inning were scored on a sacrifice fly, wild pitch and basesloaded walk. German starter Jan-Niclas Stoecklin struckout 12 batters and gave up only three hits in seven innings. André Hughes, who pitched one season in the Dutch big league for Mr. Cocker HCAW, then threw the eighth inning and Nils Hartkopf completed the game. In this game, Dutch umpire Stenar van Groningen Schinkel was at first base.
In the evening, Italy outscored France 12-2 in an 8-inning game. The 10-run difference was reached in the 8th inning on a walk-off single by Gabriele Ermini. Alex Liddi (3-run) and Alberto Mineo homered for Italy. Mineo's homerun was a grand slam in the third inning when Italy initially trailed 2-1.

Group B
OSTRAVA (Czech Republic)
In Ostrava, the third day of the tournament began with a 12-0 shutout-win for Spain vs. Russia. Spain, which remained unbeaten and registered its third win, collected 13 basehits, including three by Daniel Martinez and Oscar Angulo, who also both had three runs batted in. Fernando Martinez hit a 2-run homerun in the first inning which then lifted the lead from 1-0 to 3-0. Later in the at bat, a double by Franklin Tavarez made it 4-0. Spain added three runs in the third inning to take a commanding lead. Two runs were then scored in the fifth and three more in the sixth to reach the 10-run difference needed to end the game early.
In the evening, the Czech Republic won 13-2 vs. Croatia, but had only four more hits (7-3). The Croatian defense contributed with nine errors! Leading only 3-1, the Czechs added three runs in the fifth inning. With a 8-2 lead, the home playing Czechs rallied for five runs in the eighth inning, reaching the 10-run difference thanks to a walk-off, 2-run homerun by Jiří Marek. Earlier in the game, Jakub Sládek hit a 2-run homerun in the fifth inning.
(September 14)