Convincing win Team North in All Star Game
Nederlands

HOOFDDORP (Neth.) - The fifth edition of the annual All Star Game was won today (Sunday, June 15) by Team North. The team, led by Head Coach Robert Klaver (Vaessen Pioniers), defeated Team South with a convincing 14-6 score. Team South was led by Head Coach Evert-Jan 't Hoen (DOOR Neptunus). It was the third victory for Team North in the All Star-history, which began in 2010. Team North also won in 2011 and last year.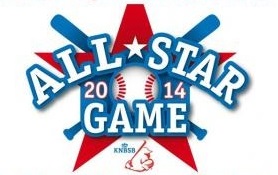 Danny Rombley (Vaessen Pioniers), who went 3-for-5, scored twice and had one run batted in, was named Most Valuable Player of the game.
Before the game, the Homerun Contest was won by Gianison Boekhoudt (DOOR Neptunus).
The game was played in the new stadium of Vaessen Pioniers in Hoofddorp. The previous four games were played in The Hague (2010), Vleuten (2011, 2012) and Haarlem (2013).
Starting on Tuesday, the complex in Hoofddorp will be the site of the European Champions Cup Qualification Tournament, hosted by Vaessen Pioniers. There will be three games played daily from Tuesday on. Two of them starting at 1 PM, the third at 7:30 PM. The final is scheduled to be played on Sunday-afternoon.
Reigning champion DOOR Neptunus travels to the Czech Republic on Monday for their European Cup-event in Brno. There are will be three games daily in Brno, starting at 10:30 AM, 3 PM and 7:30 PM.
The winners of the two Qualifying Tournaments will meet each other later in the year in a best-of-three European Champions Cup-final.
The six other teams in the Dutch big league will resume the second half of the season next Thursday-evening.
Several positions of the announced starting line-ups for the All Star Game had changed today. Ten days ago, the starting line-ups were announced based on the fan votes, but six players, who got the most votes their respective positions didn't start this afternoon.
Four of these changes were made in Team South, as four players (all from DOOR Neptunus) didn't start. Diegomar Markwell was named starting pitcher, while Gyenuar Lopez (1B), Benjamin Dille (2B) and Shaldimar Daantji (CF) were also listed as starters. Their places were taken by Kenny Van Den Branden (UVV), Gregory Trinidad (Mampaey The Hawks), Kevin Moesquit (Mampaey The Hawks) and Gilmer Lampe (UVV). Trinidad and Lampe were named to the roster as non-starters, but Van Den Branden and Moesquit were added last week.
Markwell and Daantji were on the actual roster for today, but didn't play, just as Neptunus-pitchers Berry van Driel, Misja Harcksen and Orlando Yntema. And that of course has to do with the upcoming European Cup-tournament, as Markwell is the expected starter for Neptunus in the opener on Tuesday-afternoon or otherwise on Wednesday. Yntema and Harcksen also belong to the starting rotation for the Rotterdam-club. Dille and Lopez were not on today's All Star-roster. Pitcher Jurjen van Zijl and infielder Norbert Jongerius (both UVV) also were selected as non-starters initially, but were not at the game today.
Not starting for Team North were Kevin Weijgertse (1B, Mr. Cocker HCAW) and Quintin De Cuba (LF, Corendon Kinheim). Starting instead were Jeffrey Arends (Corendon Kinheim) at first base and Linoy Croes (Mr. Cocker HCAW) in leftfield. Both already were originally named to the roster as non-starters.
Weijgertse and De Cuba were listed on today's roster, but didn't play, as did outfielder Bas de Jong (L&D Amsterdam Pirates), who was announced as a non-starter. Ricardo Hernandez Sanchez also was elected to the All Star Team of North, but didn't play, as he is the expected starting pitcher on Tuesday for Pioniers in the European Cup Tournament. Added to the All Star-roster last week was pitcher Elton Koeiman (Pioniers), but he also didn't play, as it is the probable starter on Wednesday.
(June 15)
---
After leaving two runners in the first inning, Team South opened the score in the second inning off of starter Rob Cordemans. Gilmer Lampe led off with a single and stole second base, then advanced on a grounder by Berry van Donselaar. A single by Steven Wharwood then accounted for the first run, but Team North then ended the inning with a double play.
As mentioned, Kenny Van Den Branden was added to the roster of Team South a few days ago and was the starter. The Belgian pitcher walked lead-off hitter Michael Duursma in the first inning, but then was supported with a double play. Danny Rombley followed with a single, but he was left behind.
In the home of the second inning, Team North scored twice to take a 2-1 lead and didn't look back anymore. Van Den Branden walked lead-off hitter Vince Rooi and gave up an one-out single to Linoy Croes. With two outs, both scored when Zerzinho Croes delivered a single, followed by a throwing error.
Team North then scored four unearned runs with two outs in the third at bat off of new pitcher Henk van Heijningen. Dirk van 't Klooster walked and Danny Rombley singled, the two flyouts followed. Next, Jeffrey Arends reached on an error that produced a run and the bases got loaded when Linoy Croes walked. The bases were cleared when Bas Nooij delivered a 3-run double to make it 6-1.
Team South got one run back in the top of the fourth off of David Bergman. With one out, Gilmer Lampe singled, then was safe when an error was made on a force play-grounder by Berry van Donselaar. With two outs, he scored when another error was made on a grounder by Gregory Trinidad.
Team North followed with a 6-run rally in the fourth inning to take a commanding lead. Venezuelan Danny Forte became the new pitcher for Team South, but he allowed six consecutive batters to reach base safely. Michael Duursma, Dirk van 't Klooster and Danny Rombley all singled to bring in one run. A throwing error by Forte on a grounder by Kenny Berkenbosch then loaded the bases. A single by Vince Rooi (one run) and double by Jeffrey Arends (two runs) then lifted the lead to 11-1. Forte was relieved by Jurandy Girigori, who walked Linoy Croes and got Bas Nooij to ground out. Hereafter, both Arends and Croes scored on a sacrifice fly by Zerzinho Croes.
Trailing 12-2, Team South scored twice in the fifth off of Venezuelan Ivan Granados. The lefthander walked Christian Diaz, then gave up an infield-hit with one out to Sam van Dijck. With two outs, both scored on a double by Gilmer Lampe, who was 3-for-5 and scored twice.
In the home of the fifth, Team North scored another run off of Girigori. Van 't Klooster led off with a single, moved when Berkenbosch walked with one out and scored on a following single by Rooi.
After two scoreless innings, both teams scored again in the eighth at bat. Team South was retired in order by Kevin Heijstek in the sixth and Maickel Rietel in the seventh. They then scored twice in the top of the eighth inning off of Sedley Karel. With one out, Berry van Donselaar walked and Urving Kemp singled. An error on a force play-grounder by Gregory Trinidad then loaded the bases and a single by Kevin Moesquit and sacrifice fly by Christian Diaz then accounted for the runs.
In the home of the eighth, Team North scored its 14th run off of Timo van Ancum. Kenny Berkenbosch led off with a walk and went on to score on a 2-out single by Dashenko Ricardo.
Team North - Team South 14-6
R
H
E
Team South
010
120
020
-
6
10
4
Team North
024
610
01X
-
14
14
3
pitchers Team South
inn.
SO
BB
H
R
ER
Kenny Van Den Branden, L (0-1)
2
2
2
3
2
1
Henk van Heijningen
1
-
2
2
4
-
Danny Forte
- (*)
-
-
5
6
4
Jurandy Girigori
2
-
2
2
1
1
Kevin van Veen
2
-
-
-
-
-
Timo van Ancum
1
1
1
2
1
1
(*) - Forte pitched to 6 batters in the fourth inning
pitchers Team North
inn.
SO
BB
H
R
ER
Rob Cordemans, W (1-0)
2
-
1
3
1
1
David Bergman, H (1)
2
1
-
2
1
-
Ivan Granados
1
1
2
2
2
2
Kevin Heijstek
1
1
-
-
-
-
Maickel Rietel
1
1
-
-
-
-
Sedley Karel
1
1
1
2
2
1
Bayron Cornelisse
1
-
-
1
-
-
Umpires: HP-Johan Brandsma, 1B-Henri van Heijningen, 2B-Stenar van Groningen Schinkel, 3B-Fred Groenewegen.
Official Scorer-Huub Nelissen.
Play-by-Play Scorer-Rienette Hamers.
Techn. Commissioner-Fred van Groningen Schinkel.
Time-2:57 hr.
Game Notes:
Winner Homerun Contest - Gianison Boekhoudt.
Most Valuable Player - Danny Rombley.