(Story by Marco Stoovelaar; Photos by Henk Seppen & Saints)

Rotterdam Awards for 't Hoen; Saints-volunteers Swinkels, Rodenburg
Nederlands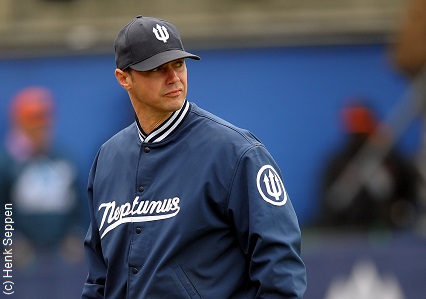 ...Evert-Jan 't Hoen...
...Coach of the Year...
(© Photo: Henk Seppen)

ROTTERDAM (Neth.) - Evert-Jan 't Hoen has been voted Coach of the Year for the second consecutive year during the annual Rotterdam-Rijnmond Sport Awards. Also honored were Henk Swinkels and Cees Rodenburg of baseball- and softball-club Saints. They were voted Volunteer of the Year.

Dutch baseball-champion DOOR Neptunus was nominated for Sports Team of the Year, but that award went to Excelsior, thanks to its promotion to the highest professional soccer-league. Also nominated for this award was the women basketball-team of CBV Binnenland Rotterdam. In the previous 38 Award Gala's, Neptunus was named Sports Team of the Year six times (1991, 1994, 2000, 2001, 2003 and 2009).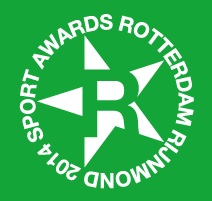 The winners were announced tonight (Monday, December 15) during the 39th edition of the Gala in the Nieuwe Luxor Theater in Rotterdam, organized by the Municipality of Rotterdam, Rotterdam Sportsupport, Rotterdam Topsport and RTV Rijnmond.
Evert-Jan 't Hoen won his second Coach of the Year Award. Last year for leading DOOR Neptunus to the Championship-title in his first season as Head Coach in the Dutch big league. This year, Neptunus again captured the title after trailing 3-1 in the Holland Series against L&D Amsterdam Pirates. Neptunus won three games in a row to prolong its title. During the last two games, 't Hoen had to view the games from the stance, as he was handed a 5-game suspension after being ejected twice during earlier games of the Series. In the Summer, 't Hoen was a member of the coaching-staff of the Netherlands National Baseball Team that captured the European Championship-title. Also nominated for the Award were Joost van Rangelrooy (basketball) and Arno Havenga (waterpolo).
Neptunus now has won 13 prizes during the Rotterdam Award Gala's. Besides the six Team Awards and 't Hoen's two Coach Awards, Neptunus also had winners in Robert Eenhoorn (Male Athlete of the Year, 1990, 1999), Diegomar Markwell (Male Athlete of the Year, 2011), Sjoerd Hermans (Talent of the Year, 2000) and Theodoor (Puck) van Rooijen (Volunteer of the Year, 2007).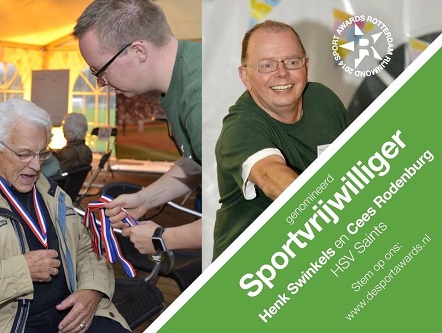 ...Henk Swinkels & Cees Rodenburg...
...Volunteers of the Year...
(© Photo: Saints)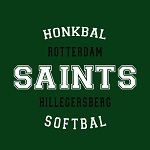 Henk Swinkels and Cees Rodenburg of baseball- and softball-club Saints were crowned as Volunteer of the Year. At Saints, they introduced Bean Bag Baseball Rotterdam in 2013. Bean Bag Baseball is a sport for senior citizens, but also other groups, to stimulate mobility in combination with pleasure and fun and being together. Also nominated were Lia Schop of RIS (special sports) and Wouter Weerheijm of Skadi (rowing).

For Swinkels and Rodenburg, the winning of the award also had a sad note. Earlier in the day, they learned that Jochen Vorderegger, another volunteer of Saints from the beginning, had passed away. Last Saturday, Mr. Vorderegger became unwell during a softball-game and was hospitalized, but unfortunately passed away today. When accepting the Award, Swinkels and Rodenburg dedicated it to Jochen Vorderegger.

Other winners tonight were Joost Luiten (golf, Male Athlete of the Year), Nouchka Fontijn (boxing, Female Athlete of the Year), Terence Kongolo (soccer, Talent of the Year) and Omnisportvereniging De Pont (Handicapped Sports Award).

...Promotion-video Bean Bag Baseball by Saints...
(© Saints)

(December 15)