(Story by Marco Stoovelaar; Photos by Henk Seppen)



Netherlands first to reach final; Italy also qualifies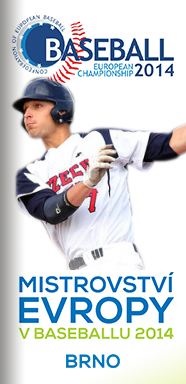 Nederlands

BRNO (Czech Republic) - The Netherlands Baseball Team has become the first team to qualify for the final of the European Championship by winning 14-5 vs. France this afternoon (Friday, September 19). With the loss, France was eliminated for the final. Tonight, Italy became the second finalist of the event by winning 9-1 vs. host Czech Republic.
Almost two weeks ago, the Dutch Team had its hands full with the French squad during the Yoshida Challenge in Sénart. The teams met each other twice there. The first one resulted in a historic victory for France, its first win against the Dutch in 77 years. The next day, the Dutch Team won only 3-2 in the final to win the international tournament.
Today, the Dutch Team collected 16 basehits, including three by Yurendell de Caster and registered a comfortable victory.
---

The Dutch Team rallied for five runs in the second inning off of starter Leonel Cespedes and appeared to be en route to a big win after leading 10-1 after four innings. But in the fourth, France came back and it again was René Leveret, who made an important contribution.

Diegomar Markwell started for the Dutch, walked a batter in the first inning, but picked him off. The lefthander then saw lead-off hitter Leveret reach on an error in the second inning. He advanced on a sacrifice bunt by Andy Paz, who was ruled out for walking out of the baseline, but Leveret then was left behind.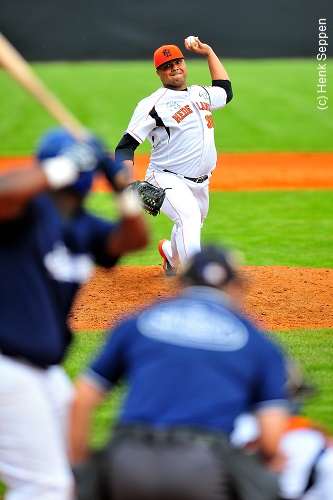 ...Winning pitcher Diegomar Markwell...
(© Photo: Henk Seppen)

In the bottom of the second inning, Markwell was supported with a 5-run rally. Kalian Sams and Shawn Zarraga walked, then then bases got loaded when Yurendell de Caster singled. Sams then scored the first run on a throwing error to home, which came on a force play-grounder by Sharlon Schoop. Hereafter, Nick Urbanus singled to bring in the next run. With one out, Hainley Statia delivered the next single, enabling De Caster and Schoop to score. Urbanus, who advanced to third base, then also scored when Statia got in a rundown and was eliminated.

Two runs were added in the third inning. With one out, Kalian Sams was hit by a pitch. After he had stolen second base, he scored on a 2-out single by Yurendell de Caster, who then scored himself on a following double by Sharlon Schoop.

After France had stranded two runners in the third inning, it scored its first run in the fourth when René Leveret led off with a homerun.

In the bottom of the third, the Dutch took more distance by scoring three runs. Randolph Oduber led off with a single, then scored when Curt Smith homered with one out. Gianison Boekhoudt then doubled and went on to score on a 2-out single by Shawn Zarraga.

Now leading 10-1, the Dutch were eyeing a possible 10-run difference mercy-rule victory, but it didn't come that far, as France rallied for four runs in the fifth at bat. Markwell got two quick outs, but then gave up five consecutive basehits, resulting in the four runs. Maxime Lefevre and Felix Brown singled to put runners on first and third base, then a run was scored when Frederic Hanvi also singled. Hereafter, it was René Leveret again who delivered, as he hit a 3-run homerun to narrow the deficit to 10-5. It was Leveret's second homerun of the game and third of the tournament. Next, Andy Paz singled, but he was then eliminated trying to advance to second base. And with that, he ended the rally and the inning.

The Orange squad then took more distance again in the sixth inning off of Enrique Jumatrinidad, who had taken over the pitching in the previous inning. Hainley Statia led off with a triple and scored on a single by Curt Smith. Gianison Boekhoudt then followed with a 2-run homerun to make it 13-5. This was the fifth homerun of the tournament for Boekhoudt, who is the lone non-professional in the regular starting line-up of the Dutch Team during this tournament.

Veteran pitcher Thomas Langloys took over in the seventh for France and retired the side. The Dutch Team then faced another new pitcher in the eighth, Daniel Camou and got a chance to end the game via the mercy-rule, but failed to do so. Camou issued three consecutive walks to Gianison Boekhoudt, Kalian Sams and Shawn Zarraga. With the bases loaded, Camou faced Danny Rombley, who had entered the game defensively in the top of the eighth for De Caster. But with one strike, Rombley popped the ball up, ending in a foul-out. A run was then scored on a sacrifice fly by Sharlon Schoop, then the inning ended when Nick Urbanus grounded out. And that meant that there would be a ninth inning.

Kevin Kelly took over for Markwell in the eighth inning, walked a batter and gave up a single, but was supported with an inning-ending double play. Orlando Yntema pitched the ninth for the Dutch and retired the side to end the game.

The Dutch line-up was as follows:
Randolph Oduber (CF, 2-for-5), Hainley Statia (2B, 2-for-5), Curt Smith (1B, 2-for-5), Gianison Boekhoudt (DH, 2-for-4), Kalian Sams (LF, 0-for-2), Shawn Zarraga (C, 2-for-3), Yurendell de Caster (RF, 3-for-4), Sharlon Schoop (SS, 2-for-5), Nick Urbanus (3B, 1-for-5). Danny Rombley (RF, 0-for-1) replaced De Caster in rightfield in the 8th inning.

...An overview of the Draci Brno-stadium during the playing of the National Anthems...
| | |
| --- | --- |
| ...Curt Smith homered in the 4th inning... | ...Diegomar Markwell struckout four batters in 7 innings... |
| ...René Leveret homered twice for France... | ...Diegomar Markwell tags out Andy Paz in 5th inning... |

...Gianison Boekhoudt hit his 5th HR...




...Manager Steve Janssen (center) with...
...pitcher Rob Cordemans (left) and...
...Hitting Coach Sidney de Jong...

...Kalian Sams, Randolph Oduber...
...and Nick Urbanus have fun...


(© All Photos: Henk Seppen)
---

In other games today:

Championship Round
BRNO (Czech Republic)
In the afternoon, Spain met Germany in what became a interesting and suspenseful game. Germany was leading 3-0 in the fifth inning, but Spain then struck with three runs in the eighth and went on to win 4-3. With the win, Spain kept a slim chance of advancing to the final, but then would have needed the help from both the Czech Republic and the Netherlands, as they both had to win against Italy. In that case, Spain, by winning on Saturday vs. France, could have ended up in a 3-way tie with the Czechs and the Italians. The score of the Italy vs. Czech game later tonight then would have been decisive in case of a Czech victory, but that all didn't happen, as can be read beneath.
Back to the game. Germany took a 2-0 lead in the fourth inning. With two outs, Maurice Wilheim singled and Christoper Howard doubled, then both scored on a single by Maik Ehmcke. Germany added another run in the fifth when Max Boldt homered. Spain got one run back in the bottom of the fifth, thanks to a single by Francisco Figueroa. However, Spain still trailed 3-1 in the eighth inning, but the team then struck with a 3-run rally. German reliever Luke Sommer gave up singles to Jesus Golindano and Jesus Ustariz. After the first was picked off second base by the German catcher, pinch-hitter Daniel Figueroa walked. That brought in Enorbel Marquez as reliever for Sommer and he was greeted with an RBI-single by Franklin Tavarez. A flyout then accounted for the second out, but then Daniel Sanchez delivered a double that brought in pinch-runner Aritz Garcia, who ran for Figueroa, to score the tying run. Tavarez also was waived home and scored the go-ahead run when catcher Simon Gühring committed an error on the throw from rightfield. In the top of the 9th inning, Germany was retired in order to end the game in which Dutch umpire Stenar van Groningen Schinkel was behind the plate.
In the evening, Italy faced the Czech Republic and won 9-1 in a very slow-paced game, which lasted three hours and 50 minutes! There were several foul balls that contributed to long at bats, but there also appeared to be no speed-up rules, as the players acted slow, there was a lot of time between innings and the pitchers threw several more pitches during warming-up.
Italy opened with a run in the first inning on a sacrifice fly, then rallied for five runs with two outs in the third at bat. Alex Liddi then delivered a 2-run double, followed by a pitching change. Mario Chiarini, Alberto Mineo and Mattia Reginato then added RBI-singles to make it 6-0. An error gave Italy its next run in the fourth inning and a 2-run single by Erik Epifano brought in two more runs in the eighth. The lone Czech run was scored in the fifth via a single by Matěj Hejma, but then also three runners were left behind. With the win, Italy became the second finalist of the tournament.
9th-12th place

TŘEBÍČ (Czech Republic)
In this Pool, Sweden closed its tournament with a 2-0 shutout-win vs. Greece in the afternoon. Sweden needed only one inning today and that was the first. Magnus Pilegard led off with a triple and Adam Sorgi walked, then the first scored when a throwing error was made on a force play-grounder by next batter Peter Johannessen. With one out, the bases got loaded when Nicholas Filice singled and then the second run was scored when Greek pitcher Panagiotis 'Pete' Sykaras hit Pontus Bystrom with a pitch. A foul-out and strikeout ended the inning, leaving three runners behind, but the runs that decided this game were scored.
Sykaras went the distance for Greece and struckout 12 batters, giving up five additional basehits in the game. However, his teammates collected only three basehits off of Joakim Klasson, who went the distance for Sweden and struckout four batters. So, it was more or less a pitching duel in a game that lasted only two hours. Greece got two scoring opportunities. In the sixth, Chris Kapothanasis singled and Georgios Pipergias reached on an error with one out, but the runners stranded at first and third base. In the seventh inning, these two players created another scoring-opportunity. With one out, Kapothanasis doubled, but then was eliminated in a rundown, then Pipergias singled to put runners on first and second base, but again they were left behind.
Later in the afternoon, Great Britain shutout Croatia 9-0 to end this Pool. With the win, Great Britain remained unbeaten in this Pool and therefore finished in ninth place. Croatia, Greece and Sweden all ended in a tie for 10th place with an 1-2 record. Great Britain collected eleven basehits, including a lead-off homerun by Chris Berset in the fourth inning. The British pitchers almost wrote history, as a No-Hitter was taken into the ninth inning. Starter Jacob Esch struckout 10 batters and gave up no hits in seven innings, then Alex Webb added two strikeouts in a hitless eighth inning. Dan Cooper then took over in the ninth inning and saw the No-Hitter end when pinch-hitter Mario Manojlov led off with a single. He was then forced out and Cooper followed with two strikeouts to end the game. Initially, the British Team was held to only three runs by starter Jimmy Summers. The veteran righthander then gave up two more runs in the sixth on an RBI-triple by Josh Rapaport, followed by a double by Zachary Wiley. A 4-run rally off of two relievers then lifted the lead to 9-0 in the eighth inning on two hits, which were a 2-run triple by Mitch Evans and a 2-run single by Matt Roxburgh. Dutch umpire Henri van Heijningen was at first base in this game.
(September 19)