(Story by Marco Stoovelaar; Photo by Robert Bos)

Lennart Stut will lead DSS in big league-debut
Nederlands


HAARLEM (Neth.) - Lennart Stut will lead DSS in its first season in the Dutch big league when it makes its debut in the highest division next year. On November 26, it was announced that Stut had been named Head Coach of the team.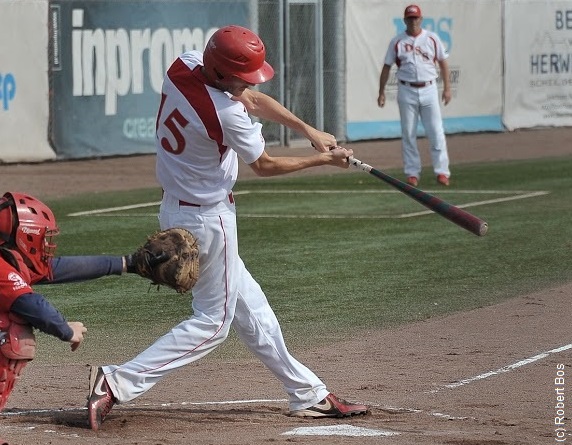 ...Lennart Stut hitting for DSS during the...
...Promotion/Relegation Play-Off vs. The Hawks...
...Standing in the back is his predecessor Frank Koot...
(© Photo: Robert Bos Photos)

This season, Stut was one of the players of the team, which won the championship in the second highest division ('Overgangsklasse') on the final day of the season by winning vs. Twins. Hereafter, DSS won the best-of-five Promotion/Relegation Play-Off against Mampaey The Hawks 3-2 to promote to the big league. As a result, The Hawks, which finished in last place in the Play-Downs of the big league, relegated.

In its successful season, DSS was led by Head Coach Frank Koot, who was assisted by Harry van Vilsteren. But two days after promoting to the big league, the club parted with the duo. It was stated that 'communicative problems' were the reasons for the separation.

Initially, the 29-year old Stut was to be the Assistant Coach next season. Hans Lemmink, who had been the Head Coach of big leaguer Corendon Kinheim in the past, was approached for the vacant spot of Head Coach of DSS. When that fell through, the board decided to promote Stut to be their new Head Coach.
Stut will be assisted next season by Tom Geestman, who has been the Pitching Coach of Amsterdam PiratesNetherlands Junior Team in the past. Earlier, Geestman served as an Assistant Coach at Haarlem Nicols and Kinheim. Geestman's sons Kevin and Rik are pitchers for DSS. Rik also served as Pitching Coach this season.
,,Initially, he was to be the Assistant Coach. It is now maybe going somewhat too quickly, but we saw in Lennart someone who could become Head Coach in the near future'', states Michael Halderman in an article in the Haarlems Dagblad-newspaper. Halderman is handling technical affairs baseball in the board of the club.
This season, Stut coached the juvenile-team of DSS. In the newspaper-article Stut states that it will be a challenge to coach the players who were his teammates this season. Stut: ,,It will be difficult, as I've been part of a team that only won. That will be different, as the opponents will be stronger and we will not be in the top of the league. But we will start the season unbiased.''
(November 26)