Van 't Klooster breaks All Time Hit Record and ties Game Record
Nederlands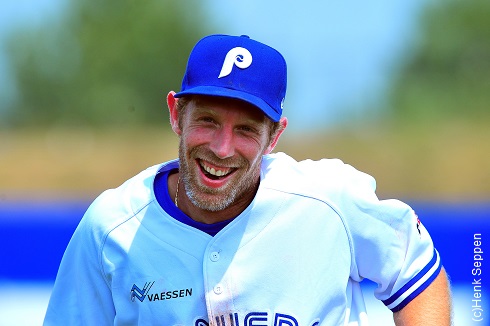 ...Dirk van 't Klooster...
...All Time Basehit Record-holder...
(© Photo: Henk Seppen)

HOOFDDORP (Neth.) - Dirk van 't Klooster broke the All Time Basehit Record this afternoon (Sunday, July 27) in the home game of Vaessen Pioniers vs. Mampaey The Hawks. He also tied the All-Time Game Record.

The veteran rightfielder of Pioniers hit his record-setting 1167th basehit in the second inning of off starter Eddy Oropesa at 2:34 PM. With the bases loaded and two outs, van 't Klooster lined an 0-2 pitch into leftfield for an RBI-single. He drove in Dè Flanegin, but moments later, Kevin Dirksen was eliminated on the plate when he also tried to score to end the inning. The game was then stopped briefly, as Van 't Klooster's teammates came onto the field to congratulate him with his record.

In his first at bat in the opening inning, Van 't Klooster walked. Later in the game, he flied out to rightfield in the fifth inning and then flied out to leftfield in the sixth.

Pioniers enlarged its lead to 11-0, which appeared to be enough to finish the game thrugh the mercy-rule. However, Scott Ronnenbergh, who took over for starter Steven van Groningen in the top of the seventh inning, gave up two runs, meaning the game had to continue. But in the home of the seventh, Pioniers regained a 10-run lead. With one out and Max Draijer on second base, it was Van 't Klooster, who hit a walk-off double to make it 12-2 and added another basehit to bring his total to 1168.

Van 't Klooster tied the record on Saturday by hitting three basehits. He then tied Marcel Joost, who retired in 2002 with a total of 1166 basehits.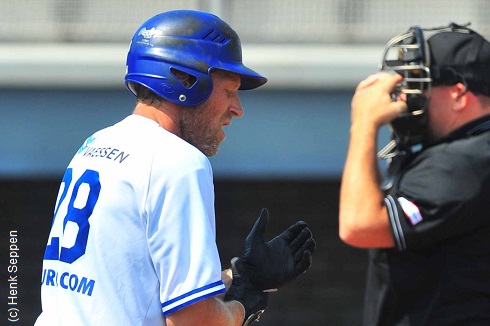 ...Dirk van 't Klooster moments before breaking the record...
...In the back is Home Plate Umpire Martijn Bosschaart...
(© Photo: Henk Seppen)

When the game became official after the top of the fifth inning (40 minutes after he broke the basehit-record), Van 't Klooster tied the All Time Game Record, which also was set by Joost. Today was Van 't klooster's 859th game at the highest level. He can break the record next Thursday when Pioniers meets Corendon Kinheim.

Pioniers won today's game with a 12-2 score.

At Bussum, L&D Amsterdam Pirates shutout Mr. Cocker HCAW 3-0 on only four basehits. Leading 1-0, Pirates added two runs in the fifth on a 2-run triple by Bas Nooij. Starter Kevin Heijstek gave up only three hits in eight innings.

At Vleuten, the game between UVV and ADO Lakers started an hour later than scheduled due to the field condition after it had rained in the morning. Trailing 2-1, UVV decided the game in the bottom of the ninth inning. With one out, Mike Bazuin doubled, which led to a pithing change. Martijn Riphagen took over, got the second out, but then saw Jordan Illis reach when a fly was missed in the outfield, resulting in the tying run. Thomas Smits followed with a walk-off single to give UVV a 3-2 win.

In Rotterdam, Corendon Kinheim won 10-7 at DOOR Neptunus after trailing 7-4 after six innings. Kinheim broke a 7-7 tie with three runs in the eighth inning on a 2-run double by Mervin Gario, who later scored himself on a passed ball. In the fifth inning, Kinheim-reliever Pim Walsma left the game after he was hit on his leg by a hard comeback line drive by Raily Legito. Last Thursday-evening, Kinheim-starter David Bergman left after only three batters with a shoulder-injury. After an MRI, it was diagnosed that he has an irritated rotator cuff and will be out for at least two weeks.

(July 27)

(more later)