(Story by Marco Stoovelaar; Photo by Henk Seppen)

Amsterdam shuts out Neptunus in Holland Series-opener
Nederlands


ROTTERDAM (Neth.) - L&D Amsterdam Pirates opened the Holland Series this afternoon (Saturday, September 27) with a 5-0 shutout-win against defending champion DOOR Neptunus.
This is the fourth Holland Series between the two teams. Back in 1987, the two faced each other in the first-ever Holland Series, which then was a best-of-three. Pirates won the Series, 2-1.
In 1990, the two teams met again, this time in a best-of-five. Pirates again won, sweeping Neptunus in three games.
The last time, Pirates and Neptunus met in the final was in 2010, which then had been expanded to a best-of-seven. Neptunus won that Series, 4-2.
Last year, Neptunus opened with a shutout-win against Vaessen Pioniers and went on to sweep the team from Hoofddorp.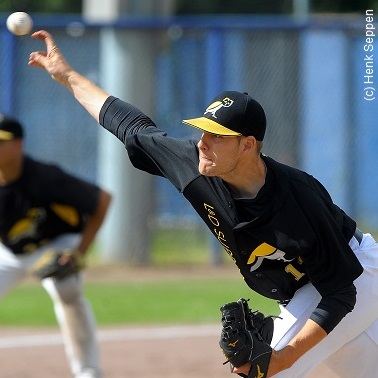 ...Kevin Heijstek...
...Winning pitcher...
(© Photo: Henk Seppen)

After having left three runners in the first two innings, Pirates opened the score with two runs in the third at bat. Roelie Henrique then led off with a single and Michael Duursma followed with a double. A grounder by Bas de Jong and double by Kenny Berkenbosch then gave the Amsterdam-team a 2-0 lead. A single by Bas Nooij followed, but then the inning ended when Remco Draijer grounded into a double play.

In the fourth inning, Amsterdam added a run. Percy Isenia led off with a single and the bases got loaded when Jesse Aussems and Rashid Gerard both reached on a bunt-single. A run was then scored when Roelie Henrique grounded into a double play, then a flyout ended the inning, leaving a runner at third base.

Earlier in the game, Pirates also got runners in scoring position, but didn't score then. In the first inning, Bas de Jong and Kenny Berkenbosch both singled with two outs, followed by a force out. In the second inning, a squeeze-attempt failed. Remco Draijer led off with a walk and stole second base. He then moved on a grounder by Percy Isenia, but was eliminated at home when a bunt by Jesse Aussems failed. The bunt ended in front of the catcher, enabling Gianison Boekhoudt to tag out Draijer.

Kevin Heijstek started for Amsterdam and did fine. After retiring the side in the first inning, he gave up a lead-off single to Gianison Boekhoudt in the second inning, but Heijstek then struckout next batter Kalian Sams, which was followed by a double play-grounder by Dwayne Kemp. After completion of the European Championship last week in the Czech Republic, Sams re-joined Neptunus for the Holland Series. This season, the outfielder played professionally in Taiwan and was selected for the Dutch Team for the Championship. Last season, Sams also played for Neptunus during the Play-Offs and Holland Series after completing his professional season in the United States.

Heijstek then retired the side again in the third and fifth inning. In between, he gave up a 2-out single to Raily Legito. After having giving up only two hits in five innings, Heijstek ran into some problems in the sixth, but Neptunus left the bases loaded. Rookie Shurman Marlin led off with a single, as did Adrian Anthony with one out. The bases got loaded when Raily Legito walked with two outs. Hereafter, Heijstek recovered and ended the inning by striking out Gianison Boekhoudt.

Amsterdam then added two insurance runs in the top of the seventh inning off of starter Diegomar Markwell. With one out, Roelie Henrique reached on a bunt-single and stole second base. He then scored when Michael Duursma followed with a single, the eleventh basehit Markwell had given up. Hereafter, the veteran lefthander was replaced by Kevin Kelly, who saw Duursma steal third base, but also struckout Bas de Jong, the leading hitter of the regular season. Kelly then gave up a double to Kenny Berkenbosch, which lifted the lead to 5-0.

In the bottom of the seventh inning, Heijstek gave up his fifth basehit, a lead-off single to Kalian Sams, but then three outs followed.

In the 8th inning, Pirates again got into scoring position. With one out, Percy Isenia walked and Jesse Aussems singled, then the two advanced on a passed ball. But then, Isenia was eliminated at home trying to score on a grounder to short by Rashid Gerard and a force play-grounder ended the inning.

Heijstek then retired the side again in the bottom of the 8th and was relieved with one out in the ninth inning. Lefthander Kyle Ward then took over to face lefthanded Gianison Boekhoudt, who flied out. Hereafter, Jurrian Koks was brought in to close the game. Koks gave up a single to Kalian Sams, who then stole second base, but then Dwayne Kemp flied out to end the game.

(September 27)