(Story by Marco Stoovelaar; Photo by Henk Seppen)

DSS comes from behind to win vs. The Hawks
Nederlands


DORDRECHT (Neth.) - DSS, the champion of the second highest league ('Overgangsklasse'), this afternoon (Saturday, September 27) faced a 6-3 deficit after seven innings, but then rallied for six runs to take over the lead. The rally turned the game the way of DSS, which went on to win 11-6 and hand Mampaey The Hawks a loss in the opener of the best-of-five Promotion/Relegation Play-Off.
The Hawks ended the Play-Downs in last place and therefore has to play this series trying to extend its stay in the highest division. The winner of this series will play in the big league next season, the losing team will play in the 'Overgangsklasse'.
Last year, ADO Lakers won this deciding series 3-2 vs. Twins to remain in the big league.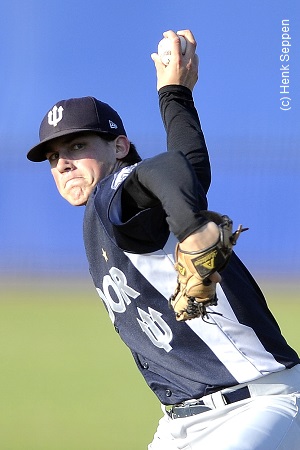 ...Tim Roodenburg...
...4-for-4, double, 4 RBI's...
..Here pictured pitching for Neptunus...
...in the 2012 big league-season...
(© Photo: Henk Seppen)

DSS initially took an 1-0 lead in the first inning, then came alongside in the sixth when it faced a 2-1 deficit. In the home of the sixth, The Hawks scored four runs, which appeared to be enough, but then DSS answered with its big 6-run rally in the eighth.

In the first inning, Ryan Miner led off for DSS with a double off of starter Evan Simons and went on to score on a single by Tim Roodenburg. The lead was shortlived, as The Hawks answered with two runs off off DSS-starter Tim Halderman. With one out, Jules Peters singled and Kevin Moesquit walked and they scored on a 2-out double by Steven Wharwood.

In the fourth inning, DSS got runners on second and third base with one out, but they stranded. DSS came close to a run in the fifth. Ryan Miner led off with a walk and moved on a grounder. He then tried to score on a single by Tino van Erk, but was eliminated at the plate on a throw from centerfielder Jules Peters.

But in the sixth inning, DSS did tie the score. Lead-off hitter Tim Roodenburg was hit by a pitch, then Max Ploegstra walked. Hereafter, Simosn was relieved by Henk van Heijningen, who saw the two runners advance on a sacrifice bunt by Joffrey Heus. The bases got loaded when Allan Hazel walked. A force play-grounder by Mitchel Dautzenberg then led to the second out, but also the tying run.

In the home of the sixth, The Hawks rallied for four runs to take a 6-2 lead. In the inning, Berry van Donselaar and Steven Wharwood (bunt) began with singles and moved on a sac-bunt by Ashwin Rokx. To set up a force play, Gregory Trinidad was walked intentionally, but the fourth ball ended in a runscoring wild pitch, which gave The Hawks a renewed lead. A 'regular' walk for Gino Hersilia then did load the bases. Next, the lead runner was forced out at home on a grounder by Shurendell Borgschot. With two outs, Tony Enos cleared the bases with a 3-run double, giving The Hawks a 6-2 lead. That appeared to be enough at that time, but DSS crawled back.

The visitors got a run back in the top of the seventh on a double by Tim Roodenburg, narrowing the deficit to 6-3. That set up the eighth inning in which DSS struck with six runs to turn the game its way, as the pitchers of The Hawks failed to find the strike-zone. DSS got the bases loaded quickly, as Henk van Heijningen walked Allan Hazel, Mitchel Dautzenberg and Ryan Miner. Hazel stole second after his walk, while a double steal moved the runners to second and third base after Dautzenberg's walk. Next, Sven Jongejans received the fourth walk in a row, which brought in a run and a new pitcher. Kevin van Veen took over, but he was greeted with an RBI-single by Tino van Erk that made it 6-5, then hit Mitchell Koot with a pitch to tie the score. The pitching problems for The Hawks kept on going, as Van Veen then walked Tim Roodenburg and that gave DSS a 7-6 lead and their still were no outs. The first out came when pinch-hitter Seb Visser flied out, but that became a sacrifice fly, as Van Erk scored the next run. The bases were re-loaded when Joffrey Heus singled. In his second at bat in the inning, Allan Hazel also delivered a sacrifice fly, which made it 9-6, but also ended in a double play, as Roodenburg was eliminated at third base.

In its eighth at bat, The Hawks was unable to do something back, then saw DSS score two more insurance runs in the top of the ninth inning on singles by Tino van Erk and Tim Roodenburg.

Kevin Geestman, who had taken over the pitching for Tim Halderman in the seventh, then gave up an one-out single to Jules Peters in the ninth. But a force out and strikeout followed to end the game.

DSS collected 12 basehits, including four by Tim Roodenburg and three by Tino van Erk.

(September 27)