(Story by Marco Stoovelaar; Photo by Henk Seppen)

Neptunus, 't Hoen, Saints-volunteers nominated for Rotterdam Awards
Nederlands


ROTTERDAM (Neth.) - DOOR Neptunus has again been nominated for Rotterdam Sports Team of the Year, while its Head Coach Evert-Jan 't Hoen earned his second consecutive nomination for Coach of the Year. Last year, 't Hoen won the award for leading Neptunus to the Dutch championship-title in his debut-season as Head Coach in the big league.
Also nominated this year are Henk Swinkels and Cees Rodenburg from baseball- and softball-club Saints. They are one of three nominees for Volunteer of the Year.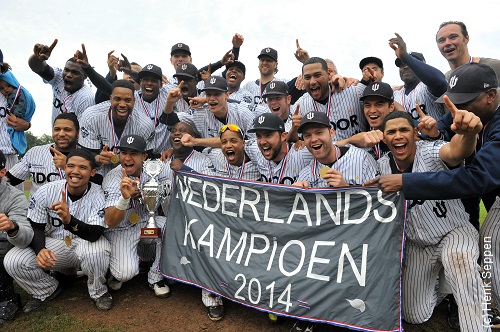 ...Neptunus won the title again in 2014...
(© Photo: Henk Seppen)

Neptunus prolonged its championship-title in October in an exciting Holland Series against L&D Amsterdam Pirates. The best-of-seven had to go all the way, as Neptunus came back from behind to win it all. Amsterdam Pirates had a 3-1 lead in the final, one win away from the title, but Neptunus then won the next three in a row to become the champion. Game 7 was a thriller which Neptunus won by scoring only one run.

Also nominated for Team of the Year are CBV Binnenland Rotterdam (basketball) and SBV Excelsior (soccer), while 't Hoen's co-nominees are Arno Havenga (waterpolo) and Joost van Rangelrooy (basketball).

Besides the duo from Saints, also nominated for Volunteer of the Year are Lia Schop of RIS (special sports) and Wouter Weerheijm of Skadi (rowing).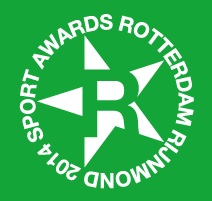 The Municipality of Rotterdam honors its champions annually since 1986. In the past the Gala was named Rotterdam Sportstad Awards, but since 2012, it has the current name Sport Awards Rotterdam Rijnmond.
In the previous 38 Award Gala's, fourteen prizes were handed to Neptunus, which was crowned six times as Sports Team of the Year (1991, 1994, 2000, 2001, 2003 and 2009). Besides 't Hoen winning the Coach of the Year Award last year, Robert Eenhoorn was named Coach of the Year in 2005 and 2007, both times for his accomplishments as Manager of the Netherlands Baseball Team. Eenhoorn also won the Male Athlete of the Year twice (1990, 1999), while Diegomar Markwell won that Award in 2011 after he had won the world championship-title with the Dutch squad. In 2000, Sjoerd Hermans was named Talent of the Year. In 2007, Theodoor (Puck) van Rooijen was named Volunteer of the Year.
The 39th edition of the Gala will take place on Monday, December 15 at the Nieuwe Luxor Theater in Rotterdam, organized by the Municipality of Rotterdam, Rotterdam Sportsupport, Rotterdam Topsport and RTV Rijnmond. During the evening, all athletes from the Rijnmond-area will be honored.
Everyone can cast a vote on their favorite through December 8. This can be done via www.desportawards.nl. The public votes will provide the half of the votes. The other half will be decided by a special appointed jury compiled from former athletes, executives and media.
(November 28)