www.grand-slam.nl
Baseball
Headlines
Compiled and Copyright © 1997-2014 by Marco Stoovelaar

The Hawks surprise in Amsterdam
Nederlands


AMSTERDAM / HAARLEM (Neth.) - Mampaey The Hawks won its first game of the season on Tuesday-evening, a surprising 10-6 victory vs. L&D Amsterdam Pirates, which with that lost its first game of the season. Amsterdam trailed twice, but was able to come alongside, then faced a 6-3 deficit at one moment, narrowed it to 6-5, but couldn't change the outcome. The Hawks outhit Amsterdam 16-9.

Corendon Kinheim, which suffered a surprise loss on Saturday vs. ADO Lakers, tonight won 7-4 vs. the team from The Hague.

Tonight's match-up were make-up games, as they were originally scheduled for last Sunday, but then rained out.

And so, after all teams now have played six games, there is no unbeaten team anymore and no team without a win in the Dutch big league.

On Thursday, the new 3-game series starts.

(April 29)

L&D Amsterdam Pirates vs. Mampaey The Hawks
At Amsterdam, Mampaey The Hawks surprised with a 10-6 victory at L&D Amsterdam Pirates. The team from Dordrecht collected 16 basehits, including three by Jules Peters and Steven Wharwood.

It is only the fourth time that the Pirates-pitching gives up 16 or more basehits in one game since 2010. The pitching-staff gave up 16 basehits in the final game of last season vs. Neptunus and also 16 on July 30, 2011 vs. UVV. The most hits given up since 2010 was 19, which came in 10-8 win (!) vs. Pioniers on May 27, 2011. By the way, these were all 9-inning games. The most hits The Hawks collected against Pirates in one game last season was ten.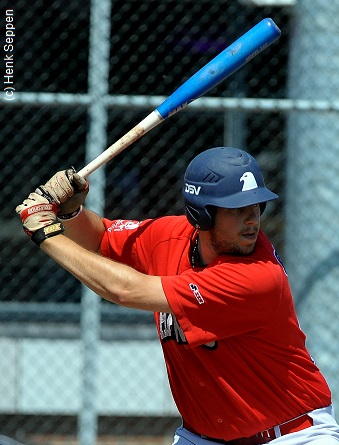 ...Berry van Donselaar hit two of the...
...16 hits of The Hawks...
(© Photo: Henk Seppen)

The Hawks struck with three hits in the first inning off of starter Jos de Jong. Jules Peters led off with a single, then Steven Wharwood followed with a double. A grounder by Gregory Trinidad then accounted for the first run and the next one was added on a single by Berry van Donselaar. The inning then ended when Bob de Bruijn grounded into a double play.

After leaving two runners in the first at bat, Amsterdam came alongside in the second inning off of Quinn Tramm. He also was to have start on Sunday after announced starter Ronald de Bont was used in relief the day before. Tramm walked lead-off hitter Percy Isenia, then gave up singles to Rashid Gerard and Bas Nooij that loaded the bases. The first run was then scored on a force play-grounder by Björn Hato and then the tying run was scored when the latter was forced out on a grounder by Roelie Henrique. But Pirates also left two runners behind in this at bat.

The Hawks came back on top in the fourth inning when Bob de Bruijn led off with a double, moved on a sac-bunt by Shurendell Borgschot and scored on a sac-fly by Aschwin Rokx. Amsterdam reacted with a run of its own in its fourth at bat. Gerard led off with a single, moved on a passed ball and a grounder, then scored on a grounder by Hato.

In the fifth inning, The Hawks took the lead for the third time, scoring three runs and this time, it was a lead to keep. Gino Hersilia led off with a single and moved on a bunt-single by Jules Peters. A single by Steven Wharwood gave The Hawks a 4-3 lead, but then two flyouts followed. The bases got loaded when De Bruijn was hit by a pitch and then Borgschot followed with a 2-run single to make it 6-3. That led to the departure of De Jong, who was relieved by Kyle Ward.

Amsterdam narrowed the deficit to 6-5 by scoring a run in the sixth and seventh inning. In the sixth, Percy Isenia walked with one out and moved on a wild pitch, then Rashid Gerard also walked. An error on a force play-grounder by Bas Nooij then led to a run, while he himself ended up on second base. He advanced to third on a wild pitch by Tramm, who was then relieved by Henk van Heijningen with an 1-0 count. A pop-fly ended the inning, leaving Nooij at third base.

In the seventh, Amsterdam made it a 6-5 score when Michael Duursma walked with one out, stole second base with two outs and scored on a single by Kenny Berkenbosch. But this time, Pirates left runners on first and third base.

The Hawks then took more distance with a 4-run rally with two outs in the eighth inning. Borgschot led off with a single off of Jurrian Koks, who had relieved Ward the inning before. Borgschot moved on a sac-bunt by Rokx and a single by Berend Ruben, who himself advanced to second base. Moments later, Borgschot was picked off on third base for the second out in the inning. But then Hersilia walked and Peters followed with an RBI-single. The bases got loaded when Wharwood also singled and that brought in new pitcher Chris Mowday. But he began with a wild pitch, which was followed by a throwing error by the catcher and so, The Hawks added two runs. A single by Trinidad brought in another run and lifted the lead to 10-5.

Pirates was able to score only one more run in the home of the eighth inning, which was the last to be played due to the curfew-rule that states that no new inning will be started after 10:30 PM. With two outs in the eighth, Björn Hato doubled and scored on a single by pinch-hitter Koen Nooij, but that was it for the home team and that earned Henk van Heijningen a save.

L&D Amsterdam Pirates - Mampaey The Hawks 6-10 (8 inn.)
R
H
E
Mampaey The Hawks
200
130
04
-
10
16
1
L&D Amsterdam Pirates
020
101
11
-
6
9
1
(game halted after eight complete innings due to the 10:30 PM curfew-rule)
pitchers The Hawks
inn.
SO
BB
H
R
ER
Quinn Tramm, W (1-0)
5.2
3
5
4
4
2
Henk van Heijningen, SV (1)
2.1 (*)
2
1
5
2
2
(*) - Van Heijningen took over the pitching with an 1-0 count on the batter
pitchers Pirates
inn.
SO
BB
H
R
ER
Jos de Jong, L (1-1)
4.2
2
1
9
6
6
Kyle Ward
1.1
1
-
1
-
-
Jurrian Koks
1.2
2
1
5
4
4
Chris Mowday
0.1
-
-
1
-
-
Umpires: HP-Efrem Silvania, 1B-Winfried Berkvens, 3B-Stenar van Groningen Schinkel.
Official Scorer-Huub Nelissen.
Play-by-Play-Alex van den Berg.
Time-3:00 hr.

Corendon Kinheim vs. ADO Lakers
At Haarlem, Corendon Kinheim tonight won 7-4 vs. ADO Lakers, but it didn't come easy. Last Saturday, Kinheim surprisingly lost to ADO Lakers, which tonight took an 1-0 lead in the first inning, then narrowed a 6-1 deficit to 6-4, but this time was unable to turn the game its way.

In the first inning, ADO Lakers opened the score off of starter Nick Veltkamp. The lefthander gave up lead-off singles to Jason Jakobus and Stephen Henson, which led to runners at the corners. The latter then got into a run-down, but he was let go when Jakobus took off for home and he then also got into a run-down and was eliminated. Hereafter, Christian Diaz doubled to bring in a run after all.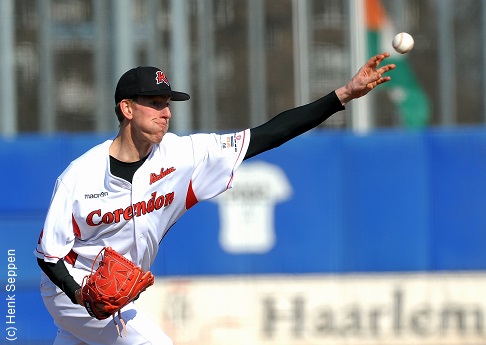 ...Jean-Paul Gulinck retired 6 batters in a row...
...and struckout 4 in the 6th, 7th inning...
(© Photo: Henk Seppen)

Kinheim then left a runner in its first at bat, but scored twice in the next inning off of Timo van Ancum. Jeffrey Arends led off with a single, then an error was made on a force play-grounder by Mervin Gario and the bases got loaded when Dashenko Ricardo reached on a bunt-single. Next, a sacrifice fly by Sven van de Sanden tied the score and an error on a grounder by Jefferson Muzo made it 2-1.

After ADO Lakers stranded two runners in both the third and fourth inning, Kinheim rallied for four runs in the home of the fourth. Again, Arends led off with a single and the bases got loaded when Gario walked and Ricardo singled. The bases were then cleared when rookie Sven van de Sanden hit a 3-run triple. Moments later, he scored himself when Muzo added an RBI-single to make it 6-1.

The 6-1 lead appeared to be comfortable, but then ADO Lakers reacted with a 3-run rally in the top of the 5th inning. Christian Diaz led off with a double and with one out, Joshua Zara singled. With two outs, the bases got loaded when Odion Gouverneur walked and this time, it was Julian Goins, who cleared the bases with a 3-run double.

With a 6-4 lead, Jean-Paul Gulinck took over the pitching for Veltkamp in the sixth inning. The lefthander had a fine outing, pitching two important innings. He retired six batters in a row, including four strikeouts to earn his second 'Hold'.

Kinheim added an insurance run in the sixth inning. Niels van Weert led off with a walk, moved on a double by Quintin De Cuba, then scored when a throwing error from rightfield followed.

Pim Walsma threw the eighth inning for Kinheim. He walked two batters with one out, but then ended with two strikeouts to earn a save.

The game was halted after eight innings due to the 10:30 PM curfew-rule.

Corendon Kinneim - ADO Lakers 7-4 (8 inn.)
R
H
E
ADO Lakers
100
030
00
-
4
10
4
Corendon Kinheim
020
401
00
-
7
11
1
| | | | | | | |
| --- | --- | --- | --- | --- | --- | --- |
| pitchers ADO Lakers | inn. | SO | BB | H | R | ER |
| Timo van Ancum, L (0-2) | 3.2 | 2 | 2 | 7 | 6 | 4 |
| Martijn Riphagen | 3.1 | 2 | 1 | 4 | 1 | - |
| Jurandy Girigori | 1 | 2 | 1 | - | - | - |
| pitchers Kinheim | inn. | SO | BB | H | R | ER |
| Nick Veltkamp, W (2-0) | 5 | 7 | 2 | 10 | 4 | 4 |
| Jean-Paul Gulinck, H (2) | 2 | 4 | - | - | - | - |
| Pim Walsma, SV (1) | 1 | 2 | 2 | - | - | - |
Umpires: HP-Rob Has, 1B-Peter Brink, 3B-Henny Jansen.
Official Scorer-Stefan Slinger.
Play-by-Play-Jeanette van Drunen.
Time-2:57 hr.

Thank you for visiting this site.
Mail your suggestions and questions to stoov@wxs.nl
Copyright © 1997-2014 Marco Stoovelaar / Grand Slam * Stats & News.