Vaessen Pioniers vs. L&D Amsterdam Pirates
At Hoofddorp, Pioniers opened the score in the first inning, scoring twice off of Kevin Heijstek, who suffered his first loss of the season and is now 5-1. Zerzinho Croes led off with a single, but Heijstek then struckout next batters Dirk van 't Klooster and Danny Rombley. Vince Rooi then followed with a homerun down the leftfield-line, which gave Pioniers a 2-0 lead.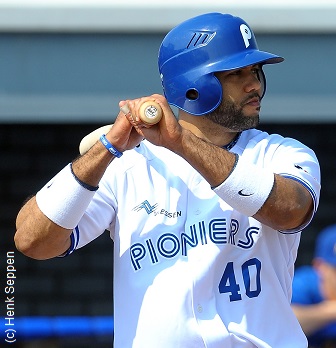 ...Vince Rooi...
...Double, Homerun, 2 Runs, 2 RBI's...
(© Photo: Henk Seppen)

In the second inning, Mark Duursma led off with a single, but Pirates then turned a double play. Heijstek gave up a lead-off double to Kevin Dirksen in the fifth inning, but he was left on third base.

Pioniers then added two runs in the sixth inning. Dirk van 't Klooster led off with a single and moved on a grounder by Danny Rombley. Hereafter, Vince Rooi was walked intentionally, but then Mark-Jan Moorman followed with a runscoring single that brought in Van 't Klooster. Rooi, who advanced to third base on the throw to the plate then also was able to score when a throwing error followed from catcher Bas Nooij. And that lifted the lead to 4-0.

Pioniers-starter Ricardo Hernandez Sanchez held Amsterdam hitless for 5 1/3 innings. In the first inning, he saw Remco Draijer reach on an error with two outs, but he then picked him off on first base. In the third, the lefthander walked Roelie Henrique with two outs, but he was forced out. Hernandez then retired the next seven batters in a row, but then lost his No-Hitter with one out in the sixth inning when Roelie Henrique singled in front of the catcher. He moved on a sacrifice bunt by Björn Hato, but then was left behind.

In the home of the eighth, Pioniers scored its fifth run. Dirk van 't Klooster led off with a single, then Daan Hendrix took over the pitching for Heijstek. With one out, he gave up a double to Vince Rooi that brought Van 't Klooster to third base. He then scored on a sacrifice fly by Mark-Jan Moorman to make it 5-0.

In the top of the eighth, Amsterdam had added two more basehits, but Pioniers then ended the at bat with a double play. In the ninth, Amsterdam got the bases loaded with two outs. Pinch-hitter Koen Nooij led off with a single and Hernandez then struckout next batters Remco Draijer and Kenny Berkenbosch. Singles by Bas de Jong and Percy Isenia then loaded the bases. The game ended on a grounder by Rashid Gerard back to Hernandez, who then made the final out himself. With the win, Hernandez improved his record to 5-1.

Vaessen Pioniers - L&D Amsterdam Pirates 5-0
R
H
E
L&D Amsterdam Pirates
000
000
000
-
0
6
1
Vaessen Pioniers
200
002
01X
-
5
8
1
pitcher Pirates
inn.
SO
BB
H
R
ER
Kevin Heijstek, L (5-1)
7 (*)
7
2
7
5
5
Daan Hendrix
1
-
-
1
-
-
(*) - Heijstek pitched to 1 batter in the eighth inning
pitcher Pioniers
inn.
SO
BB
H
R
ER
Ricardo Hernandez Sanchez, W (5-1)
9
7
2
6
-
-
Homerun: Pioniers: Vince Rooi (2)(2-run,1st,off Heijstek.
Umpires: HP-Winfried Berkvens, 1B-Niek Elshof, 3B-Fred Groenewegen.
Official Scorer-Dieks Bannink.
Play-by-Play Scorer-Jeanette van Drunen.
Time-2:26 hr.