Kinheim-starter Nick Veltkamp retired the side in the first inning, but then gave up three runs in the second at bat. Kenny Berkenbosch led off with a single and advanced on an one-out single by Bas Nooij. Next, Rashid Gerard also singled to bring in Berkenbosch and when an outfield-error followed, Nooij also was able to score. A single by Jesse Aussems then made it 3-0.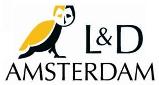 Amsterdam left runners on second and third base in the third inning. From the third inning on, the team collected only two more basehits.
Kinheim left a runner on first base in the second inning, then scored once in the third off of Kevin Heijstek. Jasper Keijzer led off with a single and moved on a grounder by Jochem Koedijk. Hereafter, Kevin Moesquit walked, then Mervin Gario doubled to bring in Keijzer. But Kinheim then stranded runners on second and third base when two grounders followed.
In its remaining innings, Kinheim also wasn't that productive anymore, hitting only three more basehits from the fourth inning on.
In the fourth, Kalian Sams led off with a single, but was eliminated in a double play. Amsterdam then turned another double play in the fifth and sixth inning. Kinheim then left a runner on third base in the eighth. In the ninth, Daan Hendrix took over for Heijstek. He gave up a lead-off single to Sams, but then the Amsterdam-defense turned its fourth double play in the game.