After the game finally started after a lengthy rain-delay, Amsterdam opened the score with two runs in the first at bat off of starter Glenn Wassink. Lead-off hitter Michael Duursma was hit by a pitch, then Nick Urbanus doubled. The bases got loaded when Kenny Berkenbosch walked. Hereafter, a force out at home followed on a grounder by Remco Draijer, but the first run was scored moments later when Bas Nooij walked. A sacrifice fly by Jesse Aussems made it 2-0. Nooij and Draijer then executed a double-steal, but the two were left at second and third base.

In the second inning, Patrick Bok led off with a single, but was caught stealing in a double play when Linoy Croes struckout. Michael Duursma then walked and Nick Urbanus singled, hitting a comebacker that hit Wassink on his right (throwing) elbow. Wassink had to be replaced and went to the hospital for an examination. Luckily, it was diagnosed there that Wassink sustained no serious injury, but he will be out of the pitching rotation for the coming series. Pim Walsma took over and he ended the inning by striking out Kenny Berkenbosch.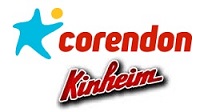 In the bottom of the second inning, Kinheim got one run back off of starter Kyle Ward. Jeffrey Arends led off with a single, moved on a single by Kalian Sams and scored on a single by Dudley Leonora, but two runners also stranded.
After the top of the fourth inning, another rain-delay followed, this time lasting 25 minutes.
In the bottom of the fifth inning, Kinheim came alongside. Bryan Engelhardt led off with a single, moved on a sac-bunt by Jochem Koedijk and a wild pitch, then scored on a single by Kevin Moesquit.
Amsterdam re-took the lead in the top of the sixth inning off of Scott Ronnenbergh, who had taken over in the previous at bat. With Rashid Gerard (fielder's choice) on first base and two outs, Linoy Croes singled and that brought in new pitcher Arshwin Asjes. Michael Duursma then walked to load the bases. Nick Urbanus followed with a runscoring infield-hit that made it 3-2, but the inning ended when Croes was eliminated at the plate when he also tried to score.
In the bottom of the sixth, Kinheim scored twice to take a 4-3 lead off of new pitcher Dennis Burgersdijk. Mervin Gario led off with a single, then moved on a sac-bunt by Dashenko Ricardo and a single by Jeffrey Arends. Gario scored the tying run when Kalian Sams followed with the next single. Kinheim then took the lead via a sacrifice fly by Dudley Leonora.
Two runs were added in the seventh inning. Jasper Keijzer led off with a walk and Kevin Moesquit walked with two outs. Tom de Blok took over the pitching and gave up a 2-run single to Mervin Gario that made it 6-3.
Kinheim added an insurance run in the eighth via a single by Jasper Keijzer.
Trailing 7-3, Amsterdam got the bases loaded with no outs in the ninth inning. Nick Urbanus (who was 4-for-5) led off with a double, then Kenny Berkenbosch singled and Remco Draijer walked. But then Bas Nooij lined out and Asjes struckout Jesse Aussems. The inning and the game ended when Rashid Gerard popped up to winnig pitcher Arshwin Asjes.
When the final out was made, it was 7:45 PM, almost six hours after the original starting time of the game.