After the defense of The Hawks had turned a double play in the top of the first inning, the offense gave the team an 1-0 lead moments later. With one out, Stephen Henson tripled off of starter Lars Huijer, then scored on a following grounder by Berend Ruben. Hereafter, Julian Goins reached on a fielder's choice and stole second base, but was left behind.

The lead was shortlived. In the second inning, it was the defense of Pioniers that turned a double play, then the offense took over in the top of the third. With two outs, Max Draijer and Daniel Fernandes singled. However, The Hawks could have come unharmed out of the inning, but a drive by Dirk van 't Klooster then ended in an outfield-error and two runs.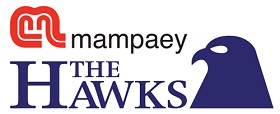 Pioniers added a run in the fourth when Quintin De Cuba led off with a ground-rule double and moved on a single by Mark-Jan Moorman. He then scored on a sacrifice fly by Kevin Dirksen to lift the lead to 3-1.
The Hawks-starter Evan Simons then held Pioniers scoreless in the next two innings.
Pioniers scored its fourth run in the seventh at bat. Simons walked lead-off hitter Kevin Weijgertse, then was relieved by Enoch Deaton, who made his pitching debut for The Hawks. Weijgertse advanced on a sacrifice bunt by Glenn Bakker and a single by Max Draijer, then scored on a sac-fly by Daniel Fernandes to make it 4-1.
In the final two at bats, Pioniers stranded a total of three runners.
After giving up the run in the first inning, Huijer held The Hawks scoreless. He retired eight batters in a row from the second through fourth inning. Huijer then saw the bases get loaded in the fifth without giving up a basehit. The righthander walked lead-off hitter Steven Wharwood, who moved on a grounder and a wild pitch. With two outs, Gino Hersilia walked and stole second base. The bases the got loaded when Odion Gouverneur was hit by a pitch, but a strikeout ended the at bat.
The Hawks left one runner in the next three innings off of Huijer, who was relieved by closer Bayron Cornelisse in the ninth. He gave up a lead-off single to Julian Goins, but a flyout and double play followed, which earned him his sixth save of the season.