Initially, it was announced that Maickel Rietel was to be the starting pitcher today, but he switched with Giovanni Tensen, who was the starter for Game 3 on Sunday.

In the first inning, Tensen gave up two runs with two outs to Neptunus. Stijn van der Meer led off with a single, but, with one out, he was forced out on a grounder by Raily Legito. With two outs and Legito on first base, it was decided to walk next batter Gianison Boekhoudt intentionally, which moved Legito into scoring position! And scoring is what he did moments later! The two runners advanced on a wild pitch, then the bases got loaded when Rien Vernooij walked. Two runs were then scored when Christian Diaz singled.

HCAW answered with three runs in its first at bat off of Diegomar Markwell. With one out, Roy Seltenrijch walked, then scored on a following triple by Emersson Paula. With two outs, Raoell Kortstam walked, then HCAW took a 3-2 lead on a 2-run double by Aldrich Guzman.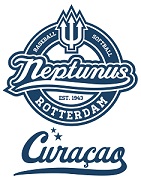 In the top of the third inning, Neptunus re-took the lead. Raily Legito led off with a double and scored the tying run on an one-out double by Rien Vernooij. A single by christian Diaz moved Vernooij to third base and he then scored on a sacrifice fly by Gyenuar Lopez.
Neptunus couldn't take more distance and so HCAW equaled the score in the bottom in the fourth inning after having left two runners in the third. Gianni Frolijk led off with a single, moved on a sacrifice bunt by Max Clarijs and scored on a following single by Brian Biezen.
After giving up the two runs in the third inning, Tensen retired the side in the fourth. He then gave up a lead-off single to Raily Legito in the fifth and was relieved by Steven van Groningen, who saw Gianison Boekhoudt ground into a double play. A single by Vernooij followed, but Van Groningen then retired eight batters in a row.
With one out in the eighth inning, Van Groningen faced Vernooij again and then gave up a new single. That started a 4-run rally that gave Neptunus the win. Vernooij stole second base, then a force play was set up by walking Christian Diaz intentionally and again, runs were scored thereafter. The bases got loaded when Gyenuar Lopez walked, then Benjamin Dille cleared the bases with a 3-run double. After a flyout, the fourth run was scored on a single by Stijn van der Meer that lifted the lead to 8-4.
Neptunus added another run in the ninth when Dwayne Kemp stole home after a failed pick-off attempt at third base.
HCAW was held scoreless in its last five innings. Markwell was relieved by Berry van Driel in the sixth, who retired six batters in a row. In the eighth, Kevin Kelly took over. He gave up a lead-off single to Rossini Frolijk, but his pinch-runner Peter van Doesburg stranded on third base. Loek van Mil completed the game by striking out the side in the ninth.