Kyle Ward started for Amsterdam Pirates. The lefthander struckout three batters in the top of the first inning and walked a batter with one out, but he stranded. Ward then gave up a run in the top of the second inning. Mike Bazuin led off with a single, advanced on a double by Brennan Nijhof and scored on a grounder by Norbert Jongerius.

After giving up the run in the second inning, Ward threw strongly and retired 14 of the next 17 batters. After having retired six batters in a row, he walked Dennis De Quint to start the fourth inning, but he was forced out on a grounder with two outs by Norbert Jongerius. In the sixth, Ward gave up an one-out single to Gilmer Lampe, but he was caught stealing.

Jurjen van Zijl went the distance for UVV. The righthander was supported with a double play in the second inning and threw four hitless innings.

In the fifth inning, trailing 1-0, Amsterdam broke the No-Hitter and came alongside. Remco Draijer led off with a single and stole second base. Hereafter, Bas Nooij walked, then the two runners advanced on a sacrifice bunt by Rashid Gerard. Patrick Bok then drove the ball into rightfield, where it was caught. Draijer took off from third base and scored the tying run, sliding just under the glove of catcher Joris van Ballegooy, who had received the ball in a relay from the outfield. Home Plate Umpire Niek Elshof had a great view of the situation and made a resolute and good call, signaling that Draijer was safe.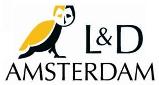 UVV re-took the lead in the seventh inning. With one out, Brennan Nijhof singled, but was caught stealing. Shortly thereafter, Norbert Jongerius tripled down the rightfield-line and scored on a single by Thomas Smits. That led to two changes. Tom de Blok was brought in as reliever for Ward, while Jamie Verheyleweghen was inserted as pinch-runner for Smits. But the inning ended when Verheyleweghen was caught stealing.
Hereafter, an exciting eighth inning followed, which included three close calls from the umpires, two of which resulted in some heated discussions.
In the top of the 8th inning, UVV got a chance of taking more distance, as it got the bases loaded with one out. Dennis Ribbens led off with a single through the middle, then advanced to third base on an one-out double by Tony Enos. To set up a force play, next batter Gilmer Lampe was walked intentionally. Next, a pick-off at third base followed by catcher Bas Nooij. Third baseman Rashid Gerard tagged Ribbens, who dove back to third base, which resulted in a 'double call'. 3B Umpire Henny Jansen gave the 'safe'-signal, but Home Plate Umpire Niek Elshof, who of course had a different angle, called the runner out. He stated that Ribbens was out of line to avoid the tag and so, he overruled his colleague. That led to a discussion between Elshof and UVV's Head Coach Ferenc Jongejan. Elshof explained his call and so, Ribbens was the second out. The inning then ended moments later when De Blok struckout Dennis De Quint.
In the bottom of the 8th inning, pinch-hitter Linoy Croes struckout, but reached first base on a passed ball. He then advanced to second base when a pick-off by Van Zijl went errant. Croes then moved to third base on a bunt by Roelie Henrique, who was called out at first base in a close call. And that led to another discussion, as this time Amsterdam's Head Coach Charles Urbanus wanted an explanation from 1B Umpire Jos van Eijsden. When the game resumed, Amsterdam had a runner on third base, but also an out. Next, Michael Duursma singled into left-centerfield to bring in Croes and tie the score. A foul-out by Nick Urbanus then accounted for the second out. Kenny Berkenbosch followed with a double. Duursma circled the bases, while Berkenbosch ran towards third base trying to stretch his hit into a triple. But Berkenbosch was eliminated at third base. However, shortly before Berkenbosch was tagged out, Duursma scored, which was clearly signaled by HP Umpire Elshof. And with that, Amsterdam had taken a 3-2 lead.
In the top of the 9th inning, Tom de Blok retired the side to end the game.