(Story by Marco Stoovelaar)

DSS plays intersquad game; Pirates plays no DH on Sunday
Nederlands



HAARLEM / AMSTERDAM (Neth.) - DSS played an intersquad game against its Rookie League-team tonight (Friday, March 20) on a cool evening in Haarlem. The 'batteries' of both teams played for the other squad, meaning the pitchers and catchers of DSS played for the Rookies and vice versa. It was reported that the game was very useful for both teams and that the DSS-team scored the most runs, but an official final score was not mentioned. The game will not be listed in the exhibition standings.

DSS will play its next game coming Sunday. The team will then travel to Bussum to play againt HCAW in a game that starts at 12 PM.
Initially, DSS was to play another game against its Rookie-team, but that was dropped. HCAW had two games scheduled this weekend against Mainz Athletics from Germany, but those games had to be cancelled, as Mainz was unable to come to Bussum. And so, HCAW approached DSS for a game, which was then scheduled for coming Sunday. HCAW will have a practice session on Saturday. The game of DSS against its Rookie Team was not re-scheduled. The Rookie Team now will have a practice session on Sunday.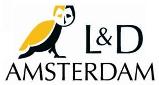 In other news, it was reported on Friday that L&D Amsterdam Pirates and German national champion Solingen Alligators will not play a double-header on Sunday after all, as announced earlier this week. Instead, a single game will be played, just as on Saturday. Both games will be played in Amsterdam and will start on 2 PM.
(March 20)
Complete Schedule Exhibition Season