DSS opened the score with two runs in the first at bat off of American pitcher Enoch Deaton. Mark Smit led off with a single, then an error followed on a sacrifice bunt by Sven Jongejans, which put runners on first and third base. A following single by Ryan Miner produced the first run, then a bunt-single by Tino van Erk loaded the bases. Hereafter, Koen Halderman grounded into a double play, but that also led to the second run.

The Hawks got one run back in the second inning. With one out, Brian Raap singled and advanced when Steven Wharwood walked. Raap then stole third base and scored when a throwing error followed.

DSS added another run in the top of the third. Mark Smit again led off with a single. He then went on to steal second base, moved on a grounder and scored on an error.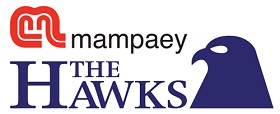 In the fourth inning, DSS took more distance, scoring four runs on four hits off of Deaton. Levine Gabriëls led off with a walk, stole second base, then scored on a double by Joffrey Heus. With one out, Mitchel Dautzenberg singled to put runners on first and third base. Next, a steal-situation led to two errors and two runs. When Dautzenberg stole second base, Heus took off and stole the plate. A throwing error to second base followed, enabling Dautzenberg to move to third base and he then went on to score on a throwing error from centerfield. With the bases now empty, Mark Smit singled again. After stealing second base, he scored on triple by Ryan Miner to make it 7-1.
The Hawks got its first two batters on base in the bottom of the fourth when Julian Goins singled and Brian Raap walked. The two advanced on a wild pitch with one out, but then starter Tim Halderman struckout the next two batters.
After a scoreless fifth inning, DSS added two more runs in the sixth. Lex Leijenaar led off with a double, moved on a wild pitch and scored when a throwing error towards home followed on a fielder's choice-grounder by Mark Smit, who ended up on second base. Smit then advanced on a grounder and went on to score the next run on an RBI-single by Tino van Erk.
In the bottom of the seventh inning, Steven Wharwood reached on an error and Gregory Trinidad singled. That led to a pitching change, as Kevin Bosch took over from Tim Halderman. He saw the runners advance on a grounder by Lejeune Francisca, then a run was scored on a grounder by Gino Hersilia.
DSS scored its tenth run in the eighth off of new pitcher Kevin van Veen when Mitchel Dautzenberg led off with a single and went on to score on a force play-grounder by Ryan Miner.
Trailing 10-2, The Hawks narrowed the deficit by scoring three runs. With two outs, Julian Goins singled, but then a 6-minute rain-delay followed. When the game resumed, Brian Raap connected for a double on the first pitch to bring in Goins. Moments later, the DSS-defense committed two errors, resulting in two unearned runs that made it a 10-5 score.
In the bottom of the ninth, Kevin Bosch had two runners on base, but a foul-fly then led to an unassisted inning-ending and game-ending double play. With that, Bosch earned a save for throwing the last three innings in this game.