(Story & Photos by Marco Stoovelaar)

Amsterdam Pirates again wins big vs. Solingen
Nederlands


AMSTERDAM (Neth.) - L&D Amsterdam Pirates handed German champion Solingen Alligators another shutout-loss on Sunday (March 22). Today, the home team won 8-0 vs. Solingen, which got an additional tenth at bat, meaning the game lasted 9½ inning.
Amsterdam collected 11 basehits, including three by Michael Duursma and two doubles by Remco Draijer, who scored three runs.
There were fine defensive plays in today's game, especially by Solingen. Leftfielder Sascha Steffens made two great diving catches, while centerfielder Florian Götze made a nice sliding catch on a line drive by Patrick Bok. Short stop Daniel Sanchez made a nice play on a hard hit by Kenny Berkenbosch and was able to throw the ball to second base to force out a runner. But unfortunately, an unnecessary throwing error then followed trying to complete a double play, which led to a run.
Four Amsterdam-pitchers gave up only three basehits and struckout 16 (!) batters.
Coming Friday, Amsterdam Pirates flies to Germany for a training-camp and a 3-game series against Regensburg Legionäre in Regensburg. The two teams meet on Friday-evening and then play two games in the weekend.
---

It was sunnier than the day before, the sky was blue, there were some clouds here and there, but still, the temperartures were chilly. Nevertheless, the weather conditions were more favorable than in previous days.

As on Saturday, Amsterdam was the more prodctive team today and reached base frequently. The team had a 3-0 lead after three innings and had a 4-run rally in the seventh to enlarge its lead.

Amsterdam opened the score with two unearned runs in the first at bat off of Solingen-starter Nils Hartkopf. Roelie Henrique led off with a walk and moved on a wild pitch, then Remco Draijer reached on an error. The first run was then scored on a single by Michael Duursma. A walk for Kenny Berkenbosch followed, then the second run was scored when Jesse Aussems grounded into a double play.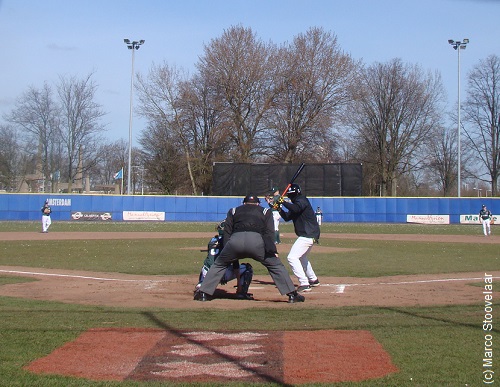 ...The weather conditions were more friendlier today...
(© Photo: Marco Stoovelaar)

In the third, Draijer led off with a double, moved on a grounder by Duursma, then scored on a sacrifice fly by Berkenbosch. The inning ended when leftfielder Sascha Steffens made a great catch on a fly by Aussems.

Veteran Rob Cordemans made his first start of the exhibition season for Amsterdam and encountered no problems in the three innings he threw. He began the game with a strikeout, gave up a 2-out single to Nils Hartkopf, but then retired the next seven batters in a row. Cordemans struckout the side in the second inning and added two more strikeouts in the third.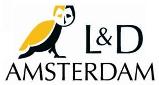 Tom de Blok took over the pitching in the fourth inning. Daniel Sanchez led off for Solingen with a hard grounder towards short stop Michael Duursma, which got a bad hop towards his rightside. Duursma was able to field the ball and throw it to first base, but Sanchez reached on an infield-hit. Next batter Hartkopf then grounded into a double play. Hereafter, De Blok ended with a strikeout and in the fifth inning, the righthander then struckout the same three batters Cordemans had struckout in the second at bat. After giving up the lead-off single, De Blok retired eight batters in a row, including five strikeouts.
Robin Schel became the new pitcher for Amsterdam in the seventh inning and he retired the side, closing with two strikeouts. The lefthander added two more strikeouts in the eighth, but also gave up an one-out double to Sascha Steffens, who stranded on second base.
Amsterdam left the bases loaded in the fourth inning. Rashid Gerard led off with a double down the leftfield-line, then Linoy Croes singled. Next, Patrick Bok lined the ball into centerfield, where Florian Götze made a great catch. The ball was caught closely behind second base, meaning Gerard could not score after the catch was made. The bases got loaded when Daan Groenewoud walked. After a strikeout, the inning ended when Steffens made another great catch in leftfield, this time on a hit by Remco Draijer.
In the fifth inning, Michael Duursma led off with a Texas Leaguer-single, but was left on second base. In the sixth, Bok walked, but stranded on first base.
Amsterdam then rallied for four more runs in the seventh inning. Lead-off hitter Remco Draijer reached on an error, then Michael Duursma hit his third basehit of the afternoon. Next, Kenny Berkenbosch hit the ball through the middle, but short stop Daniel Sanchez made a great defensive play, fielded the ball while falling to the ground and was able to force out Duursma on second base. Instead on holding the ball, second baseman Oskar Matzpreiksch tried to complete a double play at first base, making a throwing error, which enabled Draijer to score his third run in the game. Walks for Jesse Aussems and Rashid Gerard then loaded the bases and Linoy Croes followed with a 2-run double that made it 6-0. A pitching change followed, but then Croes scored the next run on a single by Patrick Bok. Hereafter, Daan Groenewoud struckout and then suddenly, Solingen left the field and Pirates took the field, while there were only two outs. It was left that way and the game continued.
Dennis Burgersdijk became Amsterdam's fourth pitcher in the ninth inning and he then retired the side. To give him an additional inning to pitch, the game continued and Amsterdam then scored its final run in the bottom of the ninth inning. Rashid Gerard led off with a single, moved on an error and a double play-grounder, then scored on a single by Roelie Henrique.
In the top of the tenth inning, Nils Hartkopf led off with a walk, but then three outs followed to end the game.
(March 22)
Complete Schedule Exhibition Season
L&D Amsterdam Pirates - Solingen Alligators 8-0 (9½ inn.)
R
H
E
Solingen Alligators (Germany)
000
000
000 0
-
0
3
4
L&D Amsterdam Pirates
201
000
401 X
-
8
11
0
pitchers Alligators
inn.
SO
BB
H
R
ER
Nils Hartkopf, L (0-1)
4
2
4
4
3
1
Luka Wolf
2.1
2
3
3
4
3
Dominik Wulf
2.1 (*)
3
2
4
1
-
(*) - 7th inning ended with only two outs
pitchers Pirates
inn.
SO
BB
H
R
ER
Rob Cordemans, W (1-0)
3
6
-
1
-
-
Tom de Blok, H (1)
3
5
-
1
-
-
Robin Schel, H (1)
2
4
-
1
-
-
Dennis Burgersdijk
2
1
1
-
-
-
Umpires: HP-Stenar van Groningen Schinkel, 1B-Fred van Groningen Schinkel, 3B-Fred Oosterling.
Official Scorer-Marco Stoovelaar.
Time-2:38 hr.
...While the weather conditions were better, 3rd baseman Rashid Gerard, leftfielder Roelie Henrique...
...and umpire Fred van Groningen Schinkel showed that the wind was cold...

...Michael Duursma had three singles today...

...Remco Draijer hit 2 doubles and scored 3 runs...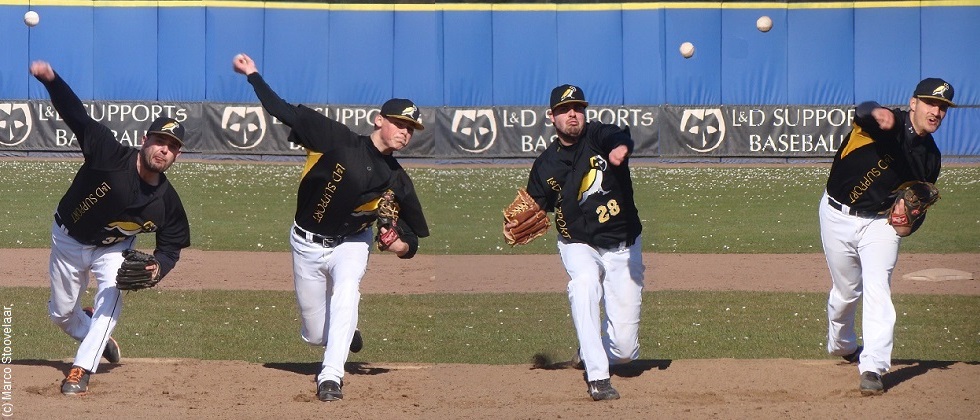 ...Today's Amsterdam-pitchers Rob Cordemans, Tom de Blok, Robin Schel and Dennis Burgersdijk...
(© All Photos: Marco Stoovelaar)