Kinheim took a 2-0 lead in the first inning off of starter Kevin van Veen. Kevin Moesquit led off with a single, then scored when rookie Victor Draijer followed with a double, which was his first big league-basehit. Moments later, Draijer stole third base, then scored when a throwing error from the catcher followed. Bryan Engelhardt then singled and Jeffrey Arends walked, but they were left behind.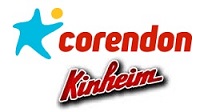 The Hawks then rallied for four runs on six hits in the second inning off of David Bergman. Amir Daou led off with a single, then Gregory Trinidad singled him to third base. Hereafter, Tim Roodenburg and Lejeune Francisca followed with runscoring singles to tie the score. With one out, Odion Gouverneur singled in the next run and advanced on a fielding error. With runners on second and third base, Stephen Henson reached on a bunt-single that loaded the bases, then another run was scored on a following sacrifice fly by Berend Ruben that made it a 4-2 score. But that was to be all for The Hawks, which was held scoreless in the remainder of the game.
The Hawks left two runners in both the third and fourth inning. In the fourth, the team had the bases loaded with one out, but then Kinheim turned a double play.
Kinheim got one run back in the bottom of the fourth. Dashenko Ricardo led off with a double. Next, Sven van der Sanden reached on an infield-hit to short, which initially held Ricardo at second base. But when a throwing error followed, Ricardo advanced after all, while Van der Sanden moved to second base. A sacrifice fly by Niels van Weert then narrowed the deficit to 4-3.
In the sixth inning, Kinheim turned the game its way, scoring three runs with two outs. Niels van Weert walked with one out, then advanced on a sacrifice bunt by Jochem Koedijk and scored the tying run on a ground-rule double by Kevin Moesquit. Next, Victor Draijer brought in Moesquit with his third double of the afternoon. Shortly thereafter, Draijer scored himself on a single by Bryan Engelhardt that gave Kinheim a 6-4 lead.
In the seventh inning, Amir Daou led off for The Hawks with a double, but was left behind.
In the eighth inning, Pim Walsma took over for Bergman and retired the side to earn his fourth Hold of the season. Arshwin Asjes then closed the game and retired the side in the ninth to earn a save.