Shaldimar Daantji returned tonight to his familiar position in centerfield for Neptunus. Last Tuesday-evening, he was in the starting line-up and participated the pre-game activiies. Shortly before game, however, but he was scrubbed, as he was bothered by a fever, went home and didn't play. The outfield was reshuffled last Tuesday, but today, Daantji was back in centerfield. However, the team now had to do without its closer Loek van Mil, who also was somewhat feverish.

Neptunus opened the score with one run in the first inning off of starter Quinn Tramm. Stijn van der Meer led off with a walk and advanced on a wild pitch. He then scored on an one-out single by Benjamin Dille. The Belgian second baseman then also advanced on a wild pitch, moved on a grounder, but stranded on third base.

The Hawks answered with a run in its first at bat off of Diegomar Markwell to tie the score. Odion Gouverneur led off with a double, moved to third on an one-out sacrifice bunt by Berend Ruben, then scored the tying run on a single by Julian Goins.

In the top of the second inning, Neptunus got is lead-off hitter on base again when Christian Diaz singled. Moments later, Diaz, who currently is the leading hitter in the league with a .398 batting average, was caught stealing in a run-down after a pick-off. Gyenuar Lopez followed with a double, but later stranded on third base.

Neptunus re-took the lead in the third inning. Stijn van der Meer again led off with a single and moved on a bunt-single by Dwayne Kemp. The latter was eliminated when Benjamin Dille grounded into a double play, but that also moved Van der Meer to third base. He then scored on a following single by Gianison Boekhoudt.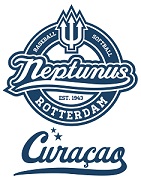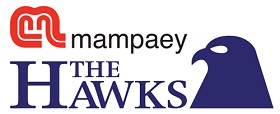 In the bottom of the third inning, The Hawks scored two runs to take a 3-2 lead. Louie-Jay Sienders led off with a single, but was forced out on a grounder by Odion Gouverneur. Hereafter, Stephen Henson singled, then Berend Ruben followed with another single. That also led to a throw back to the infield, which enabled Gouverneur to score the tying run. Moments later, Henson scored the go-ahead run on a grounder by Julian Goins.
The lead was shortlived, as Neptunus rallied for three runs in the top of the fourth inning. Christian Diaz led off with a walk and Shaldimar Daantji singled to put runners on second and third base. Shurman Marlin followed with a 2-run double to give Neptunus a 4-3 lead. With one out, Stijn van der Meer walked, then Laurens Oele took over the pitching for The Hawks. After the two runners had advanced on a passed ball, a force play was set up by walking Dwayne Kemp intentionally. A sacrifice fly by Benjamin Dille then gave Neptunus an extra run. The bases were re-loaded when Gianison Boekhoudt walked, but three runners were left behind.
After leaving two more runners in the fifth, Neptunus added a run in the sixth. Dwayne Kemp became the sixth consecutive lead-off hitter to reach base for Neptunus, but he was eliminated shortly thereafter. Kemp singled up the middle, tried to advance to second base, but was eliminated there. Benjamin Dille then reached on a ground-rule double, advanced on a wild pitch and scored on a 2-out single by Rien Vernooij.
Neptunus added three more runs, one in each of the final three at bats. In the seventh, Stijn van der Meer singled with one out and scored on a basesloaded sac-fly by Gianison Boekhoudt. In the eighth, Gyenuar Lopez walked with one out and scored on a 2-out single by Shaldimar Daantji. And in the ninth, Benjamin Dille led off with a single and scored on a 2-out double by Christian Diaz.
After giving up the two runs in the third inning, Diegomar Markwell retired the side in the fourth and seventh inning. In between, he got a few baserunners. In the fifth, the lefthander walked a batter and gave up a single, then was supported by an inning-ending double play. In the sixth, The Hawks stranded another runner.
Berry van Driel took over the pitching in the eighth. He began with a walk, but in the inning, there also were two force outs on second base.
The ninth inning was pitched by Kenny Van Den Branden, who is the scheduled starting pitcher for Tuesday-evening's game vs. Pirates. He retired the side to end the game.