Initially, The Hawks opened the score with one run in the first inning. With one one, Odion Gouverneur and Gregory Trinidad both walked. Gouverneur is another player who recently came to Dordrecht after ADO Lakers had withdrawn its team from the big league. With Trinidad in the batter's box, Gouverneur had advanced to second base on a wild pitch and he then stole third base. With runners on first and third base, a passed ball enable Gouverneur to score the first run, but Twins-starter Ben Van Nuffel then followed with two strikeouts to end the inning.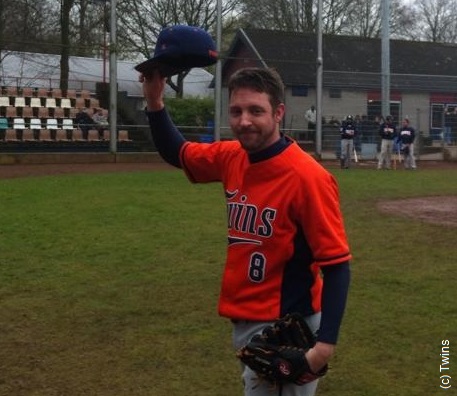 ...Remco Gorisse waves his cap after leaving...
...the mound for the last time...
(© Photo: Twins)

Twins came alongside in the second inning off of Hawks-starter Bobby Carrington. Berry van Donselaar led off with a double, then Mick Molenaar was hit by a pitch. The two advanced on a passed ball. With one out, Stijn Janssen singled to bring in Van Donselaar. Molenaar also tried to score, but he was thrown out at the plate.

In the third inning, Twins rallied for five runs (three earned) to take a 6-1 lead, but that was not enough. With one out, Shurty Tremus walked and stole second base. Nick Peels then moved Tremus to third base with a bunt-single. Twins then took a 2-1 lead when both runners were awarded their next base via a balk. Bart Hanegraaf walked and Anthony Vrolijk followed with a single to load the bases. Next, a passed ball accounted for the next run, as did a sacrifice fly by Berry van Donselaar. Hereafter, Mick Molenaar walked and Bob van der Meer added an RBI-single. An error on a fly by Stijn Janssen then brought in the fifth run in this at bat to make it 6-1.
The Hawks answered with a 5-run rally of its own on five hits in the top of the fourth inning. Gino Hersilia and Wijnand Ruben both walked and advanced on a wild pitch. With one out, Chris Williams doubled in a run, then Ruben scored on a fielder's choice. Next, Stephen Henson singled in a run and advanced on a grounder by Jules Peters, who also was safe himself. A single by Odion Gouverneur and double by Gregory Trinidad then accounted for the next two runs to tie the score at 6-6.
Hereafter, The Hawks was held scoreless. The team added only three more hits in the remainder of the game.
In the home of the fifth inning, Twins re-took the lead. Berry van Donselaar led off with a double, then Bob van der Meer singled with one out. A double-steal situation then brought home Van Donselaar to make it 7-6.
Twins added its next run in the sixth inning when Bart Hanegraaf singled with one out and scored on a sacrifice fly by Anthony Vrolijk.
Trailing 8-6, Berend Ruben led off the seventh for The Hawks with a single and stole second and third base. After Gino Hersilia walked, a double-steal situation led to a rundown that eliminated Ruben between home and third.
Twins enlarged its lead to 10-6 in the bottom of the seventh. Mick Molenaar led off with a homerun, then Bart in den Kleef and Irving Redan both walked with one out. A single by Shurty Tremus then brought in the tenth run for the home team.