Pioniers took the lead three times and the third time, it appeared that the big blow from Vince Rooi was enough. But is wasn't and the game developed into a thriller!

In the second inning, Pioniers opened the score with two outs off of starter Nick Veltkamp. Kevin Weijgertse and Daniel Fernandes then both singled and when Max Draijer added another single, the first lead was born.

After leaving two runners in the second inning, Kinheim tied the score in the third off of starter Lars Huijer. With one out, Kevin Moesquit doubled, then Mervin Gario reached on an error. Hereafter, Gario was forced out on second base on a grounder by Bryan Engelhardt and when a throwing error trying to complete a double play followed, Moesquit scored the tying run.

Pioniers re-took the lead in the fourth when Daniel Fernandes singled with one out, advanced on an error and scored on a single by Danny Rombley.

The Hoofddorp-squad added a run in the next inning. With one out, Vince Rooi tripled and scored on a following single by Mark-Jan Moorman.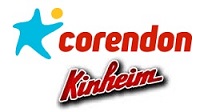 Kinheim tied the score again by scoring twice in the bottom of the fifth inning. With one out, Kevin Moesquit singled and Mervin Gario was hit by a pitch. A single by Bryan Engelhardt and an error on a grounder by Dudley Leonora then enabled the two runners to cross home plate and make it a 3-3 score.
In the top of the sixth inning, Pioniers took the lead for the third time and this time, it appeared to be decisive. Daniel Fernandes led off with a single, then reached second base safely when an error followed on a force play-grounder by Max Draijer. Powerhitters Danny Rombley and Dirk van 't Klooster then both flied out, but the bases got loaded when Quintin De Cuba walked. Hereafter, Vince Rooi drilled the first delivery of Nick Veltkamp over the left-centerfield fence for a grand slam homerun that gave Pioniers a 7-3 lead. Scott Ronnenbergh (who last season played for Pioniers) took over the pitching and ended the inning with a strikeout.
But the game wasn't over yet, as Kinheim answered with three runs (also with two outs) in the bottom of the sixth inning. With one out, Victor Draijer (the nephew of Pioniers' Max Draijer and brother of Pirates' Remco Draijer) singled. With two outs, Jochem Koedijk also singled, then both runners scored when Kevin Moesquit followed with a double. Moments later, Moesquit scored when Mervin Gario also doubled to narrow the deficit to 7-6.
Both teams were held scoreless in the next two innings, but Kinheim stranded two runners in both the seventh and eighth inning. The Haarlem-squad got the bases loaded with no outs in the eighth, but then a double play a flyout followed.
Pim Walsma retired Pioniers in order in the eighth, then Arshwin Asjes took over in the ninth. He walked two batters with one out, but then was supported with a double play.
With a 7-6 lead, closer Bayron Cornelisse took over the pitching for Pioniers. Before today, Cornelisse led the league with four saves and now had the opportunity to become the first closer of the season with five saves. But Kinheim had different thoughts. With one out, Dashenko Ricardo singled and advanced on a passed ball. Next batter Victor Draijer then flied out, but that also led to an error that enable Ricardo to advance to third base. Niels van Weert then entered the game as pinch-hitter and delivered a runscoring infield-hit that tied the score. Van Weert's hit was followed by a throwing error and so he ended up on second base. Rookie Jochem Koedijk then connected for a walk-off double down the leftfield-line that gave Kinheim an 8-7 victory to remain in contention for a Play-Off spot!