Neptunus took an early 2-0 lead in the first inning and that proved to be enough. Amsterdam Pirates committed four errors in the game. Neptunus made no errors and that was only the seventh errorless game for the Rotterdam-squad this season. The team committed 14 errors in its six games and has made 27 so far in its 20 games. Last season, Neptunus made 37 errors in 42 games.

But in this game, it were the errors made by Amsterdam that decided the game.

Initially, Pirates left two runners behind in the top of the first inning, then gave up two runs in bottom half. With one out, Benjamin Dille and Raily Legito singled, but when an outfield-error followed on Legito's hit, he advanced to second base, while Dille was able to score when another error followed. A third error on a grounder by Gianison Boekhoudt then brought in the second run.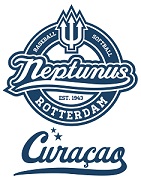 Amsterdam got one run back in the third inning. Linoy Croes led off with a bunt-single, then Michael Duursma walked. Moments later, Croes stole third and scored on a single by Nick Urbanus. The inning ended with a double play and this was to be the lone run scored by the Amsterdam-squad.
Pirates got a chance of coming alongside in the fifth inning when it got the bases loaded with two outs off of Kenny Van Den Branden, who had relieved starter Orlando Yntema in the fourth at bat. With two outs, the Belgian righthander walked Michael Duursma and Nick Urbanus, then got the bases loaded when Kenny Berkenbosch singled. But three runners stranded when a grounder ended the at bat.
In the eighth inning, off of reliever Kevin Kelly, Amsterdam left two more runners.
After giving up the two runs in the first inning, Amsterdam-starter Kyle Ward retired ten batters in a row. He then walked a batter in the fifth inning and gave up an one-out single in the sixth, but in both at bats, the Amsterdam-defense turned a double play.
Neptunus then added an insurance run in the seventh inning off of new pitcher Tom de Blok. With two outs, Dwayne Kemp singled and advanced on a throwingh error. A single by Rien Vernooij then brought him in to make it a 3-1 score.
Closer Loek van Mil, who had relieved Kelly in the eighth inning, then retired the side in the top of the ninth to secure the win.