www.grand-slam.nl
Baseball
Headlines
Compiled and Copyright © 1997-2019 by Marco Stoovelaar

(Story by Marco Stoovelaar; Photos by Robert Bos & Jan Kruijdenberg)

Amsterdam Pirates completes historic comeback with shutout to win title!
Nederlands



ROTTERDAM (Neth.) - L&D Amsterdam Pirates is the 98th champion of the Netherlands! On Sunday (September 1), the team completed a remarkable comeback with a 6-0 shutout-win to capture the Champion-title and dethrone Curaçao Neptunus. With the win, Pirates won the 32nd Holland Series, 4-3.
For the first time in history, a club that trailed 3-0 won the next four games to turn the Championship Final around and win the title.

In 2014, Amsterdam Pirates led 3-1 against Neptunus, needing only one win to become champion. Back then, it was Neptunus that won the next three games to be crowned. That Series was the first since 1989 in which all seven games were needed. Pirates then won the first two games (5-0, 17-7). After Neptunus had won Game 3, Pirates won the next game (5-4) to take a 3-1 lead. Hereafter, it was pitcher Berry van Driel (then the Series MVP) who played an important role for Neptunus that won 4-1, 8-3 and 1-0.
This year, the roles were reversed. For only the third time, all seven games were needed in a Holland Series. Neptunus won the first three games (6-4, 2-1 and 7-6 in twelve innings). With that, Neptunus became the first team to take a 3-0 lead. However, Amsterdam Pirates never backed down. The team already had led in teh first three games and dominated from the fourth game on, forcing three additional games. After winning 5-2 on Tuesday and 2-1 on Thursday, Pirates forced a seventh game by winning 4-3 on Saturday. In that game, Neptunus was three outs away from its 20th title, but then gave up two runs in the bottom of the ninth.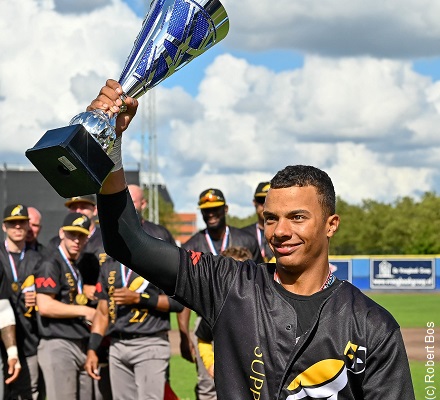 ...Delano Selassa with the Championship Trophy...
...In the 2nd inning he delivered an important...
...game-deciding double...
(© Photo: Robert Bos)

Today, in Rotterdam, Amsterdam Pirates completed the memorable comeback with a 6-0 shutout to capture its fitfh overall Championship-title. Pirates won its first title in 1987, then its next in 1990. The third title was captured in 2008, then the next one in 2011.

It is the first time that Pirates wins the title against Neptunus since 1990. Back then, the Amsterdam-squad swept the Rotterdam-squad 3-0 in a what then was a best-of-five.

Today, Amsterdam ended the reign of Neptunus, which had won the title in the previous six years. Four of these Series were played against Amsterdam Pirates (2014, 2016, 2017, 2018).

By winning the title, Amsterdam pirates closed a successful baseball-season in which the club celebrated its 60th anniversary.

During the regular season, Amsterdam Pirates already showed its strenghth and topped Neptunus. It won its 6-game series against Neptunus, 4-2. Towards the end of the season, Amsterdam swept Neptunus in its final series (3-0).

In the best-of-five Play-Offs, Amsterdam Pirates swept HCAW (3-0), while Neptunus eliminated Hoofddorp Pioniers (3-0). That set up the eighth Holland Series between the two teams.

On Sunday-afternoon, Pirates opened the score on an error in the first inning. A double in the second at bat by Delano Selassa then led to three runs, which marked the end of the afternoon for starter Diegomar Markwell. Berry van Driel took over and he saw Amsterdam score two insurance runs in the seventh inning when Sharlon Schoop hit a homerun. Amsterdam-starter Jhan Rifaela had a nice outing and limited Neptunus to only four basehits. Mike Groen and Tom Stuifbergen then completed the game for Pirates.

During the festivities and award presentation afterwards, the Award for Most Valuable Player was not handed for some reason (and not even announced). In previous years, the Award was always handed out before the Championship Trophy was presented to the winning team. On Sunday-evening, it was acknowledged that clearly something had not gone according to plan regarding the MVP Award. ,,We have to correct this as soon as possible'', KNBSB's Executive Director Bart Volkerijk said.

(September 1)
Most Championship-titles, Clubs
Titles
Club
19
Neptunus
12
Haarlem Nicols
9
Blauw-Wit, Sparta
6
OVVO
5
Amsterdam Pirates, SC Haarlem,
Kinheim, Schoten
4
Ajax
Holland Series Facts & Stats
This was the 32nd Holland Series in history. The first was played in 1987, then there was no Series in 1988, but from 1989 on, the championship has been decided each year with a Holland Series.
This was the eighth Holland Series in which Neptunus and Amsterdam Pirates faced each other. The two teams met in the very-first Series in 1987, which was then a best-of-three and won by Amsterdam (2-1). In 1990, Amsterdam swept Neptunus 3-0 in what was then a best-of-five.
Since 2010, when the format became a best-of-seven again for the first time since 1989, the two teams played against each other six times. All six Series (2010, 2014, 2016-2019) were very attractive with some close games. Neptunus won the first five, this year Amsterdam Pirates won.
For Amsterdam Pirates, this was its first Championship-title with Brian Finnegan as Head Coach. After last season, Finnegan succeeded Charles Urbanus, who had led the team since 2014.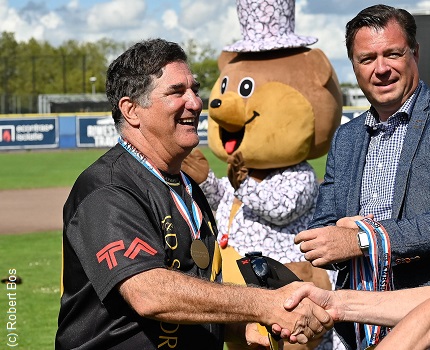 ...Head Coach Brian Finnegan is congratulated...
...At right is KNBSB-Chairman Mark Herbold...
(© Photo: Robert Bos)

Finnegan became the 15th Head Coach to win the Championship-title while making his Holland Series-debut. The last to do so was Neptunus Head Coach Ronald Jaarsma in 2017. Finnegan joins Pirates Head Coaches Ted Arnold (1987) and Rikkert Faneyte (2008), who did the same when they made their Series-debut as Head Coach. Neptunus had five coaches who won the title in their Series-debut as Head Coach, being Charles Urbanus (1991), Jan Collins (1995), Steve Janssen (2009), Evert-Jan 't Hoen (2013) and Jaarsma.

It was the second time in a row and eighth time overall that a Holland Series ended with a shutout. This year, Amsterdam Pirates won 6-0. Last year, Neptunus won 3-0. The biggest shutout-win in a championship-game was a 12-0 win by Amsterdam Pirates in 2008 against Kinheim.

This was the 14th time out of 32 Holland Series where the title was won in an away-game for the winning team and the third time in a row. The last time that a visiting team captured the title on the site of Neptunus was in 1998 when HCAW defeated Neptunus 3-2. For Amsterdam Pirates, it was the third time (out of five) that it won the title on the road. They also did it in 1990 when the team swept Neptunus and in 2008 at Kinheim. Pirates won the title at home in 1987 against Neptunus and in 2011 against Hoofddorp Pioniers.

For Neptunus, this could have been its seventh consecutive title to equal the record its set in 1999-2005. However, that streak is now broken by Amsterdam Pirates, which also broke another streak, as the team had lost the previous three Series against Neptunus. The record for most consecutive Series-losses belongs to HCAW, which lost five in a row against Neptunus (2001-2005).
Most Championship-titles, Cities
Titles
City
34
Amsterdam
32
Haarlem
28
Rotterdam
2
Bussum
1
The Hague
1
Hoofddorp
The championship of Amsterdam Pirates was the 34th captured by an Amsterdam-based club. With that, Amsterdam remains the most successful baseball-citiy. Haarlem follows closely with 32 titles, while Rotterdam has 28.

In 1922, Amsterdam-based Quick won the first title. Including Quick, 98 teams have been crowned Dutch champion since then, coming from only six different cities. Amsterdam, Haarlem and Rotterdam combined won 94 of these championships!

The 98 titles have been won by 21 different clubs. Nine of them came from Amsterdam, seven from Haarlem and only two from Rotterdam.

For Amsterdam Pirates, this was the fifth time that it won the title via the Holland Series. The team was the winner of the very-first Series in 1987 when it defeated Neptunus. Amsterdam won the Championship-title for the last time in 2011. Back then, Amsterdam won in five games against Hoofddorp Pioniers. It was the tenth time that Pirates played in the Championship Series. With that, it moved into a tie with HCAW and Kinheim. Four players of the 2011 Championship-team also played for the team this year, being Kenny Berkenbosch, Rob Cordemans, Rashid Gerard and Roelie Henrique.

Neptunus participated in its record-extending 25th Holland Series. The Rotterdam-club won its first title in 1981 when the seasons were not concluded with the Championship Final. It then took ten years for the team to win its next title. Since then, Neptunus won 18 titles via the Holland Series.

Eight players played in the first Holland Series of their career, being Mike Groen, Denzel Richardson, Jhan Rifaela, Sharlon Schoop, Delano Selassa (all Amsterdam Pirates), Kai Burema, Julian Goins and Coco Johnson (all Neptunus). Two umpires also made their Holland Series debut, being Peter de Haan and Rob Has.

Veteran umpire, Henri van Heijningen, who was behind the plate in the deciding seventh game, officiated in his 18th and last Holland Series. During this years Holland Series, Van Heijningen officiated in six of the seven games to set an all-time record. The previous record was four, which was held by multiple umpires. René Ras also moved ahead of this group, as he was assigned to five games in this years Series. During the season, Van Heijningen announced his retirement. This season, he became the second umpire in history to reach 750 games in the big league.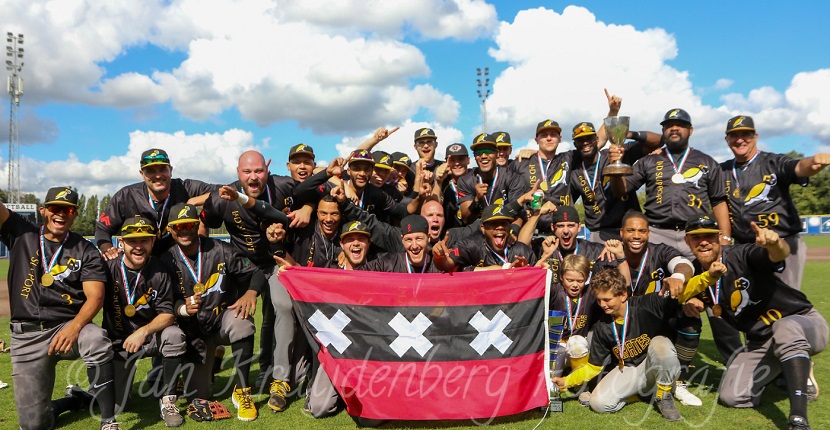 ...The players and coaches of Amsterdam Pirates celebrate the 5th Championship-title of the club...
...Back: Rob Cordemans, Tom Stuifbergen, Rashid Gerard, Roelie Henrique, Victor Draijer,...
...Aidan Finnegan, Maickel Rietel, Luca Pastor (Bullpen Catcher), Linoy Croes, Kit Gijsbers, Jim Ploeger,...
...Denzel Richardson, Roeland Henrique (3B Coach) and Brian Finnegan (Head Coach)...
...Front: Gilmer Lampe, Niels van Weert, Sharlon Schoop, Delano Selassa, Max Clarijs, Kevin Heijstek,...
...Nick Veltkamp, Jhan Rifaela, Mike Groen, Kalian Sams and Kenny Berkenbosch...
...Besides the flag of Amsterdam are the team's two bat-boys...
(© Photo: Jan Kruijdenberg)

Amsterdam Pirates immediately struck in the top of the first inning off of starter Diegomar Markwell, who appeared not that sharp. Gilmer Lampe led off with a single off the lefthander's third pitch and moved into scoring position via a sacrifice bunt by Sharlon Schoop. Moments later, Lampe stole third base and scored when catcher Gianison Boekhoudt threw the ball high over the base into leftfield. Denzel Richardson followed with a single, but the inning ended when Kenny Berkenbosch lined into a double play. Third baseman Dwayne Kemp caught the ball, then got the ball in time to first base.

Amsterdam Pirates took what would be a deciding lead in the top of the second inning, scoring three runs. In the first three games, some defensive Amsterdam-errors led to runs, this time, it was the Neptunus-defense that played sloppy. Kalian Sams led off with a walk. Rashid Gerard followed with a single into right-centerfield, where veteran centerfielder Shaldimar Daantji made a fielding error. That led to runners on second and third base. Hereafter, the bases got loaded when Max Clarijs walked. Next batter Delano Selassa then hit the ball down the righfield-line where it landed just on fair territory for a double. Sams and Gerard scored on Selassa's double. Clarijs also was waved home, but appeared to end up short as the bal from the outfield approached. However, second baseman Benjamin Dille, who relayed the throw, but then made a throwing error with the ball jumping up in front of catcher Gianison Boekhoudt. With that, Clarijs also scored. And so, the bases were cleared, while Selassa ended up on third base himself. With his double, Selassa had broken up the game and had given Pirates a commanding lead. After next batter Roelie Henrique had grounded out, a pitching change followed, as Markwell was replaced by Berry van Driel. The veteran righthander got an inning-ending grounder from Sharlon Schoop.
In the following innings, the Neptunus-defense recovered, but the damage had been done. The team was unable to come back into the game, as it faced tough pitching and was limited to only five basehits.
Jhan Rifaela was the starting pitcher for Amsterdam Pirates. The 24-year old lefthander had not pitched in the previous six games. ,,There simply was no moment to use him in the previous games'', Pirates Head Coach Brian Finnegan explained.

Rifaela had a fine outing. In the six-plus innings he pitched, Neptunus got only three runners to reach second base. After having retired the side in the first inning, Rifaela gave up a lead-off single to Gianison Boekhoudt in the second and walked Shaldimar Daantji with one out. Quintin De Cuba then fouled out and moments later, Boekhoudt was forced out at third base.
In the third inning, Coco Johnson led off with a drive into deep leftfield, where Roelie Henrique made the catch on the warning-track. Stijn van der Meer then doubled with two outs, but was left behind. The inning ended with a collission by Henrique and centerfielder Gilmer Lampe with the latter holding on the ball hit by Dwayne Kemp.
Rifaela retired the side again in the fourth, then gave up a 2-out single to Coco Johnson in the fifth, but he stranded on first base. In the sixth at bat, Neptunus again reached base with two outs. This time, Gianison Boekhoudt singled and Dudley Leonora walked, but the inning ended with a flyout. The inning began with a great over-the-shoulder catch by third baseman Rashid Gerard on foul pop-up from Stijn van der Meer.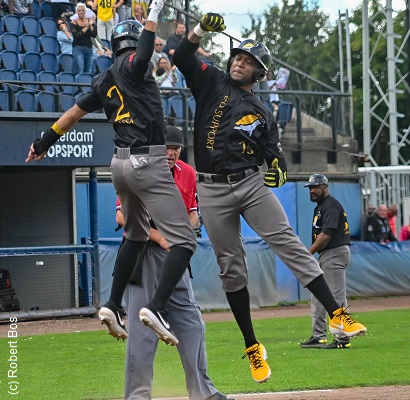 ...Sharlon Schoop is greeted after hitting...
...his important 2-run homerun in the 7th inning...
(© Photo: Robert Bos)

In the meantime, Berry van Driel did fine on the mound for Neptunus. The righthander retired the side in the third and fourth inning. With two outs in the fifth, he gave up a single to Sharlon Schoop. The inning ended when first baseman Dudley Leonora made a great and difficult catch on foul territory besides the dug-out of Neptunus on a pop-fly by Denzel Richardson. The inning began with a sliding catch from third baseman Dwayne Kemp on a foul pop-fly from Roelie Henrique. In the top of the sixth, Rashid Gerard singled for Pirates with two outs, but was forced out.

In the top of the seventh inning, Amsterdam Pirates dealt the final blow. Van Driel walked lead-off hitter Delano Selassa, who then moved into scoring position via a sacrifice bunt by Roelie Henrique. Hereafter, Sharlon Schoop lined the ball over the fence in leftfield for a 2-run homerun that lifted the lead to 6-0.

When Jhan Rifaela walked Gregory Muller with one out in the bottom of the seventh inning, Amsterdam Head Coach Brian Finnegan also went to the bullpen. Mike Groen took over, but he hit Coco Johnson with a pitch. The inning ended when the Pirates-defense turned a double play on a grounder by Benjamin Dille.

In the top of the eighth inning, Kevin Kelly took over the Neptunus-pitching to make his sixth appearance in the Series. With one out, Kalian Sams drove the ball into deep leftfield for what appeared to be a homerun. However, the ball stayed in the field and Sams had to settle for a stand-up double. After having reached second base, an exchange of words followed suddenly between Sams and Neptunus-pitcher Diegomar Markwell, who was yelling from the dug-out. Home Plate Umpire Henri van Heijningen had to briefly interrupt the game. On TV, it was shown that Markwell was escorted out of the dug-out to the lockerroom in the back. The exchange of words probably was triggered after Sams had hit the ball and for a moment stayed in the batter's box to watch his ball traveling to the outfield. When the game resumed, Rashid Gerard flied out to rightfielder Gregory Muller. Sams advanced to third base, but was called out moments later after an appeal, as he had left second base too early on the flyout.

In the bottom of the eighth inning, Mike Groen retired the side, including striking out Dwayne Kemp (2nd out) and Gianison Boekhoudt (3rd out).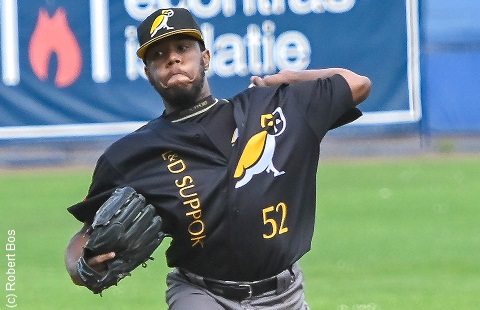 ...Winning pitcher Jhan Rifaela...
(© Photo: Robert Bos)

In the top of the ninth, Pirates got another runner in scoring position. Max Clarijs led off with an infield-hit off of Kevin Kelly, who then struckout Delano Selassa. Hereafter, Roelie Henrique singled, which led to a pitching change. Elton Koeiman took over, struckout Gilmer Lampe and got an inning-ending grounder from Sharlon Schoop.

And so, the final at bat of the season began for Neptunus. The team faced closer Tom Stuifbergen, who got a flyout from Dudley Leonora. Hereafter, Shaldimar Daantji doubled, but Stuifbergen followed by striking out Quintin De Cuba. The inning, the game and the season then ended when short stop Sharlon Schoop made a great catch in foul territory on a pop-up by Gregory Muller. Schoop extended his left arm and the ball landed in his glove.

For Amsterdam Pirates, it was time to celebrate, as it had completed a historic comeback to win the Holland Series and capture the Championship-title.

For Neptunus, it is now time to look over what had gone wrong after having won the first three games.

With today's game a very attractive and spectacular Holland Series ended. What seemed to be impossible was done by the team of Amsterdam Pirates which never quit after having lost the first three games. After a rain-delay on Tuesday-evening, Pirates turned the Series around and kept believing in what was possible. With great pitching, combined with hitting at the right moment and solid defensive, one game after another was forced to prolong the Holland Series. With Saturday's win, Pirates forced a seventh game while Neptunus was three outs away from the title. ,,With this win, we have dealt a mental blow to Neptunus'', said veteran pitcher Rob Cordemans afterwards. Cordemans is in his tenth season playing for Amsterdam Pirates. The first twelve seasons (1994-2005) of his long and impressive career, Cordemans had played for Neptunus. After having played for ADO (2006-2007) and Sparta-Feyenoord (2008-2009), Cordemans joined Pirates in 2010.

With the outcome of this years Holland Series, a famous quote from legendary New York Yankees-catcher and Hall of Famer Yogi Berra again was underscored: ,,It Ain't Over 'Till It's Over''.
Curaçao Neptunus - L&D Amsterdam 0-6
R
H
E
L&D Amsterdam Pirates
130
000
200
-
6
10
0
Curaçao Neptunus
000
000
000
-
0
5
3
pitchers Pirates
inn.
SO
BB
H
R
ER
Jhan Rifaela, W (1-0)
6.1
1
3
4
-
-

---

Mike Groen
1.2
2
-
-
-
-

---

Tom Stuifbergen
1
1
-
1
-
-

---

pitchers Neptunus
inn.
SO
BB
H
R
ER
Diegomar Markwell, L (1-1)
1.1
-
2
4
4
3

---

Berry van Driel
5.2
2
1
3
2
2

---

Kevin Kelly
1.1
2
-
3
-
-

---

Elton Koeiman
0.2
1
-
-
-
-

---

Homerun: Pirates: Sharlon Schoop (1)(7th,2-run,2 outs,off Van Driel).
Umpires: HP-Heni van Heijningen, 1B-René Ras, 2B-Edwin Louisa, 3B-Rob Has.
Official Scorer-Huub Nelissen.
Play-by-Play Scorer-Linda Steijger.
Technical Commissioner-Johan Brandsma.
Public Address Announcers-
Hélène van Eijk-Kloos (through top 5th), Karin van Aalen (from bottom 5th).
Scoreboard Operator-Lex Looijen.
Starting Time-1:01 PM.
Time Played-2:27 hrs.
Site-Neptunus Familiestadion, Sportpark Abraham van Stolkweg, Rotterdam.

Game Notes:


32nd Holland Series.


Game 7, best-of-seven Holland Series 2019.


Amsterdam Pirates wins Holland Series, 4-3.


Amsterdam Pirates captures its fifth Championship-title.


Amsterdam Pirates is the 98th Dutch Baseball-champion in history.


Amsterdam Pirates becomes the first team in history to trail 3-0 in a Holland Series, then win the next four games to capture the Championship-title.


Umpire Henri van Heijningen sets a record with his sixth game in one Series.


The Holland Series Most Valuable Player will be named later.
Weather conditions at game time: Cloudy, 19,2° C (66,6° F); wind direction west-northwest;
wind speed 31 kmh (19,3 mph); wind force 3 Bft; humidity 55%.

Thank you for visiting this site.
Mail your suggestions and questions to stoov@wxs.nl
Copyright © 1997-2019 Marco Stoovelaar / Grand Slam * Stats & News.