Great Britain opened the score in the top of the third inning in which the team recorded its two basehits. With one out, Dutch starter Matz Schutte hit Fred Mosier with a pitch, then gave up a single to Juan Diaz, which led to runners on first and third base. With two outs, Schutte made a throwing error on a pick-off to first base, which enabled Mosier to score. On a following basehit by Carlos Casal, Diaz tried to score, but was eliminated at the plate.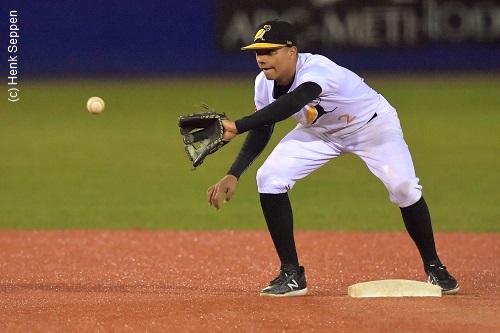 ...Delano Selassa scored the lone Orange-run...
(© Photo: Henk Seppen)

Great Britain added an unearned run in the fourth inning when the Dutch defense made two more costly errors. This time, Schutte hit lead-off hitter Matteo Sollecito with a pitch. Next batter Conor McGrath then reached on a throwing error from third baseman Delano Selassa. After Schutte had retired the next two batters, Sollecito and McGrath executed a double-steal. A throwing error to third base by catcher Jules Cremer followed, resulting in the second run.

Gilian Wernet took over from Schutte in the fifth inning and retired the side. He got a British runner in scoring position with one out in the sixth, but then struckout the next two batters.

Raf Cocu pitched the seventh inning for the Netherlands. He also saw the British leave a runner behind in scoring position.

The Netherlands collected five basehits, but was able to score only once off of Paul Kirkpatrick, who went the distance. For the Dutch players, Kirkpatrick was a familiar pitcher, as they also faced him this season in the Dutch big league. The American/British righthander pitched for Hoofddorp Pioniers.

The Orange Team got into scoring position in the bottom of the first inning. With one out, Julian Rip reached on a bunt-single and stole second base, but was left behind.

Trailing 1-0, the Netherlands got a chance to do something back in the bottom of the third inning. Jules Cremer led off with a single, then Jeandro Tromp walked. Hereafter, Bob van der Meer went after the first pitch and fouled out. Next, Cremer was forced out at third base on a grounder by Julian Rip and the inning ended when Kirkpatrick struckout Tijmen Takke.

With Great Britain leading 2-0, the Dutch Team got one run back in the bottom of the fourth. With one out, Delano Selassa singled and Tommy van de Sanden walked. Hereafter, Selassa advanced to third base when Oliver van der Wijst Severino flied out, then scored on a single by Jules Cremer. The inning ended when the latter was forced out on a grounder by Jeandro Tromp.

In the next two innings, Paul Kirkpatrick retired the side, striking out four batters. The righthander then also struckout the first two batters in the seventh inning. He then gave up a double to Jeandro Tromp, but closed the inning and the game with another strikeout. Kirkpatrick struckout twelve batters in this game.