In today's game, DSS collected 19 basehits, including four by Koen Halderman, who also scored four runs. Tino van Erk, Aldi Guzman and Koen Werkman all had three basehits. Guzman scored three runs, batted in five runs and hit two homeruns. Eight of the nine starting players had at least one basehit. The lone player without a basehit was Leando Anasagasti.

Kinheim collected only six basehits, including three by Linus Holmberg.

Defensively, Kinheim made six errors. In the five games, the two teams made 26 errors combined, 14 of them made by the DSS-defense. The combined Fielding Average of the two teams was .938.
Al Morales Gomez (Kinheim) and Scott Prins (DSS) were the starting pitchers in the fifth game of this 'Pim Mulier Series'. Both teams play at the same sports complex in Haarlem, which is named after Dutch sports pioneer Pim Mulier (1865-1954). He founded soccer-club Koninklijke HFC in Haarlem in 1879, founded the first tennis-club in the country in 1884, organized the first athletics competition, introduced hockey and cricket in the Netherlands and founded the Nederlands Soccer Federation in 1889. In 1890, he skated in the predecessor of the famous Elfstedentocht (Eleven Cities Tour) in the province of Friesland. The home stadium of Kinheim is also named after Pim Mulier.
DSS opened the score in the top of the second inning with two outs. Ibrahin Redan led off with a single, but then was picked off at first base by Morales. Hereafter, Koen Werkman also singled. With two outs, he stole second base, then scored when a throwing error followed.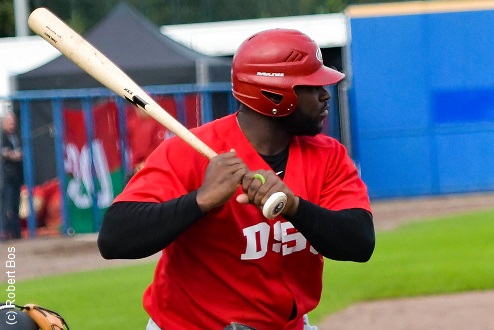 ...Aldi Guzman had a productive day for DSS...
...3 hits, 2 homeruns, 3 runs scored, 5 runs batted in...
(© Photo: Robert Bos)

In the bottom of the second inning, Kinheim answered with a 2-out, 5-run rally. With one out, Wesley van Hemert singled and Nick Hofer walked. With two outs, the bases got loaded when Bram Blokker reached on an infield-hit. Thomas Bos followed with a 2-run single. An error on a grounder by RenÚ Cremer then accounted for the third run. After a double-steal by Cremer and Bos, the two scored on a single by Linus Holmberg to lift the lead to 5-1.

In the remainder of the game, Kinheim was held scoreless by Juan Carlos Sulbaran, who took over the pitching for DSS with one out and a runner on first base in the bottom of the third inning. In the 6 2/3 inning he pitched, Sulbaran gave up only one basehit and allowed only three runners to get into scoring position.

With one out in the fourth, Sulbaran walked Thomas Bos. He then advanced to second base on a sacrifice bunt by RenÚ Cremer, but then was eliminated after overrunning the base, which ended the inning.

In the fifth, Sulbaran gave up a lead-off double to Linus Holmberg. He moved to third on a grounder, but then stranded. Holmberg's double was the lone hit Sulbaran would allow.

In the seventh, Thomas Bos led off for Kinheim with a walk. With one out, Bos stole second base. Moments later, he was eliminated in a rundown after a pick-off to second base.

Trailing 5-1, DSS scored three runs on one basehit and four errors (!) in the top of the fourth inning. Koen Halderman led off with a walk. Next batter Aldi Guzman batted the ball up in the air, which then was missed by catcher Wesley van Hemert. Third baseman Bram Blokker picked up the ball, but made a throwing error to first base, resulting in runners on second and third base. Hereafter, Ibrahin Redan lined out to second baseman Thomas Bos, who then made a throwing error to second base trying to double up Guzman. On the error, Halderman scored. Koen Werkman followed with a runscoring double. The third run in the inning was scored by Werkman when a grounder by Leandro Anasagasti ended in a throwing error from short stop Linus Holmberg, which was the fourth defensive error in the inning for Kinheim. With Anasagasti at second base and two outs, Devano Pieter walked, but the inning then ended with a force out.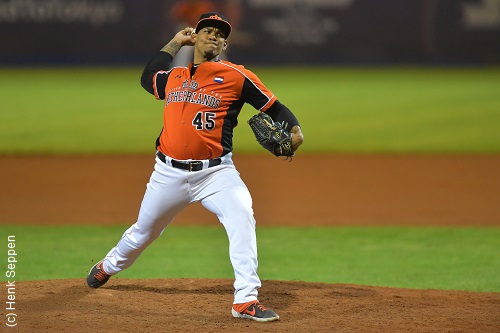 ...Juan Carlos Sulbaran pitching for the Netherlands during...
...the Olympic Qualifier last moment in Italy...
(© Photo: Henk Seppen)

In the fifth inning, DSS again scored three runs to take a 7-5 lead. Facing new pitcher Martijn Schoonderwoerd, Tino van Erk and Koen Halderman led off with singles. They both scored when Aldi Guzman homered, which put DSS ahead. With one out, Koen Werkman singled, but he was caught stealing in a double play after Leandro Anasgasti struckout.

With one out and Devano Pieter (hit by pitch) on first base in the sixth inning, Glenn Wassink took over the Kinheim-pitching. With that, he had pitched in all five games of the Series. In the seventh, Wassink gave up two runs. Koen Halderman led off with an infield-hit, then Aldi Guzman hit his second homerun in the game to make it a 9-5 score.

In the top of the eighth, DSS rallied for five more runs on seven basehits off of two pitchers. Rick Timmermans started the inning as new pitcher for Kinheim, but he ran into problems quickly, as he gave up six consecutive basehits. He gave up a lead-off single to Brian Raap, who then advanced on a wild pitch and scored on a single by Devano Pieter. Mitchel Dautzenberg then also singled and a balk gave DSS runners on second and third base. Both scored when next batter Tino van Erk also recorded a single. The bases got loaded when Koen Halderman (his fourth) and Aldi Guzman also singled, which led to another pitching change. Joeri Kesseler took over, but he was greeted with a runscoring single by Runai Coran, which was the seventh basehit in a row for DSS. Hereafter, Koen Werkman lined out to third baseman Bram Blokker, who then made a throwing error trying to complete a double play. Instead, another run was scored and that gave DSS a 14-5 lead.

Juan Carlos Sulbaran retired the side in the eighth inning, then began the bottom of the ninth with a strikeout. With one out, Jenk Lemmink reached for Kinheim on an error. He was the last Kinheim-batter to reach base, as Sulbaran closed with two strikeouts.

With that, the season ended successfully for the baseball-team of DSS, which was led during this Series by interim-Head Coach Nick Stuifbergen. He took over a month ago, succeeding JosÚ Baez, who himself had taken over as new Head Coach in June, replacing Marco Wels. With Stuifbergen, Michael Halderman also was added to the coaching-staff.