www.grand-slam.nl
International Baseball
Headlines
Compiled and Copyright © 1997-2019 by Marco Stoovelaar

(Story by Marco Stoovelaar; Photos by Janneke Louisa-van der Ploeg & Henk Seppen)



Netherlands defeats Italy to capture 23rd European title
Nederlands



BONN (Germany) - The Netherlands Baseball Team is European champion! Again! On Sunday-evening (September 15), the Netherlands won 5-1 in the Final against Italy to capture its 23rd European title and its third in a row.
The game ended the 35th European Championship, which was held in Germany for the sixth time, two of them in the former West-Germany. The previous Championships were held in 1957 (Mannheim), 1969 (Wiesbaden), 2001 (Bonn, Cologne, Solingen), 2010 (Stuttgart, Heidenheim an der Brenz, Neuenburg am Rhein) and 2014 (preliminary round in Regensburg).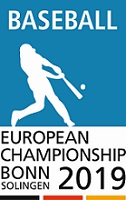 In tonight's Final, all runs were scored on homeruns. The big one was a grand slam homerun by Kalian Sams in the fourth inning.
Before the game, the ceremonial first pitch was thrown by Luigi Ferraro, the Italian Consul based in Cologne.
Tonight was the 81st victory of Netherlands in 135 international games against Italy, which won its 17th Silver Medal.
Early Monday-morning, the Netherlands Team flies to Italy for the Olympic Qualifying Tournament, which will be played in the cities of Parma and Bologna. When the provisional schedule of the event will be upheld, the Netherlands opens on Wednesday-evening in Parma against South Africa. In the following days, the Orange Team meets the Czech Republic (Thursday, Bologna), Israel (Friday, Parma), Spain (Saturday, Parma) and Italy (Sunday, Bologna). All Dutch games will be begin at 8 PM. The schedule needs to be confirmed.
Final Standings
1
Netherlands
2
Italy
3
Spain
4
Israel
5
Czech Republic
6
Germany
7
Belgium
France
9
Great Britain
10
Austria
11
Croatia
12
Sweden
In the afternoon, Spain and Israel played a highscoring game. In a game that lasted three hours and nine minutes, Spain won 16-11 to win the Bronze Medal for the 15th time. There were 30 basehits (20 by Spain) in this game and nine homeruns were hit (five by Israel).

In the first game today, the Czech Republic won 4-3 against Germany to become the fifth and final team to qualify for coming week's Olympic Qualifying Tournament in Italy. The Czechs led 3-2 after five innings, then Germany came alongside in the sixth. The Czechs re-took the lead in the eighth when Martin Schneider led off with a homerun. In the top of the ninth, Germany got a big opportunity to turn the game its way, as it got the bases loaded with no outs! But then a rare 6-2-5 double play followed. On a grounder to short, Philipp Schulz was forced out at the plate. Veteran Simon Gühring, the runner at second base, made a baserunning mistake. Instead of trying to advance to third base on the grounder, for some reason, he initially started to return to second base, where the runner from first base was approaching. When Gühring turned to run to third base, the catcher threw the ball there. A close play followed, but Gühring was also forced out to complete the double play. A pop-up then ended the inning and the game. Germany was eliminated and the Czech Republic will travel to Italy.

In this years Championship, a total of 112 homeruns were hit, led by the Netherlands, who recorded 21. Three years ago, in Hoofddorp and Nieuw-Vennep (Netherlands), there were 41 homeruns. The Netherlands then also led in this category, hitting nine.

Besides winning the title, four Individual Awards also went to the Netherlands, three of them to Ademar Rifaela. He won the Award for Most Homeruns (6) and Runs Batted In (17), while also being named Most Valuable Player. Orlando Yntema won the Award for the Best Pitcher based on Won-Loss Percentage. Yntema was 2-0. Rifaela had a chance to win a fourth Award, as he shared the lead in Runs Scored (10) with Ferdinand Obed (Austria) and Maxime Lefevre (France). The Award went to the Austrian player, as he scored his runs in the fewest At Bats (20). Rifaela scored his runs in 27 at bats, Lefevre in 23. Rifaela scored his eleventh run against Italy, but the stats from the Final don't count for determining the Individual Awards.
Individual Awards
Award
Winner
Best Hitter
Sebastiano Poma (Italy), .533
Best Pitcher (ERA)
Joey Wagman (Israel), 0.00 (10.2 inn.)
Best Pitcher (W-L Pct.)
Orlando Yntema (Netherlands), 2-0 (11 inn.)
Most Runs Batted In
Ademar Rifaela (Netherlands), 17
Most Homeruns
Ademar Rifaela (Netherlands), 6
Most Stolen Bases
Nateshon Thomas (Great Britain), 5
Most Runs Scored
Ferdinand Obed (Austria), 10 (20 at bats)
Oustanding Defensive Player
Alexander Schmidt (Germany)
Most Valuable Player
Ademar Rifaela (Netherlands)
The Netherlands opened the Championship on Saturday in Solingen with a fine game against Great Britain. However, with the Netherlands leading 10-2, the game was halted after eight complete innings, due to darkness as there is no light-installation on the site in Solingen. In that game, the Netherlands led 10-0 when the bottom of the seventh inning began, but Great Britain then scored to avoid a mercy-rule loss. The game was completed on Wednesday-evening and the score didn't change in the final inning.

On Sunday, the Netherlands suffered a surprising 8-6 loss against the Czech Republic in Bonn. The team didn't play well and committed five defensive errors. For the Czechs, it was their second win and first since 2012 against the Netherlands.

On Monday, the Orange Team recovered fine after the loss and recorded a convincing 9-0 shutout against Sweden. In this game, Donny Breek had a strong debut and struckout ten batters in six innings, while Sharlon Schoop collected five of the 18 basehits the team recorded.

On Tuesday, the Netherlands recorded another convincing win, outscoring host Germany 8-1, thanks to an offensive show by leftfielder Ademar Rifaela (3 homeruns) and strong pitching from Lars Huijer, who struckout eleven batters in 6 2/3 inning.

On Wednesday-afternoon, the Netherlands secured a spot in the Quarter Final by recording a convincing 13-4 victory against Israel. In this game, Ademar Rifaela homered twice to give him five in two days.

On Friday, the Netherlands won 17-2 in five innings in its Quarter Final against Belgium, hitting eight homeruns.

On Saturday-afternoon, the Orange Team nipped Spain 1-0 in the Semi-Final.

(September 15)

Complete provisional schedule Olympic Qualifying Tournament

In the all-deciding Final, righthander Donny Breek was the more or less surprising starting pitcher for the Netherlands. The 19-year old rookie, who made his debut last Monday against Sweden, did a great job in pitching his first European Final. The righthander threw four-plus strong innings, giving up only one basehit.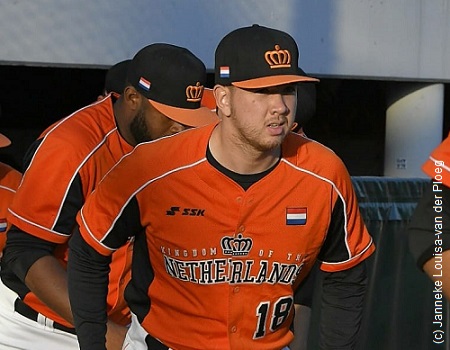 ...Donny Breek had a great outing...
(© Photo: Janneke Louisa-van der Ploeg)

Luis Eduardo Lugo Lareschi started for Italy. The 25-year old Venezuelan-born lefthander has more experience on the international level than Breek. He also pitched for Italy during the Championship in 2016, as well as during the 2017 World Baseball Classic. Lugo pitches professionally since 2011. After having played mostly in Single-A for the Cleveland Indians in 2011-2017, he came to Europe to pitch for Parma Angels in the Italian Baseball League in 2018, but returned to the Minor League in July of that year after being signed by Kansas City Royals. Lugo pitched in Double-A in the remainder of the 2018 season. This year, Lugo pitched in Single-A and Double-A for the Chicago Cubs. Lugo also pitched in the Venezuelan Winter League.

But it was Donny Breek, who in the end was the best of the two pitchers. Breek kept his cool and retired one Italian batter after another.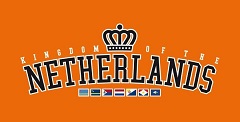 In 4 2/3 inning, Breek struckout four batters, walked two and gave up only one basehit. Lugo threw four innings, struckout six, walked four and gave up two basehits. Remarkable enough, the three basehits given up by the two starters were all homeruns, which accounted for all runs in this game.
The Netherlands appeared to have something in the making in the top of the first inning. Luis Lugo had problems finding the strike-zone, threw six consecutive balls and walked lead-off hitters Calten Daal and Roger Bernadina. Lugo recovered, struckout Curt Smith and was supported with a double play.
In the second inning, Orange lead-off hitter Ademar Rifaela reached on an error, but Lugo struckout the next two batters and then got an inning-ending flyout. The lefthander retired the side in the third at bat on three grounders.
Donny Breek impressed by retiring the first eight batters he faced and 12 of the first 14. With two outs in the third inning, a strikeout for Erick Epifano ended in a wild pitch, enabling him to reach first base. A flyout ended the inning.
In the fourth, Breek walked lead-off hitter Sebastiano Poma, but then got three flyouts.
The Orange Team struck with five runs in the top of the fourth inning off of Lugo. Curt Smith led off and reached on a throwing error from third baseman Erick Epifano, then moved into scoring position on a wild pitch. Lugo followed with a strikeout for Sharlon Schoop, but then got the bases loaded when he walked Ademar Rifaela and Sicnarf Loopstok. That led to a visit from (American) Pitching Coach Dennis Cook, who threw 15 seasons (1988-2002) in the Major League for nine clubs. Cooper pitched in 665 games, mostly as a reliever and won 64. Six pitches later, the Netherlands led 4-0, as Kalian Sams drilled a 2-2 pitch over the centerfield-fence for a grand slam homerun, which was the first Dutch basehit in this game! Hereafter, Lugo struckout Dwayne Kemp, but then gave up another homerun, this time hit by John Polonius to make it a 5-0 score. Lugo closed by striking out Calten Daal, but the Netherlands clearly had taken possession of the game.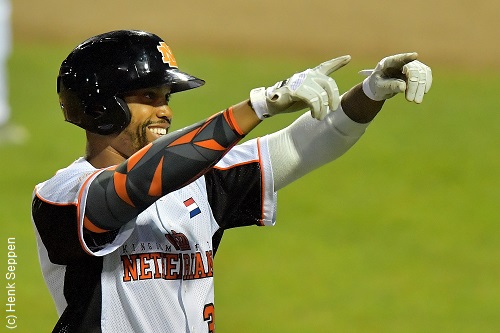 ...Kalian Sams hit a grand slam homerun...
(© Photo: Henk Seppen)

The last time a Dutch player hit a grand slam homerun in an European Championship was in 2014. Back then, there were three, hit by Hainley Statia, Yurendell De Caster and Nick Urbanus. During that Championship, the Netherlands played its games in the Czech Republic (there also was a preliminary round in Germany). In that tournament, the Netherlands set a record with 27 homeruns. Six of them were hit by Curt Smith, five by Gianison Boekhoudt.

Kalian Sams also hit a grand slam homerun during the 2012 Championship in the Netherlands. On September 7, in Rotterdam, he hit for-the-cycle in the opening game against Belgium. In that game, Sams was 4-for-4, scored four runs and batted in eight.

In the bottom of the fifth, Breek's No-Hitter also ended with a homerun, as Alberto Mineo led off with a fourbagger for Italy. Against Germany and Israel, it was Mineo who accounted for Italy's comebacks. A flyout and strikeout followed, then Breek walked Erick Epifano. That brought out Manager Evert-Jan 't Hoen. Breek had thrown 83 pitches and while he needed only 1/3 inning to become the winning pitcher, 't Hoen protected his young and talented starter and took him out of the game. Tom Stuifbergen, who normally is used as a closer, was brought in. He was greeted with a double by Drew Maggi, but with runners on second and third base, Stuifbergen closed with a strikeout.
The Netherlands got into scoring position again in the sixth off of Matteo Bocchi, who had taken over the Italian pitching in the fifth. With one out in the sixth, Sicnarf Loopstok and Kalian Sams both singled. But hereafter, Dwayne Kemp lined out to leftfield and Sams was forced out on a grounder by John Polonius.
Italy threatened to do some scoring in the bottom of the seventh inning, as it got the bases loaded off of new pitcher Mike Bolsenbroek. With one out, he gave up singles to Federico Celli and Erick Epifano. Next batter Drew Maggi lined out to first baseman Curt Smith, which was followed by a close play at second base. Hereafter, the bases got loaded when Bolsenbroek walked Sebastiano Poma. That led to a pitching change, as Kevin Kelly took over. He got an inning-ending pop-fly. Kelly retired the side in the eighth inning.
In the top of the eighth, off of new pitcher Nick Pugliese, Ademar Rifaela singled with one out and Kalian Sams walked with two outs. The two stranded, as Pugliese closed by striking out Dwayne Kemp.
Juan Carlos Sulbaran pitched the ninth inning for the Netherlands. He got two quick outs, but then gave up a single to Erick Epifano, who reached base three times. But hereafter, a force play-grounder by Drew Maggi ended the inning, the game and the tournament.
The Netherlands won its 23rd European title!
Playing for the Netherlands were:
Calten Daal (2B, 1-for-4), Roger Bernadina (CF, 0-for-3), Curt Smith (1B, 0-for-4), Sharlon Schoop (3B, 0-for-4), Ademar Rifaela (LF, 1-for-3), Sicnarf Loopstok (C, 1-for-3), Kalian Sams (RF, 2-for-3), Dwayne Kemp (DH, 0-for-4), John Polonius (SS, 1-for-4) and pitchers Donny Breek, Tom Stuifbergen, Mike Bolsenbroek, Kevin Kelly and Juan Carlos Sulbaran.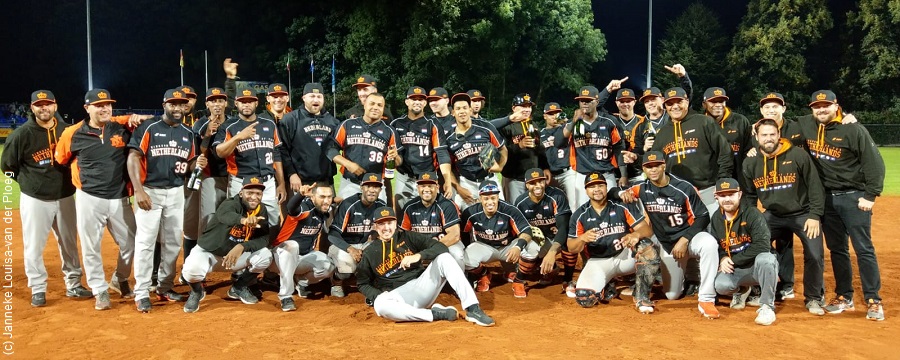 ...Players, coaches and staff-members of the Netherlands Team celebrate the 23rd European title...
(© Photo: Janneke Louisa-van der Ploeg)
R
H
E
Netherlands
000
500
000
-
5
6
0
Italy
000
010
000
-
1
6
2
pitchers Netherlands
inn.
SO
BB
H
R
ER
Donny Breek
4.2
4
2
1
1
1

---

Tom Stuifbergen
1.1
3
-
2
-
-

---

Mike Bolsenbroek
0.2
-
1
2
-
-

---

Kevin Kelly, W (1-0)
1.1
-
-
-
-
-

---

Juan Carlos Sulbaran
1
1
-
1
-
-

---

pitchers Italy
inn.
SO
BB
H
R
ER
Luis Eduardo Lugo Lareschi, L (1-1)
4
6
4
2
5
3

---

Matteo Bocchi
2
1
1
2
-
-

---

Yomel Rivera
1
1
-
1
-
-

---

Nick Pugliese
2
5
1
1
-
-

---

Homeruns: Netherlands: Kalian Sams (3)(4th,grand slam,1 out,off Lugo), John Polonius (1)(4th,solo,2 outs,off Lugo); Italy: Albert Mineo (4)(5th,solo,0 outs,off Breek).
Umpires: HP-Jens Waider (Germany), 1B-Jiří Kroupa (Czech Rep.),
2B-Serge Makouchetchev (France), 3B-Mojmír Jankovič (Slovakia).
Official Scorers:
Sven Müncheberg (Germany), Thomas Sippenauer (Germany), Linda Steijger (Netherlands).
Technical Commissioners-Philipp Geronne (Germany), Stephen Lesfargues (France).
Starting Time-7:04 PM.
Time Played-3:07 hrs.
Site-Field #1, Baseballstadion Rheinaue, Bonn (Germany).

Game Notes:


Final 35th European Baseball Championship.


Netherlands wins 23rd European title.


135th game in history against Italy.


81st victory in history against Italy.
Weather conditions at game time: Sunny, 19° C (66,2° F); wind direction northwest;
wind speed 6 kmh (3,7 mph); wind force 2 Bft; humidity 64%.

Thank you for visiting this site.
Mail your suggestions and questions to stoov@wxs.nl
Copyright © 1997-2019 Marco Stoovelaar / Grand Slam * Stats & News.